With the new year around the corner, it typically signifies celebrating old traditions, creating new resolutions and hopes of making more lasting memories and experiences.
For food lovers, it also means enjoying the The Lunar New Year Night Market, hosted by the stunning Hilton at Casino du Lac-Leamy!
With the overwhelming support and demand from people who attended the summer Night Market at Lansdowne Park, organizers of the Ottawa Asian Fest thought that it only made sense to bring back what the people wanted and asked for: Great tasting Asian food!
Ottawa Asian Fest is a non-profit organization dedicated to bringing Asian culture and cuisine to the Ottawa-Gatineau area. Their goal of the night markets and festivals, is to give Ottawa a taste of something truly unique and memorable at every event.
Simon Huang, organizer of the festival, was generous enough to answer some questions pertaining to the festival.
Significance behind the New Year celebration
Lunar New Year is a 5,000 year tradition celebrated across majority of Asian Cultures. Last year, we focused mainly on the Chinese theme. This year we have expanded to include China, Japan, Korea, Vietnam, and Thailand to celebrate this cultural event.
Lunar New Year is the most important holiday for the Asian culture; at this time of year, people travel far and wide to be "home". What we are doing is sharing this unique cultural event with everyone, provide a feeling of home for those of us who cannot be there.
You'll think you're walking the streets of the Hong Kong market!
What will be different with this fest compared to the Asian night market and any similarities?

This event is mostly indoors, but there will also be an outdoor portion complete with ice bar and heated patio. Some of our most popular vendors from the night market, including stinky tofu and BBQ squid, will be on the patio.
A night market with the Lunar New Year theme; food and entertainment with a New Year flavor.  The similarities you can say is more great street food.
Will there be any special or different food offerings? (Like stinky tofu that was in such high demand for the summer night market)?
Of course, we always try to introduce new Asian street food, this time the vendor to watch for is the Bubble Waffle. Crispy on the outside, chewy on the inside.  Have it plain or with fruit toppings. It is the number 1 street snack in Hong Kong.
How is it that now, the event will be held at the casino?

Due to scheduling conflicts and the need for both indoor and outdoor space, Hilton Lac-Leamy was the best choice for this year's event.
Will there be any special opening shows or events to commemorate the special occasion?
There will be an opening ceremony to commemorate the event on Saturday, January 23rd at 3pm. We will have our popular lion dance followed by an exciting Asian fashion show. Also in attendance will be embassy representatives from China, Japan, Korea, Vietnam, and Thailand.
And one of the main highlights of the show will be the noodle pulling demonstration.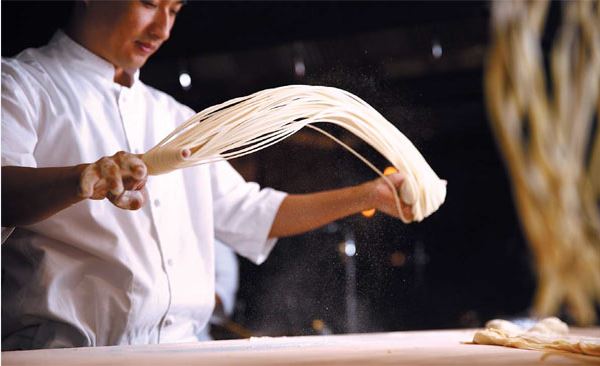 A
re you still bringing chefs and vendors from only Ottawa and Toronto? Or other regions?

Majority of our vendors are from the GTA and Ottawa.  We brought back some of the most successful food vendors from the Asian night market both from Toronto and local such as: stinky tofu, twisted potato, BBQ Squid on a stick, and bubble tea.
Is there one vendor in particular that you'd like people to try because it's something different – like the stinky tofu from the Asian night market this past summer?

Bubble Waffle. I can't wait to try it myself.  For those who want a little bit of western, cheesecake from Cheesecake Factory will also be on site.  My wife's first stop as soon as we cross into the US.
2016 will be the year of the monkey – known for its playfulness. To celebrate this year we will have plenty of fun and amazing surprises including an outdoor heated patio with ice bar, tons of door prizes and much more!
Beautiful venue, delectable Asian dishes and great entertainment…what more could you ask for to celebrate the new year?!
Date and Time: Friday, January 22 – 7 p.m. to midnight
Saturday, January 23 – 12 p.m. to midnight
Sunday, January 24 – 12 p.m. to 6 p.m.
Where: Hilton Lac-Leamy Casino, 1, boulevard du Casino
Gatineau, Québec
Admission: Only $5 in advance (purchased through Eventbrite), $10 at the door. Free admission for children under 10 yrs when accompanied by an adult.  FREE PARKING!
For more information regarding the entertainment schedule and specific entertainers, please refer to: ottawaasianfest.
See you there!