I guess you're weekend is going pretty good when the biggest decision of the day is: Now what do I want to eat right now? The tempting oysters or the foie gras bonbon, but then there's also the sous-vide steak and bison tartar to eat…decisions decisions!
For foodies out there decisions like these are not stressors, as you know that at the end of it all – you will have consumed or tried most of them,  how could you not?! And that is exactly what I did when I took part in the 19th Anniversary of Gatineau's Rendez-vous les saveurs wine and food event.
Not ever having gone to this event before, I was pleasantly spoiled as I had the pleasure of meeting key players who helped organize this culinary affair. As well as being lucky enough to be accompanied by a member of the Rendez-vous saveurs, who was generous enough to show me around and answer all my questions.
The event didn't hold back any punches, they had a bit of everything to suit everyone's tastes. Microbreweries to vintage wines and spirits were being showcased by local wineries, spirit makers to the SAQ serving some of their popular bottles. I had the pleasure of tasting a glass or two (not that anyone is counting) of Ca' del Bosco Franciacorta sparkling wine, it was first for me and it will definitely not be the last as I very much enjoyed it!
And now for the food…
For those that have been reading my articles, you know that wherever there is an opportunity for me to engage in the 3 S's of oysters…I will happily partake! For those not familiar with the 3 S's of oysters: Shuck, Slurp and Seduce!
The oysters gods were out in full force as I was treated to a variety of tantalizing oysters thanks to Les vilains pêcheurs (a seafood restaurant and outlet store located in Aylmer). When I mentioned that I had a weakness for all things oyster related, I was pleasantly surprised with Nova Scotia's Caribou Island, P.E.I's Colville Bay and Îles de la Madeleine oysters…Yes, I was spoiled 😉
Rendez-vous des saveurs not only had workshops and food demonstrations by well known chefs and restaurants, but they also had many eateries willing to talk about their establishment and what their line of cooking stands for and how it symbolizes the restaurant. Chef Jean-Philippe Ménard from Le Rituel restaurant gave guests a food demo on how he prepares his salmon gravlax and steak tartar with truffle oil. The tartar was off the chart, especially with my weakness for white truffle oil!
Food, food and again more food were out on display and for all to enjoy…And what delectable treats the guests were treated too.  Le Baccara grabbed the spirit of Halloween with their station as they tempted foodies with their rich and indulgent foie gras treat.
L'Arôme, grillades et fruits de mer restaurant at the Hilton Lac Leamy tempted guests with an assortment of surf and turf.
There were a variety of local vendors that kept guests busy, tempting them with their tasty products. From local chocolates and cheeses to savory nuts and duck confit…one could spend a tiny fortune buying these locally sourced creations. And it would be money well spent at that!
The afternoon spent at Le Rendez-vous des saveurs was one of discovering new restaurant's, new products and new chefs. To say that this amazing wine and food event is only 10 minutes from downtown Ottawa is incredible. I say this because there is no reason why anyone who has an appreciation for good food and great tasting libations should miss out on such an event!
I am definitely jotting this event in the calendar as one not to miss!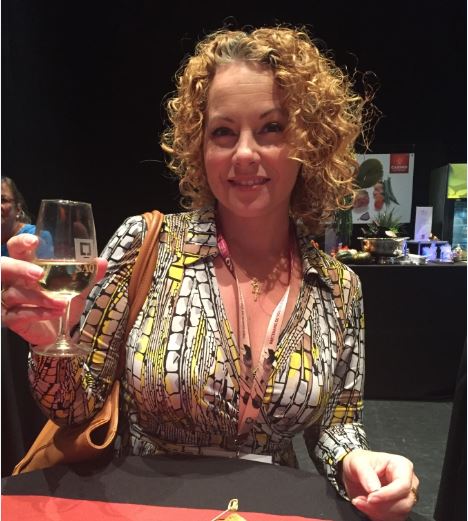 Cheers from The Food Tease!