Having lived in South Korea for five years, I believe that I am pretty opened minded when it comes to culinary delicacies that I have never tried before. Believe me, the things that I ate, saw and experienced during my childhood years of living abroad has given me a true appreciation and respect for other cultures.The newly renovated Lansdowne Park was about to host its first-ever food festival…and it wasn't going to be on a small-scale either. The Ottawa Asian Night Market festival was going to be a foodie paradise for those adventurous and curious!
I was very fortunate to have the organiser Simon Huang, grant me access to the festival prior to the event commencing so that I could meet and talk with some of the vendors. Huang orchestrated the festival to have some of the best vendors from Toronto and the Ottawa area for this culturally unique event.
So on a grey looking Friday afternoon I ventured my way to the festival, appetite and umbrella in tow. Arriving at the Lansdowne Park I was already walking into a sea of people…I forgot, there was a football game that night. Dodging the smells of the restaurants located in the park and not to mention, my all-time favorite smell was calling out my name: Freshly popped popcorn and cotton candy machines were just waiting for me to succumb to my gluttonous ways….But I prevailed and marched right by them (looking back every so often, as if to say 'I'll be back') and proceeded towards the Asian Night Market vendors.
Now here I was, waiting to smell something completely different. Something that I had been told was NOT AT ALL a pleasant smell…Stinky Tofu was my quest. So with this quest in mind, I walked the grounds hoping to find this infamous stinky delicacy. And I walked and then walked some more but couldn't smell anything offensive. I am convinced some of the vendors must have thought I was lost and was a bit eccentric as I must have seemed odd sniffing the air for that 'je ne c'est quoi' scent…I can now relate to what truffle dogs go through…I think.
After some questioning, I found out that the Stinky Tofu vendor had not started cooking yet…hence no repugnant scent in the air. As I waited for the tofu to be cooked, Mother Nature was not cooperating. The rain came down hard and many vendors hurried to place their finishing touches on their booths as well as taking cover from the elements.
 You either like it or you never put it in your mouth again!
While we were waiting for the oil to cook, I had the opportunity to talk with the owner of Asia Night Market Snack House, Morgan Ho.  I wanted to know more about the background of this unique Hong Kong dish. Ho explained that Stinky Tofu is a secret ancient recipe. There are only 3 vendors in Canada that know how to cook Stinky Tofu. Ho is the only vendor doing it Hong Kong style and the other two are done Taiwanese style. Ho mentioned that he had toned down the fermentation process for the Ottawa market but not by much.
People come for the aroma, they come for the food, they come for Stinky Tofu!
History of Stinky Tofu
"In ancient times, the King in Hong Kong had too much surplus of luxurious meals: monkey, shark fin, whatever luxury he was hungry for was at his disposal during his life. However, the King wanted to see how the people in the city ate. He saw that many people in the city didn't have much money and that they only ate local food. While travelling in the city, the King smelled something weird but he also liked the aroma. He proceeded to go to that particular 'food booth' and purchased a plate of the tofu dish. It then became a royalty dish, a dish fit for the King".
Why so stinky?
Just like blue cheese, sauerkraut and Greek yogurt there's active bacteria in them. Tofu is protein based, if fermented it releases a natural ammonia. The tofu fermentation process consists of a special vegetable based brine. The brine isn't cured but rather grown over time. I was told that this also aides in the cooking process of making the tofu nice and crispy. The brine is the quintessential reason behind the repugnant smell of Stinky Tofu, however; you don't taste it at all and it doesn't leave any after taste.
How it's served
Being that Stinky Tofu is 100% vegetarian it allows the monks to enjoy it as well! Stinky Tofu is normally served with Chinese mustard, pickled cabbage, hot sauce and imitation Hoisin sauce (imitation because the real Hoisin sauce has some animal by-products in it that prohibits Monks from eating it). Pickled garlic is also traditionally served with the Stinky Tofu but it's left out when served to monks due to their beliefs. I was told that East Asian Buddhist cuisine differs from Western vegetarian cuisine in one aspect, that is the avoidance of killing plant life. Therefore strictly speaking, root vegetables such as potatoes, carrots, onions and garlic are not consumed as this is the death of the plant. So much to learn…all from one stinky dish!!
The Verdict
I must admit I was skeptic with the whole notion that there wasn't any after taste, but it was true – there was none at all! The smell is nothing like the taste. I really enjoyed the crispy texture that the fried tofu had and the blend of the hot and sweet sauces were the right accompaniments. As for the pickled garlic…well I could've skipped on that. After all is said and done I can see how this weird offensive smell brings curious buyers to this vendor and then after one bite…they're hooked!
Now that I teased my tummy with the Stinky Tofu, there were many more dishes and other ethnic delicacies that I wanted to try.
Taro root twists was another 'must have' that I was recommended to try. I have only seen these tornado looking snacks on photos prior to this event. Happy Twist, the company that creates these beautiful and tasty concoctions takes potatoes, sweet potatoes and taro root and transforms the whole vegetable and spiral cuts them onto skewers and then deep fries them. These chip-like treats are attached in an intricate spiral tornado formation. You delicately pluck one 'chip' at a time off the skewer as you eat them….sheer genius!
I was given both the taro root and the potato twists to try as well as a wide selection of condiments like ketchup, vinegar and other spices to adorn these tornadoes. But I opted to trying them in their natural state, with just the right amount of salt to bring out their flavors.
Oh My God! The taro root twist was off the chart good! I was sold after the fist bite! No offence to the potato but in my opinion, why would you ever have the potato when you can have the beautiful flavor of the taro root as a snack? Like I said earlier, sheer genius. My only complaint would be the fact that Ottawa doesn't have this type of snack…just yet!
Next on the glutton feast was Meryenda's booth, which was just around the corner and I for one was curious as it specialized in authentic Filipino street food. Meryenda's food truck (Tagalog meaning snacks) has been in operation for over 2 months now (located at 1448 Prince of Wales Drive). Even though the food truck is rather young, I was told that the Ottawa people have taken a keen liking to Filipino street food. For the festival, Meryenda's decided to expose Ottawa to several of their dishes however; the Turon (BBQ pork on a stick) was being made especially for the festival. I really enjoyed the BBQ pork flavor and was pleasantly surprised as to how tender it was. I will definitely be making a trip to Meryenda's food truck real soon!
And no festival would be complete if I didn't have some lamb…how could I resist lamb being cooked on fiery red charcoals?!
167 Lamb Kebab was guilty of making my tummy rumble once again. The 'come hither' smell of lamb being grilled on charcoals is a smell that can, in my opinion convert any vegetarian and if that doesn't work…the taste definitely will!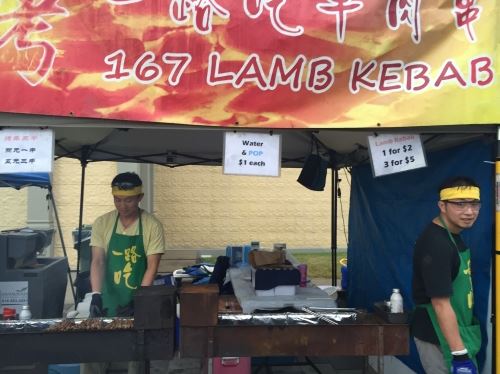 Xinjiang lamb kebabs are insanely addictive, the taste of grilled chunks of lamb being cooked on an open flame, seasoned with cumin, chili powder and salt is utterly irresistible. Not to mention when small pieces of fat hit the flames…that sweet, sweet smell just makes you want some more. And for something so good, the prices were really reasonable and quite inexpensive: $2 for one skewer or $5 for 3. Believe me when I say, you'll want the skewers to keep coming. Man, they were THAT good!
As I started to make my way out of the Lansdowne Park, the festival was in full swing and people were coming in by the droves…even in the rain.
I am very grateful to everyone involved in allowing me to experience such culturally rich dishes and for adding more memories to my 'life bank'!
P.S. As I was leaving the grounds, I literally walked by 'that' popcorn stand again. But, I was more than content and satisfied with the culinary voyage that I had just experienced that no amount of my 'favorite' snack was going to do justice at that moment.