The Jack Astor's Bar & Grill located in the newly renovated Lansdowne park is among several pubs and various restaurant that patrons can choose from. However, Jack Astor's is quickly being recognized for not only being a fun sport enthusiasts hang out, but as well as having a very diverse food menu to please all palates.
Typically when you think of pub food, your mind doesn't naturally conjure up images of Ahi Tuna, lobster and crab or better yet Quinoa anything!
We think of burgers, club sandwiches and all things fried and heavy….or at least I do. Not that there's anything wrong with fried food (hello, it's me talking here!). But I wouldn't think that a sports bar would have tasty health conscious alternatives (aside from your typical salad options) to the extent that I would not only enjoy them, but talk about them…till I got invited to have dinner at Lansdowne's Jack Astor's.
Unfortunately in this day and age, it seems as though more and more people are suffering from one form of food sensitivity or allergy that can make going to out to restaurants a difficult and arduous one at that.
Knowing that there is a rise of such food sensitivities, Jack Astor's has taken a direct approach to ensure that people with such ailments can still join their friends and enjoy the game all the while having a great meal. Making certain that their patron's food allergy is being specifically addressed.
I was thoroughly impressed when my server handed me their iPad that allows guests to filter the menu based on the sensitivity or allergy that you may be suffering from. That was a game changer for me, as it makes the process even easier for guests to not only select the meals that they would like to have but also enjoy their experience. It takes the guess-work out of menu selecting…a guess-work that can lead to terrible results for many.
And now to the food…
Wanting to try a melange of both typical "pub grub' and menu offerings that stand out from other sport bars, I wanted to see what Jack Astor's was all about. Jack Astor's wide range of flavors literally hits the 'East meets West' punch and pretty much everything in between (to Pad Thai bowls, Ahi Tuna Poke, Asian lettuce wraps, Italian inspired roasted garlic bruschetta board to Mexican influenced tacos).
Here are just some of the diverse dishes that can be shared or eaten up as 'teasers' prior to your main meal.
Enough teasing…let's go straight to the Mains
For the mains, I didn't necessarily want to try an assortments of ethnic flavors, but rather a variety of protein selections….surf and turf if you will. Especially since Jack Astor's is all about pleasing our taste buds!
So how is Lansdowne location different?
I wanted to know what made this new location stands apart from their other locations.
We went back to our roots and strived to become a part of the community that we are a part of, whether or not that has been a vocal directive from us in the past, it was always a part of who we were as a brand. We took a look at Lansdowne and decided this was our opportunity to infuse more 'local character' into our restaurant.
One of the things that guests take notice as soon as they enter the Lansdowne Park location, is the Ottawa memorabilia accentuating the restaurant  – they even have museum boxes full of interesting Ottawa tidbits. Local Artist Andy Brown updates their weekly beer menu and created a local chalkboard as well as their signs located around the restaurant.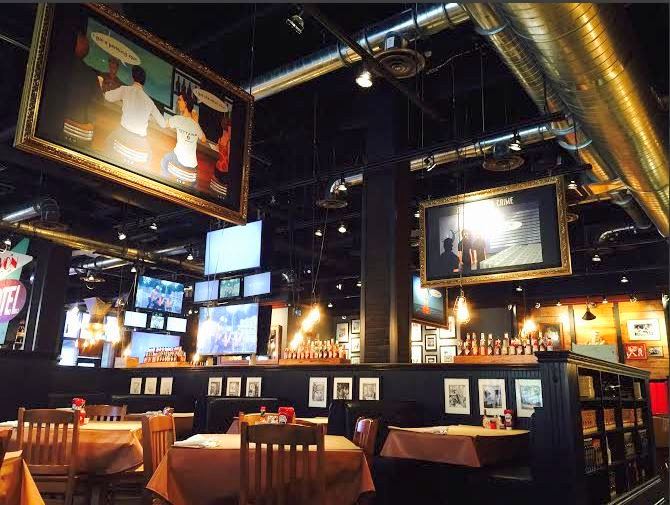 We are confident that this is where we want to go with our brand, but we are doing so in a way that we are truly thankful that we're allowed to be a part of the Lansdowne community and we humbly salute them!
Aside from the food, what sports bar would last without its 'liquid enhancers' so to speak?! Jack Astor's has a VERY large menu when it come to 'wooing' guests with their drink selection. Aside from the 40 beers on tap, they also make it a point to carry locally sourced craft beers…including some of Ottawa's own breweries!
And for those like me, who would prefer something other than beer, Jack Astor's has 2 dedicated taps for hand selected and internationally renowned wines and their own line of Tiki cocktails!
Whether it's getting together with some friends to catch up or watch the live game of your favorite sports team or to simply enjoy an evening out, Jack Astor's ambiance of ease, comfort and good time will no doubt be had.
Cheers!