Mexico has become one of the top holiday destinations, attracting tourists with its sun, sand and beautiful beaches. In the last decade, Mexico has been attracting food lovers from all parts of the world and with good reason.
Mexico is known to have a rich culinary history, dating back to the food offerings during the Aztec Empire era. An assortment of staples found in the Aztec diet are still being used today in Mexico's culinary repertoire. Vegetables like maize (corn), beans, avocados, chili peppers, tomatoes and cacti plants are ever-present in flavorful dishes found in authentic Mexican restaurants.
Aztec food was a rich combination of many foods that we take for granted today. Not only is much of this rich diet still common in Mexico today, its spread around the world.
Synonymous with authentic Mexican dishes, are ingredients that have the capability of transforming meals in a heart beat: avocados, chili peppers and of course salt!
I recently learned that chili peppers and salt played such an integral part of the Mexican gastronomical scene, that inhabitants of central Mexico would avoid these ingredients during religious fasts.
Little surprise that avocados are known to be 'Mexico's butter', as it's rich, creamy substance can be utilized in a multitude of ways…the possibilities are endless. I have seen avocados be used for appetizers, mains and interestingly enough delicious sweet desserts.
Lovers of Mexican foods enjoy it for its flavorful kick, use of fresh aromatic ingredients and colorful presentation. Mexican cuisine incorporates the cooking of ancient Aztec and Mayan Indians with ingredients and cooking techniques that originated from all over the world to create its unmistakable flavor.
Mexican cuisine is also well-known for its succulent protein options: chicken, beef (in northern areas of Mexico, cattle is king in the kitchen) pork and delicious seafood (the coastal regions rely heavily on their seafood dishes).
With these protein rich ingredients readily accessible to locals, diverse mouth-watering dishes have been created over time and such has led to recipes reflecting the 'yester year'…all keeping with them the authenticity and culture in which they were from.
Common Mexican Dishes
Chicken: Tacos, enchiladas, burritos and many more dishes use chicken in their meals as their main ingredient. Chicken mole has many variations across Mexico. 'In the Yucatan Peninsula, chicken is marinated in citrus, banana leaves, herbs and spices, and grilled'. Rice with chicken 'arroz con pollo' is a very common in most mexican eateries.
Beef: Tacos, burritos, enchiladas and the rest of the 'Mexican standards often rely on beef'. Beef is usually shredded rather than ground in most dishes. Short ribs like in many cuisines, comes out as the star meal especially when they are marinated in chili, vinegar, herbs like cilantro and spices, and then gets grilled to perfection.
Pork: Slow roasted pork shoulder cut in cubes are called Carnitas. Slow roasted for hours and then finished in a pot of hot lard, making them crispy on the outside and succulent everywhere else – makes them addictive! Carnitas are commonly used as fillings for tacos, burritos and other dishes. Tamales and mole sauces also use pork, whether it's used in their sauces or as flavorful fillers.
Seafood: Shrimp, fish tacos, calamari and an array of fish are very prevalent in the Mexican culinary scene. Grilled and fried snapper is very common and rightfully so, as its delicious. Whole fish served 'Veracruz style' is also popular. The fish is perfumed with lime, oregano and garlic, shrouded in tomatoes, studded with olives, pickled jalapeno and capers and drizzled with olive oil. Lobster/Langouste is also very popular, but more so in higher end restaurants.
Aroma Cilantro (Playa Del Carmen, Mexico)
In my recent visit to the Riviera-Maya region, I had the pleasure of eating traditional Mexican dishes at the newly opened Aroma Cilantro restaurant, located in Playa Del Carmen. Aroma Cilantro offers its guests fresh, flavorful and diverse dishes. Flavors that many 'touristy' restaurants can only try to replicate.
To my delight, I tried many dishes. Everything from tacos of various flavors, several las tortas (Mexican sandwich) and sopes (fried corn tortillas that can be filled with beans, cheese, and meat) to which I repeated with delight!
Several ingredients and flavors were still new to me and I was pleasantly surprised as to how they complimented one another. One of the new discoveries for me was 'chaya' which is also known as 'tree spinach'. I was familiar with chaya juice, but to eat the plant was a different story. Being a hard-core carnivore, I enjoyed the savoury flavor that chaya brought to the sope.
Flavors of sirloin steak, manchego cheese, pablano chili, thick slices of avocados, scampi shrimp with chipotle mayo and crunchy pork rinds with cilantro and jalapeños and of course the addictive flavor of chorizo were making me giddy as I entered my Mexican food nirvana!
This ever so charming restaurant, rich with vibrant colors and energy is an eatery where you could literally spend hours just sitting back, relaxing and taking it all in…it is after all your vacation.
And how apropos that at the bar, Aroma Cilantro even has a swing set to really let loose. Now that's what I call a relaxing atmosphere…what more could you ask for? Fresh, authentic Mexican cuisine in the most idyllic area.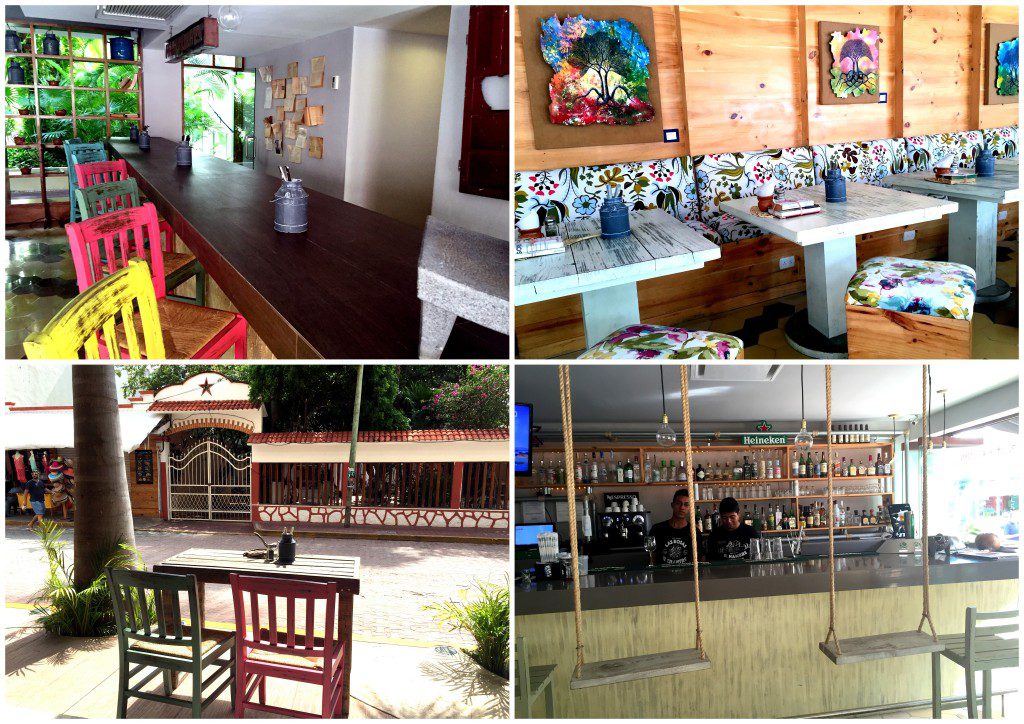 Aroma Cilantro and all its food glory is the perfect place to embrace Mexico's cuisine.
Having travelled to Mexico several times throughout my life, it has become quite apparent that the Mexican people consider food to be one of the most important parts of their culture.
As the famous saying goes: 'to learn one's culture, you must first learn how they cook'. Looking at the cuisine and food culture of Mexico, it is obvious that the people who inhabit it are very proud of their culinary background. And time and time again, I can see why!