Not too many businesses are fortunate enough to build an empire from the ground up and within years be world renowned.
Maker of Domaine Pinnacle Ice Cider, Ungava Gin, Quartz Vodka and many more award-winning libations, Domain Pinnacle, has reached such prestigious achievements. Domain Pinnacle's eye for thinking outside the box combined with the drive to aim for more has garnered them countless medals, awards and accolades from around the globe.
Resting on the beautiful picturesque slopes of Pinnacle Mountain, Domain Pinnacle's apple orchard has the best 'terroir' that one can ask for in regards to producing bountiful results for the company.
Ideal summer growing conditions coupled with our intensely cold Quebec winters make the creation of ice cider possible.
At Domaine Pinnacle, located in the charming Loyalist village of Frelighsburg, in the Eastern Townships of Quebec (near the American border…just a stone's throw away from Vermont's famous Jay's Peak ski resort), I had the pleasure of meeting owner and president, Charles Crawford in his distillery plant.
From seed to fruition
In 2000, Crawford and his wife decided to buy a 430 acre heritage property after falling in love with it's old farm-house that had the most amazing view of the mountains. At the time, they did not know what they would do with the apple orchard that occupied the vast property.
We came up with the idea of ice cider, which we were not the first, but we may have put it on the map!
With the harsh cold climate that Mother Nature provides Eastern Quebec during the winter months and with the abundant supply of apples on his hands, Crawford had the idea of making Domaine Pinnacle Ice Cider (ice cider is based on the same principles as ice wine while substituting frozen grapes for frozen apples).
After overcoming some hurdles, like a half fallen down cider barn and the fact that not many people knew about this 'new' process, Crawford decided to follow his savvy business sense and persevered.
Thinking that the ice cider product had some potential, he forged ahead and built the cidery. After investing in some heavy-duty equipment to make this dream a reality, it was all starting to come together. Knowing that he had something great on his hands, Crawford received tremendous feedback from people of the wine and food industry who were telling him that he had something unique and accordingly, he started winning awards.
Recognition from various prominent chefs added to the fact that the company's market was growing bigger and stronger. So strong that in 2002, Crawford and his wife decided to pack up and sell their primary Montreal home and move to Frelighsburg, where their children would now attend school. The move enabled Crawford to be close to the action and devote 100% of his time to the company.
International Collaboration
After a couple of years, Crawford realized that Domaine Pinnacle didn't have enough capacity for his international goals and long-term vision, which led him to develop a distribution partnership with the French cognac manufacturer, Camus.
Their relationship is best described as follows: when the Camus team sends a product container to Africa for example, "it seizes the opportunity to include several cases of ice cider if the client requests it. The strategy gradually evolved between the two partners, who first tested a few markets before striking a global agreement in 2005 that made Camus the sole distributor for Domaine Pinnacle outside North America."
World acclaimed cognac producer Camus, launched the Domaine Pinnacle name into high gear on the international platform.
What followed was seeing Domaine Pinnacle create other products as opposed to just trying to sell one 'high-end niche product'. Since the property also had an old sugar bush which the company brought back to working order, Crawford wanted to dabble beyond the ordinary and came up with the idea of using maple syrup in his liquors.
After being successful in producing pristine organic maple syrup, Domaine Pinnacle married their two 'successes', thus creating Coureur des Bois Maple Cider. From there, other maple liquors were born: Coureur des Bois Maple Cream and Coureur des Bois Maple Whisky.
In 2010, Domaine Pinnacle decided to enter the spirit realm, and so they built a micro-distillery to manufacture spirits. This became the birthplace of several award winning spirits: Ungava Gin, Quartz Vodka and Chic Choc Spiced Rum. Crawford explained that the goal for each product is to get 'their footing under them', and if they are good, expand to other countries. Ungava Gin has been remarkably bourgeoning since it was released internationally in 2013.
Thanks to this partnership (Camus & Pinnacle), the little company from Frelighsburg, today exports close to 40% of its production to 70 countries in five continents!
One of Crawford's international goals materialized when Domaine Pinnacle and Camus decided to collaborate "to market a co-branded product in duty-free stores around the world".
Teamwork
Curious as to how a successful businessman who worked at Fortune 500 companies and then ran and flipped start-up companies would end up heading, let alone owning, a successful distillery without a concrete background on the topic – other than the passion of enjoying a good tasting wine, I just had to ask: how was he able to do it?
Having an experienced farm manager, as well as a production employee, who has a Ph.D. in Food Science (specializing in wine, ciders, beers and spirits) has given Crawford the assurance and certitude that his land will not only yield quality products, but that he also has employees that possess the right knowledge and experience to ensure top grade products.
The idea is to do premium drinks, alcoholic beverages that have a twist. Using local ingredients that are different and that have a unique flavour profile.
Challenges
Like any successful company, Domaine Pinnacle has faced its fair share of challenges. As previously mentioned, Crawford had to deal with a collapsed cider barn which hindered production, still they needed to work through the renovation process in order to make the business flourish.
At the beginning it was daunting. We didn't know if we could ever make a go of it!
Knowing that it takes a couple of years to make ice cider, they needed to invest in inventory costs right away in order to see any profit in two years' time. Since banks didn't really finance them, they had to have enough cash flow to carry them through the long operational process.
Then, the SAQ (Société des alcools du Québec) had an unprecedented long strike which lasted from November, 2004 to February, 2005. As you can imagine, anyone in the alcohol business feared the worst as this would no doubt impact their bottom line. And sure enough it affected their bottom line, especially when the SAQ was responsible for 98% of Domaine Pinnacle's business at the time. The remaining percentage was being generated from their boutique sales.
Crawford thinks back to that time and chuckles as he remembers how he had thought, like many other people, that the strike would only last a couple of days, especially since it was right before Christmas. Never thinking that the strike would persist for four gruelling months.
We try to keep going with a clear vision,despite sometimes getting derailed with whatever kind of problem we might have!!
The Boutique
No visit would be complete without me taking a scenic drive to see Domaine Pinnacle's Boutique, situated on the beautiful hilltop where the apple orchard is nestled on.
Visitors can learn more about the intricacies involved in the making of ice cider and discover the history of Quebec apples and pomiculture at their interpretation centre situated next to the boutique.
Guests will be pleased to know that all ciders are available for tasting, free of charge at their boutique. And let me tell you, we are not talking about a small plastic shot glass here, it's a generous sample! Domaine Pinnacle has thought of every detail in regards to providing premium products and quality service to their clients and guests alike.
A truly must-see gourmet destination!
For food lovers who enjoy the best of both worlds (libations and culinary delights), Domaine Pinnacle also offers a cider "experience", pairing their cider with local products that compliment and marry one another perfectly. This experience is offered for groups of four or more people; reservations are required.
The boutique sells Domaine Pinnacle products, as well as a wide range of other regional products, many of which are made from Domaine Pinnacle cider products and spirits.
The Domaine Pinnacle name has proven time and time again that it represents premium quality, originality and a love for the Canadian land as it's shown in all of their products.
Whether it's to venture out and taking a scenic ride to their boutique or simply to enjoy their ciders and spirits, Domaine Pinnacle caters to every facet of what great customer service is all about. Proof is shown at their cider tastings with their postcard views of Pinnacle Mountain, and of course it's predominantly felt with every sip of their wonderful creations.
Cheers!
Domaine Pinnacle's Signature Products
The Orchard
Domaine Pinnacle Ice Cider
The libation that started the beautiful business of Domaine Pinnacle. A blend of 6 varieties of apples offering an exquisite sweet-acidic balance. A natural ice cider, with no sugar or alcohol added.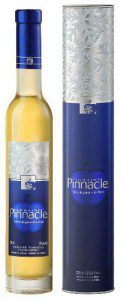 Tasting notes
Eye: Rich golden color with orange highlights.
Nose: Fresh apples, cinnamon and spice, with a hint of honey.
Palate: Opulent, intense and complexly flavored; evocative of fine ice wines or Sauternes. Its sweetness is exquisitely balanced by acidity that keeps it from being cloying and makes for a clean finish.
Serving suggestions: Enjoy as an aperitif, with foie gras, fine cheeses, a variety of desserts, or on its own to end a perfect meal. Serve well chilled (5°C).
Domaine Pinnacle Sparkling Ice Cider
The world's first sparkling ice cider!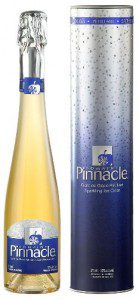 Tasting notes
Eye: Rich golden color with orange highlights.
Nose: Fresh apples, cinnamon and spice, with a hint of honey.
Palate: Opulent, intense and complexly flavored; evocative of fine ice wines or Sauternes. Its sweetness is exquisitely balanced by acidity that keeps it from being cloying and makes for a clean finish.
Serving suggestions: Complements many different foods. Perfect for any occasion. Serve well chilled (5°C).
The Maple Grove
Coureur des Bois Maple Whisky
Made from pure Quebec premium grade maple syrup and aged Canadian whisky.

Tasting notes
Eye: Decadent amber tint with golden hues.
Nose: Rich maple aromas. Slightly malted nose with hints of caramel. Creamy and expressive texture.
Palate: Balanced, creamy and complex. Presence of rye whisky baking spices. Rounded finish with subtle undertones of pure premium maple syrup.
Serving suggestions: On its own, on ice or in a cocktail.
Coureur des Bois Maple Cream
Made from pure Quebec premium grade maple syrup. Using the freshest cream and a special mix of grain alcohol and rum distinctive, natural maple syrup taste and aroma.

Serving suggestions: Serve on ice, in cocktails, or to flavour coffee. You can also drizzle it over ice cream for a delectable dessert.
Coureur des Bois Maple Cider
Authentic maple liqueur which combines the rich complexity of pure Quebec maple syrup with Domaine Pinnacle's famous ice cider and the finest apple brandy.

Tasting notes
Eye: Amber-yellow in colour
Nose: Dominating aromas of maple syrup, baked apples, hazelnuts and caramel.
Palate: A rich and opulent cider offering a perfect balance of natural sugar and alcohol. All balanced by the natural acidity of the apple.
Serving suggestions: Ideal as an aperitif, digestive or as a dessert wine. Perfect to accompany nuts, cheeses and desserts.
The Micro Distillery
Ungava Gin
Its particular aroma can be traced back to six rare botanicals native to the arctic region (Nordic Juniper, arctic blend, cloudberry, wild rose hips, crowberry and Labrador tea), that enter its composition.
Handpicked in the wild during the fleeting summer season, then infused the traditional way, they are handcrafted into an authentic gin with a unique taste to the delight of adventurous amateurs and connoisseurs alike.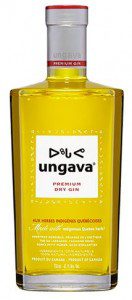 Tasting notes
Eye: The lemony color of this precious nectar recalls the aurora borealis that streaks across the great northern Quebec skies a night.
Nose: On the nose, the Nordic juniper expresses its citrusy character with verve.
Palate: Displays the refreshing, fruity and lightly acidic notes of crowberry and wild rose hips, supported by a rich and spicy plant base that marries cloudberry with arctic blend. Labrador tea adds velvety smoothness to give length to the harmonious mix.
Serving suggestions: On the rocks, alone, with a grapefruit wedge or in a classic or modern-style cocktail.
Chic Choc Spiced Rum
The first-ever spiced rum infused with a bouquet of indigenous spices (Nordic spices, peppery green alder, pine forest spikenard, withered berries, lovage root, sweet gale seeds and wild angelica) from the Chic-Choc Mountain region in northern Quebec.

Tasting notes
Eye: Amber, bright and slightly coppery recalling caramel and honey.
Nose: Reveals a spicy bouquet with nuances of sugar cane and cinnamon complemented by a subtle peppery tone
Palate: Round and balanced with a rich texture, with notes of vanilla, ginger and Nordic spices. A supple attack leaving a long, warm and pleasant mouthfeel.
Serving suggestions: On ice, alone, with a lime quarter or in a classic or modern-style cocktail.
Quartz Vodka
Quartz is made with one of the world's purest water sources, ESKA water. The only water in the world that is exclusively sourced from an esker (a subterranean water reserve formed by the receding of a glacier over 8,000 years ago in Northern Quebec), ESKA is naturally quartz-filtered in the Saint-Mathieu-Lac-Berry esker.

Characteristics: Extracted from grains of superior quality, Quartz vodka is micro-distilled five times in order to ensure an exceptionally smooth taste. Next, it's cryo-treated and micro-filtered through quartz for an impurity-free silky smoothness.
Serving suggestions: On the rocks, alone or in a classic or modern-style cocktail.