Sow a seed, Reap a harvest…nothing resonated more than those words at Savour Ottawa's fifth annual Harvest Table luncheon at the newly renovated Horticulture Building situated at Lansdowne Park.
What an incredible feeling it was, to see how our meals came together, literally from field to table. It's one thing to support local producers and farmers but it's a whole different story to literally eat the bounty right from the source. And, what could be better than to be spoiled with a multi-course luncheon celebrating the beautiful connection between farmers, producers and chefs?!
Having read great reviews and heard interesting experiences from guests who took part in last year's family-style luncheon, I figured that I was due to experience Harvest Table for myself first hand.
Having purchased the "Cream of the Crop" ticket, I wanted the whole Harvest Table treatment. The Cream of the Crop ticket gave guests the opportunity to enjoy canapés and mocktails, created by Thyme & Again and The Red Apron followed by a tour of the Ottawa Farmers' Market led by C'est Bon Cooking.
And what a day it was…you couldn't have asked for better weather for a Farmer's Market tour. It was hot and sunny…did I mention that it was really HOT?! So needless to say the mocktails that Thyme & Again provided were so apropos as they quenched my thirst as I tried my best to stay cool. I know it sounds bad to complain about the beautiful weather, but when it's hot out – it's really hot out! In all fairness, I must admit that I easily get warm, even at bone chilling temperatures….but I digress.
Amongst the backdrop of the beautiful garden beside the Horticulture building, flavorful canapés teased our tummies prior to our Farmers' Market tour. This was a good thing as many of us skipped on breakfast to save precious room for the multi-course luncheon that we were later going to be spoiled with.
Canapés
I need to point out that Devilled eggs by The Red Apron was a hit amongst the guests. Who doesn't like creamy whipped egg filling adorned by crispy bacon?! Then add a refreshing cool cucumber slice to the mix – who would have thought that would have worked – rhetorically asking of course.
With appetites content, off we were to start the Ottawa Farmers' Market tour with C'est Bon Cooking guides leading the way. C'est Bon Cooking believes that "one of the best ways to learn about a city is to explore its neighborhood food markets, sample local produce and dishes, and meet area chefs and food artisans" and I completely agree as we had a blast during the market tour!
C'est Bon's Cooking tour not only provided us with informative tidbits regarding the market and its vendors and producers but did so in a very fun and interactive manner!
And now, the pièce de résistance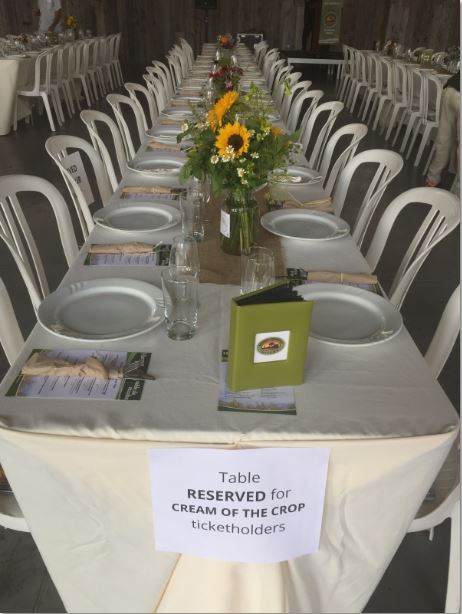 As I mentioned earlier, the venue for the family-style lunch was at Lansdowne Park's newly renovated Horticulture Building and it was decorated in a simple yet perfectly themed manner for the event…let the bounty speak for itself!
Creating a beautiful ambiance while guests enjoyed their charcuterie board and libations, Impromtu Strings played classical harmony which added to the milieu.
Food for the body is not enough. There must be food for the soul
It must be noted that every table had a seat designated for a local producer, who was there to share their passion for food. It was a great concept as I noticed it helped break the ice for many tables who were eating amongst strangers…but not for long.
Salad Course
I definitely got my fill and then some of fresh vegetables and legumes that were being utilized in the salad course.
Mains
Dessert
Wow! What a morning and afternoon. From the Farmers' Market tour where we met producers and farmers to partaking in an exquisite multi-course lunch that talented local chefs put before us – it was the perfect event to showcase the seasons' rich bounty.
Savour Ottawa's Harvest Table captured in my opinion, what a farm-to-table celebration should be all about: educating, discovering and enjoying Mother Nature's gifts!
Can't wait till next year's luncheon!