When I heard about the YUL EAT festival in Montreal, I thought now THIS could be loads of fun. How could I go wrong…
Beautiful setting of being in Old Port Montreal: Check!
Gorgeous sunny day by the water: Check!
Food Festival fit for the masses: Check!
Curious how the festival began and the significance of 'YUL', I did a bit of research. It turns out that the YUL EAT festival started last year in September 2014 at The Esplanade Financière Sun Life. The primary goal was to bring "together fans of the culinary arts and local cuisine".
The festival's name reinforces the desire to highlight Montreal as a gastronomical force by incorporating the Montreal International Airport – YUL, and marrying it with the abbreviated E.A.T.:

E stands for Experience
A stands for Appetite
T stands of Terroir
This year's 3 day event (September 5th, 6th and 7th) took place at the ever so beautiful and one of my favorite places in Montreal…Old Port Montreal at the Quai de l'Horloge.
Organisers went all out in regards to having varied activities and events to suit everyone's palate. Some of the all-day events included:
• "Matua Buvette", a terrace that not only provided some ever so needed shade from the insane heat we were experiencing, but it was also a place where dj's did their thing while guests enjoyed a beverage or two.
• Walking around, you could easily see and sample (a lot of sampling happened) at several agri-food companies. And I must add that they were very, very generous in their offerings!
• A Farmer's Market and General Store that had a multitude of artisan producers showcasing their products and fare.
• And of course the main draw for many people – the 50 pop-up restaurants and food trucks to be gluttonous over.
In my case, the day started off by one of YUL's events – The YUL Brunch. The YUL Brunch consisted of three well-known Quebec eateries who were trying their hand at street food by partnering up with a food truck…giving me a 6 course meal to start off my day!
First Course
Prepared by: Phoenix 1 & Manitoba
Verdict: The gravlax was well gravlax…nothing out of the ordinary. The dumpling however was incredibly savory and very comforting in taste.
Second Course
Prepared by: Grumman'78 & Jason Morris
Verdict: The taco was very simple and true to a brunch staple. The fois gras pared with the Cinnabon was not my favorite as I found the foie gras to be too cold for my liking.
Third Course
Prepared by: La Sandwicherie Zoe's & John Winter Russell
Verdict: Other than the salted Haloumi, I'm afraid nothing else stood out for me…on both dishes.
Ok, so out of the 6 dishes I was only really impressed with one of them – the savory dumpling…but that was okay as I had the entire day ahead of me to eat, drink and be merry and that is exactly what I did!
Walking throughout the festival grounds, everywhere you looked there was something new to either eat or drink. And from my favorite caffeine fix, Nespresso (and this is coming from someone who normally doesn't drink coffee, but Nespresso has converted me) they had their beautiful VIP lounge to sip and savour and of course to relax…that went ever so well with the beautiful summer day Montreal was having.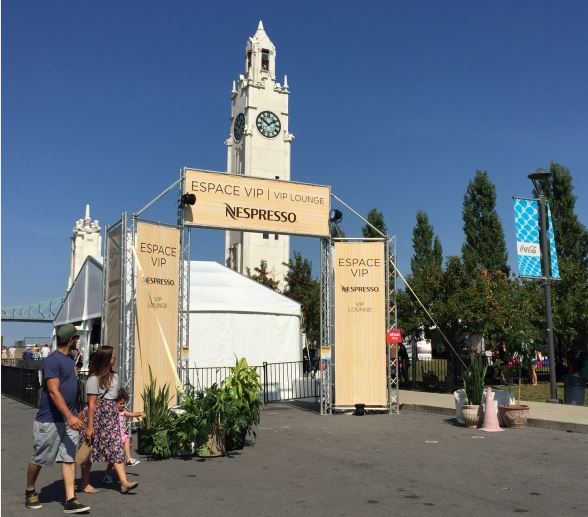 As I was saying, food choices were plentiful and if the sight of the different array of delectable culinary choices didn't pique your interest, then the smell definitely did. How can anyone in their right frame of mind, not be seduced by the amazing smell of meat being cooked on an open flame?!
Entranced not only by the smell of the BBQ, but also by all the visuals that came along with all the food trucks and agri-food companies out on display – guests had plenty to choose from.
Kitchen Brïz tempted me with their freshly prepared 'pogo', but this wasn't just your average "Joe" pogo. This was the ultimate pogo, if that even exists. Kitchen Brïz used their smoked BBQ pork and then fried their creation in a light and crispy tempura batter…the result speaks for itself! And if it wasn't obvious – this pogo was off the charts in taste and texture.
One thing I did notice during the festival was how extremely clean the grounds were. I made special note of that especially since many festivals don't make garbage disposing one of their priorities. Garbage in full sight can make for a very unpleasant setting, especially when you are trying to enjoy your meal.
The YUL EAT festival not only made sure that every couple of feet there were garbage and recycling bins present but also free water dispensers!!! I could not believe that! I am so used to being charged insane amounts of money for a bottle of water, that for me to see it be given away for free was so refreshing and shockingly impressive.
I forgot to mention that during the brunch, they were handing out free water bottles, as many as you wanted – great for the hot scorcher of a day we had. And on top of that, free water dispensers were so cleverly constructed that it gave guests the choice to either refill their bottles of water or simply to rinse them out so that they could enjoy a libation at another booth.
Speaking of libations, Maille mustard had one of the most clever booths at the festival and I'll explain why. When we think of Maille we typically just think of mustard, but at the YUL EAT festival they tempted guests with macaroons, cocktails and other tasty treats to lure their guests to their beautifully laid out booth…And would you believe that all their products – sweet and otherwise were all made using the Maille mustard! Genius!
Not only did their booth make you feel like you were in France, enjoying a beautiful herb infused cocktail as you enjoyed sweet temptations but there was more. Maille also had a tasting bar so that guests could go sample their various flavors that they were selling. Fair enough right? But it went beyond that, they had their tasting bar be adorned with salty pretzels, baby dill pickles and onions – all to accompany the different flavored mustards. And the best part was they encouraged guests to go up and try as many as you wanted. Why would anyone ever leave this French inspired paradise?!
Over the course of the three days, the YUL EAT Festival had guests chefs giving cooking demos, live one-on-one interactions with chefs, restaurants owners, farmers and producers.
I had the pleasure of experiencing it for the first time and after the full day of eating and drinking and taking it all in…I can't wait to do it all over again next year!