Father Time, the arch nemesis of the day showed no mercy. Cold sweat on the brow acted as a reminder of what was at stake. Feelings of exhaustion set in as every muscle burned and succumbed to the pressure of the day. Basically, all factors took centre stage as the five competitors pushed themselves to new levels of determination and perseverance while they competed in the 4th National Capital Region Culinary Competition.
The fourth edition of this culinary competition, under the Patronage of the Embassy of Germany in Ottawa and in collaboration with La Cité, showcased "Les Espoirs culinaires de la région de la capitale nationale du Canada – chefs putting their talents to the benefit of the family services at the Vanier Community Service Centre through their respective restaurant enterprise".
Literally at the crack of dawn, all five competitors met at La Cité collégiale to start on their all-day German inspired cooking competition. The National Capital Region Culinary Competition was open to executive chefs, sous-chefs and professional cooks from Canada. And with that, the five competitors patiently waited for their signal to commence the competition.
Contestants had four hours to create six plates of the same appetizer, and another 105 minutes to complete their main dishes. Following this year's German culinary theme, the mandatory ingredients being utilized were 2 whole fresh rabbits, 1 carp, Juniper berries and Kirschwasser (a German clear brandy, distilled from cherry juice and pits).
On the flip side of the ingredients that HAD to be used, contestants were also informed of ingredients that were prohibited during the competition. High-end flavour inducing ingredients like truffle, lobster, foie gras, caviar, pre-made sauces (Demi-glace) and pre-peeled ingredients were all banned.
Details of the competition rules and the use of the mandatory ingredients were explained to each candidate a couple of months in advance, so that they had time to practice and prepare for their German inspired dishes. Each chef was given two students from La Cité's culinary program to assist them during the competition.
The competition was co-presided by Chef-teacher and coordinator of the culinary programs at La Cité, Wayne Murphy (Director of jury kitchen) and by Mariane Weber, of Le Baccara at the Casino Lac Leamy and a graduate of La Cité.  As well as being the first winning recipient of this competition, Ms. Weber was acting as contest Chairperson.
Each participating chef was being assessed by two separate panel of judges: one for technical and another for tasting. The technical judges (Chef Serge Champagne, Chef Andrew Skorzewski and Chef Xavier Baubly) would assess the candidates' technical skills, organisation, hygiene practices and use of the ingredients.
The tasting judges (Chef Louis Charest at Rideau Hall, Chef Robert Bourassa, food writer Pierre Jury at Le Droit, Nicole Paradis of C.A. Paradis Food Equipment Supplier and The German Ambassador's wife Eleonore Wnendt), assessed each dishe's presentation, taste, originality and seasoning.
Candidates participating in the competition:
There was organized chaos with the kitchen where each team worked in unison with their new teammates for the same goal – win! Some teams seemed to be more relaxed than others; however, when it came down to the final minutes, I could see the intensity of all the pressure as I was literally in the action of it all.
With the timer quickly running down to the last remaining minutes and in some cases, seconds, I felt my neck and shoulder muscles tense up as I observed candidates plating their dishes. Tensing because I would have loved to have helped them, or simply tell them that precious time was passing or shout out loud that they had forgotten some ingredients on some of their dishes. But alas, all I could do was watch and hope for the best for them.
The Winning Dishes
Raphaël Secours – Bistro l'Alambic
1st Place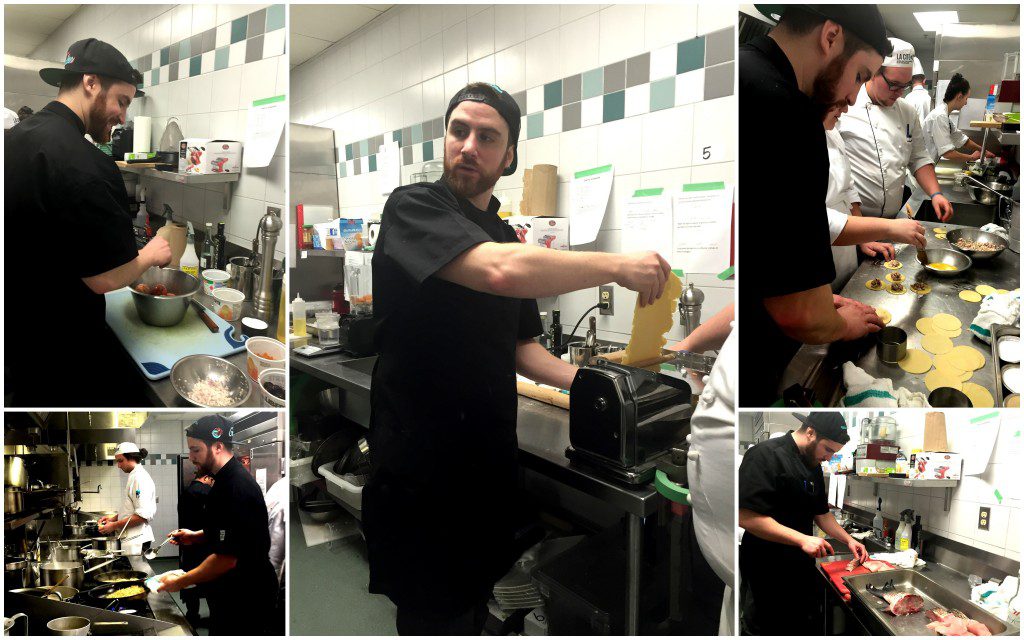 Appetizer
Main
Félix Lapointe – Le Sainte Estèphe- Fin Traiteur
2nd Place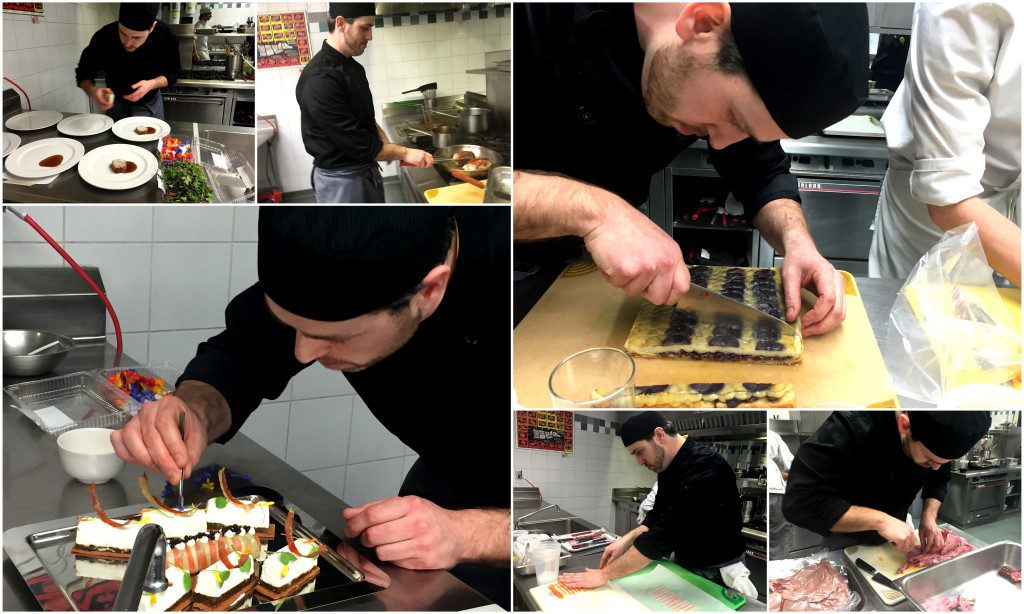 Appetizer
Main
Abhishek Shetye – National Arts Centre
3rd place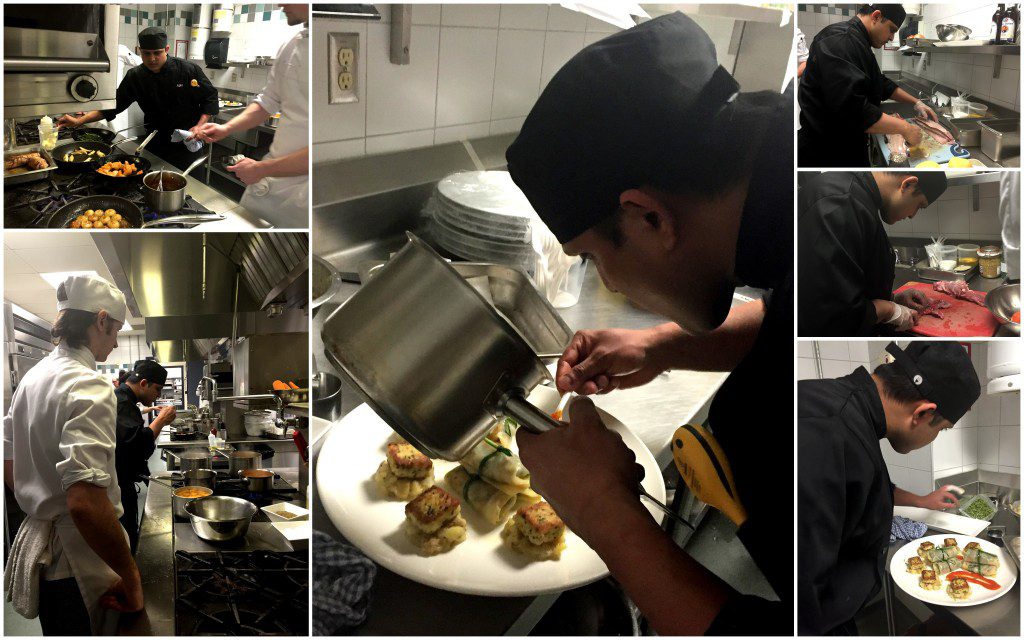 Appetizer
Main
As each candidate plated their final dish, I saw firsthand the respect and camaraderie that each candidate showed toward their new teammates. One must put it in perspective as to how much pressure let alone faith it took to go into a competition like this one. It is one thing to compete on your own, but to have complete strangers, who you just met minutes prior to the competition, working side by side striving of winning the gold medal. Oh, no pressure!
Communication and a very calm demeanor was ever-present throughout the entire competitive process. I am not sure if I could honestly say that I would have acted so calmly when with seconds remaining on the clock, I am trying to maintain my composure and an innocent mistake or an oversight could easily happen. My hat goes off to all the candidates for showing a very mature working ethic exemplified by teamwork and communication.
And if the competition wasn't enough for one day, there was more!
The evening would also serve to announce the winners of both the artistic chocolate sculpture and the wedding cake competition that also needed to demonstrate a German influence in their designs.
Guests who attended the culinary competition soirée were spoiled with sparkling wine, canapés and a family-style German influenced meal which that was a hit with the guests.
Assorted made-in-house charcuteries that complimented the German inspired meal, such as head cheese, pork loin ham, duck liver mousse, pâté de campagne, lentil terrine and various condiments, adorned each table for guests to enjoy.
The main meal was one of sheer tradition: Sauerbraten (German pot roast), braised red cabbage and dumplings served with stuffed pears and cranberries. It was all absolutely delicious! And for those with a sweet tooth, it was a dessert extravaganza! Black Forest cakes, strudels and an assortment of both German and French pastries!
The evening was a total success for all who attended. Prizes were given out to the winning participants and two scholarships will be awarded to future students of La Cité's culinary program. The real winner of the evening was the Vanier Community Service Centre for whom an impressive $50,000 was raised!
Guten Appetit 😉
