The land of butter, cheese and cream was calling me and I was more than eager to be swept away. Swept away to Normandy, France, a region of all things decadently rich and savory, enriched by both land and sea. But first, I was about to be spoiled by what has been deemed as Snow White's retreat in the beautiful rolling countryside of the Auge Region in Normandy, as I was a guest staying at Le Domaine d'Ablon Estate during its grand opening.
Situated just an hour-and-half from Paris near the Honfleur region, Le Domaine d'Ablon gives its guest the serenity that they long for – one in which, only the Normandy countryside can provide.
Inspiration
Owners of the Ablon Estate, Christophe and Véronique Delaune, have been fortunate enough to have travelled extensively around the world and have had the pleasure of being guests at the most luxurious hotels and eateries around. Having had the opportunity to travel to foreign destinations during his tenure at NASDAQ, both Christophe and Veronique made it a point to take note of the all the splendor in which they were surrounded by.
Voyages to Africa, Dubai, Bali, Switzerland and many other luxurious locales gave the couple front row access if you will, to an abundance of upscale posh amenities and most of all – a variety of superb hospitality experiences. They made it their mission to remember the intricate and meticulous details that these world renown hotels, villas and restaurants offered their guests. It is with this eye for detail that inspired the notion of opening Le Domaine d'Ablon Estate.
After having left his post at NASDAQ, Christophe and Veronique purchased a very large piece of land that held a 14th century old half timbered house that held a unique charm and rustic appeal that spoke to them. Over the course of three years, they embarked upon duplicating the "Snow White" cottage and thus built a Normandy oasis, rich of timeless character and sophistication…one in which, I was fortunate enough to experience.
As soon as I arrived to the estate, it was as though time had stood still and brought me to another époque. Greeted by the abundant colors and fragrances of the Normandy flora, it was a gift to my senses after a long plane ride. The cobblestone pathway leading me to my 'villa' left me in awestruck with the beauty of the resort…and I had only just entered the Estate grounds.
The traditional buildings on the Estate, roofed in thatch…have their own history and atmosphere, displaying a unique architecture rooted in the Normandy soil. Flint, thatch, granite, bricks and ancient wood, all have their place in the materials used and respect the traditions of the region.
The Grounds
The vast property (5 hectares) in which the Estate resides on, is multifaceted in regards to the abundant views that guests can fall in love with. From their perfectly groomed gardens (a food lovers delight, as this means the bounty I was going to spoiled with was literally steps away from the kitchen – you can't get any fresher than this!) to their extensive orchards…one can easily get lost in its splendored charm.
Walking on the cobblestone pathway leading to the herb garden, I could literally follow my nose to find its aromatic treasures. This garden was something I really wanted to explore as I absolutely love herbs and how they can innocently transform the simplest of meals to something spectacular!
I must admit, I was not prepared to see the vast amount of herbs and different varieties that each one had…impressed I was, to say the least. Being a foodie, I was overjoyed to see this beautiful display of herbs. Smells of lemon balm, lemon grass and verbena made me smile as I wished I could bottle up their glorious and intoxicating scents! One could tell that much thought was given to which herbs would be grown and the reasons behind it. Pesto would be endless in flavours, as the herb garden carries over 12 different types of basil and an assortment of rosemary to select from…incredible!
Services
Le Domaine d'Ablon conveys the message of catering to their guest's every need, want and desire while on vacation. It provides guests with deluxe services a posh hotel provides, however; it surpasses as their concierge services are impeccable and exceeds all expectations that many establishments should take note of.
A wide range of first rate luxuries are made available to guests: catering services for private lunches and dinners by the Estates in-house chef, baby-sitting services as well as horseback riding (which is very convenient as the Estate has its own stables). The concierge service will also recommend and arrange visits to tourist attraction sites and 'must-see' areas. And my favorite, the concierge will make arrangements so that you have access to some of the best restaurants in the area. These are all part of the posh services that the Estate offers.
A landscape symbolising Normandy itself, full of authentic charm, shaped by the numerous orchards, stables, half-timbered  farmhouses and a gastronomic legacy worthy of the region.
Accommodations
To say that my suite was accommodating would be an understatement. The Master Suite provides ample enough room for anyone to enjoy, with a spacious living room, bedroom 'relaxation' area and a charming desk area to jot down your memoires. The adjoining 'small suite' combined with the Master suite is best suited to host either a family or a group of individuals that want to share a common living room. The entire floor can be rented as a whole or the individual suites can be rented on their own.
Upon entrance, as you walk up the stairs you are greeted by an old school décor. Leather sofas in rich earth tones compliment the antique furnishings which accentuate its rustic charm. Nothing has been left to chance in regards to making a lasting first impression…a bouquet of freshly cut roses that blend perfectly with the ambiance of the suite, tempting signature sweets (should you fancy a sweet temptation) to the calming and serene sounds of a cascading water fountain heard just outside my villa. Details….its all about the details.
Walking through the living room area brought me to my very charming bedroom. It had everything you could possibly want: a mini bar, a Nespresso coffee and tea service area, a 47 inch flat screen TV with DVD player, WiFi access and I can't forget the bedding…the bedding was not only comfortable but insanely soft (again, details that we easily take for granted). Yes, there was more than enough room in this area to sit back, relax and enjoy!
It must be noted that the Master Suite felt as though I was in a aromatherapy spa. Scents of lavender and roses were present, nothing overbearing but enough to bring you to another state of mind…calming in nature. Freshly cut flowers were beautifully arranged and displayed in every part of the suite. Le Domaine d'Ablon finds the beauty and simplicity of bringing Mother Nature's beauty into your suite without overdoing it.
At Domaine d'Ablon, the art of living is the very essence of the place. Here everything is thought of to ensure absolute relaxation in a luxurious and traditional environment.
The Master ensuite was literally my 'spa in waiting', as I was greeted by a beautiful vintage bath tub placed in the middle of the spacious bathroom with heated towel racks to ensure pleasure and comfort at all times. Granite countertops accentuated the monogrammed double sink vanities, more than enough room to look your finest. Speaking of looking good, only the best to feel your best…Bvlgari products at your disposal…need I say more?! Typically I'm not a bath kind of girl, but when you show me a bath tub that has Bvlgari bath sachets 'to melt away your stress'…you've just converted me!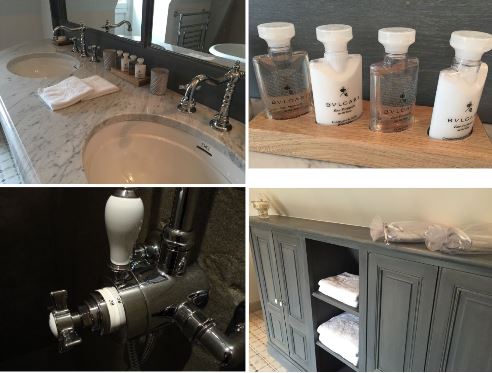 Discover real luxury, Normandy style, a perfect balance between character and timeless charm
Expansion
Having talked with the owners as to what the future holds for this new venture, they enthusiastically said that they have big aspirations on how they would like to expand on the already sophisticated estate. Plans are being made to construct a multi-media center on the estate grounds for a mini-theatre. Like everything else on the property, it would be just a stones throw from your suite to enjoy a multimedia experience of your favorite flick being viewed on a large screen format…all the while, Mother Nature's theatre is waiting for you right outside your door!
A fully integrated state-of-the-art fitness and spa centre is aimed to open next year. The spa, sauna, pool and gym facility will be overlooking the beautiful manicured grounds just steps from the guest's suites and villa. This will be another signature feature that guests will be able to indulge in.
Staying at Le Domaine d'Ablon is one of splendour. From the serene 'Garden of Eden' feel to the exquisitely manicured courtyard that the suites are surrounded by to the first-rate hospitality – it is truly a retreat worth discovering.
Stay tuned for the refined culinary voyage that the Ablon Estate took me on…I wouldn't be a tease if I gave you everything right now 😉