Dia de los Muertos, also known as The Day of the Dead had been something I was drawn to the moment I heard its name.
As macabre as it sounded, there was something about the annual celebration that drew me in and I was not alone, as thousands of visitors each year take part in this amazing event. 
In order to get the full experience, you must immerse yourself completely in the Mexican culture and be open to their beliefs.
Much like Halloween, Dia de los Muertos is often depicted by images of skulls, graveyards and costumed individuals with elaborate face paintings.
The big difference though, lies in the meaning behind this annual event. Unlike Halloween, Dia de los Muertos is derived from the love and honour for those that have died and left their loved one's all too soon.
It's about showing respect for the deceased's lives and remembering them and their personality in the most beautiful manner possible.
On Dia de los Muertos, the dead are awakened from their eternal slumber to become a vibrant part of the community. They are celebrated with objects and activities they enjoyed in life, such as food, drink, and music. – National geographic society
Having had the pleasure of working with the Riviera Maya Tourism board in the past, I expressed my interest in knowing more about the festival and to my surprise I was treated to experiences that were literally once-in-a-lifetime!
I quickly learned that Dia de los Muertos is actually Dias de los Muertos, since the holiday is spread over two days to honour both children and adults who have passed on.
Honouring the dead with festivals and lively celebrations, Dia de los Muertos is a Latin American custom that combines indigenous Aztec rituals with Catholicism.Its belief system of commemorating and reconnecting with the dead, attracts thousands of visitors to Mexico each year to be part of the festivities and traditions.
November 1st is Dia de los Inocentes, honouring children who have died. During this time, graves can be seen decorated with white orchids and baby's breath. Whereas November 2nd, is Dia de los Muertos, honouring adults. Their graves can been seen beautifully decorated with bright orange colours from the cempazuchitl flower (marigolds).
These flowers are also often referred to in Mexico as flor de muertos, which means flower of the dead, because they figure prominently during the Day of the Dead celebrations.
It is of belief that the cempazuchitl flower is used during this time due to its very fragrant scent. Tradition has it that the smell is supposed to guide the beloved dead relative back to their family.
I also wanted to learn the significance behind the beautiful Catrina dolls that I had fallen in love with. These haunting skeleton ladies can be seen pretty much everywhere you go during the month of the Day of the Dead.
As the story goes, the "Lady of the Dead" la Catrina was once worshipped as a powerful goddess. As time has marched on, the Catrina figurines are now viewed as a play on death. To make light of the dark situation.
Catrina dolls and her male suitors are often depicted wearing the finest of garments. Catrina's can be seen in people's homes and store fronts wearing elegant gowns with the most lavish of headpieces. They are stunningly beautiful!
Relatives and loved one's can be seen celebrating the festival both publicly and at home. Everything from street parties, parades to festivals take place to remember those who have passed.
In the privacy of their homes, relatives make altars to honour the deceased. Flowers, food, photos and drinks that were favoured by the departed are often placed on display at the altar. Family and friends get together to share stories and personal anecdotes of the person being remembered.
Festival of Life and Death Traditions
The famous theme park Xcaret, honours the Day of the Dead Festival by offering theatre, dance and gastronomy to commemorate the festival to locals and tourists alike.
Xcaret's "Festival of Life and Death Traditions" (declared a Masterpiece of the Oral and Intangible Heritage of Humanity by UNESCO), is something to be seen and felt during the Day of the Dead Festival festivities (October 30 to November 2nd).
During Xcaret's "Festival of Life and Death Traditions", I had the great pleasure of taking part in the Hanal Pixan ritual. Hanal Pixan, Mayan for food for the souls was literally a feast of both culture and food.
When I visited Xcaret, they hosted 50 Mayan communities to share their Hanal Pixan rituals as well as how they celebrated this special time in Southern Mexico.
Enjoy this celebration of the Mayan World dedicated to the memory and coexistence with our deceased. -Xcaret Park
Just walking into the park, Xcaret was a sensory overload. Both eyes and nose could not help but notice the sea of cempazuchitl flowers. They were literally everywhere. It was a beauty to see, especially when the sun was starting to set and candles took over every available space imaginable. Their glow intensified the magical feeling of the festival!
And before I knew it, I started to see the smoke of the Mayan meals that were being prepared by the numerous Mayan communities that were taking part in the festival. It was a food lover's dream come true!
To smell food being cooked underground covered in layers of banana leaves and hot amber stones was something else. Seeing the men and women prepare their culinary offerings in what some may think were with primitive tools was extraordinary. Their tools may have looked primitive and basic but their flavours were nothing but.
Guests, including myself, were spoiled with the bounty that these Mayan communities brought with them. The aromas and flavours from the meals were truly delicious! I almost felt guilty eating so much, but how could I ever say no to such flavours?! And the best hibiscus tea that I have ever tasted washed the food down. It was both refreshing and invigorating.
Having spent several hours at Xcaret learning about the Hanal Pixan rituals, I learned "how Mayan people indulge the souls of their loved ones through theater, dance and gastronomy".
On Dia de los Muertos, the dead are also a part of the community, awakened from their eternal sleep to share celebrations with their loved ones.
While I was at the park, several families were invited to make their altars at the park so that guests and locals alike could see exactly how the altars look like in real life.
To see the toys, photos and food offerings that truly depicted the person who had deceased was something else. It was a time of joy for them to talk and reminisce about their departed loved one. It was an honour to see this in the making.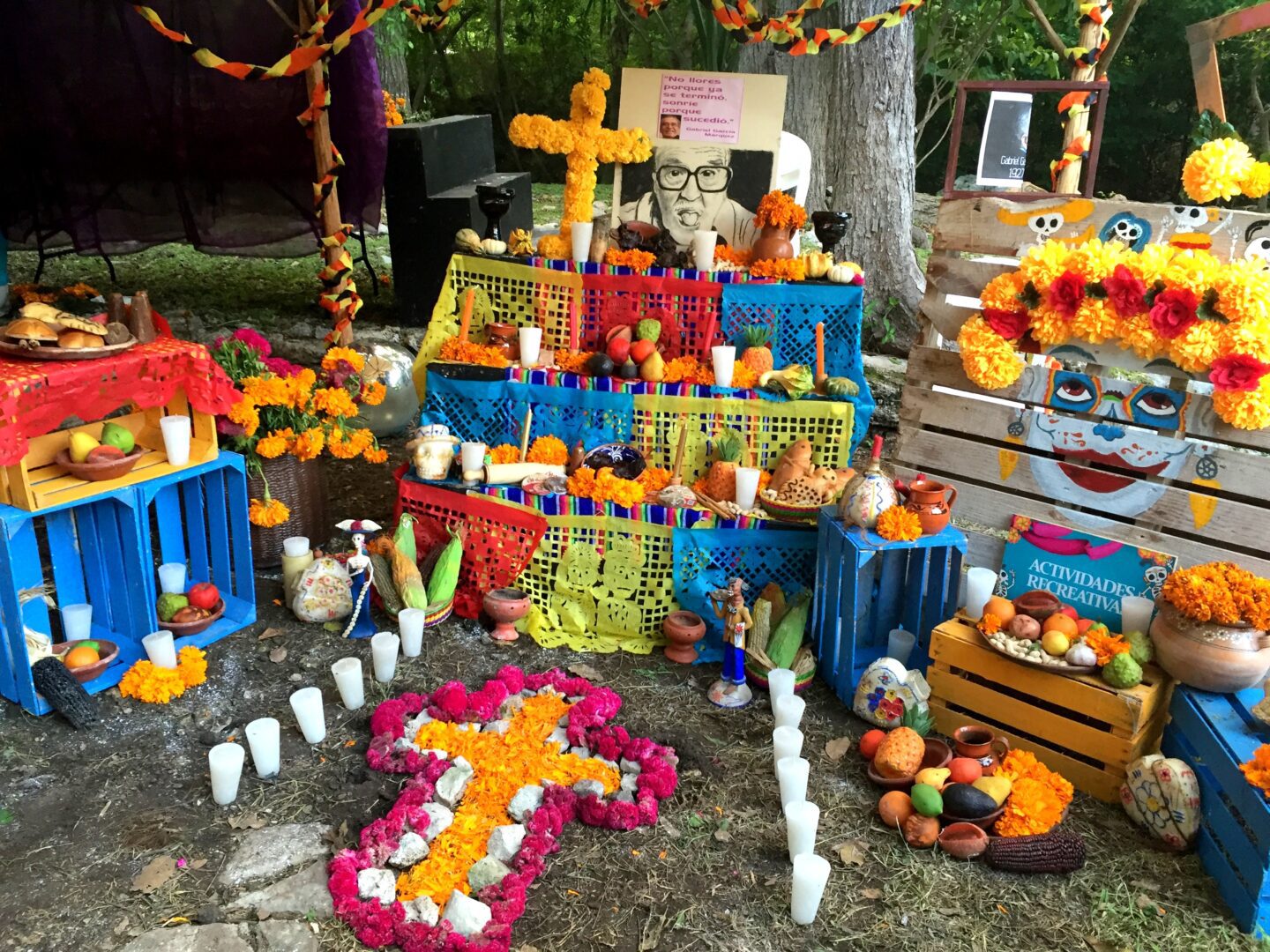 Since Dia de los Muertos is not about feeling sorry or mournful but rather the opposite, there are many fun traditions associated with the festival that I not only learned but also took part in.
Dia de los Muertos Culinary Offerings
Pan de muerto Day of the Dead bread
During the festival, families and restaurants cook and bake traditional Dia de los Muertos offerings.
The most common and most associated with the festival is pan de muerto (Day of the Dead bread). It is an essential element of a deceased's altar and is typically seen almost everywhere during Dia de los Muertos.
Pan de muerto, a sweet egg rich bread varies from region to region; however, it is typically round with shapes on top that depict the look of bones, often either sprinkled with sugar or sesame seeds.
Calaveras de Azucar – Sugar Skulls
Skulls in every format can be seen throughout the Day of the Dead Festival including sweets. Skull figurines in cookies, chocolates and even skulls made of pure sugar can be found everywhere.
I was lucky enough to be invited to take part in a sugar skull decorating class. I don't think they realized how poor my artistic skills were, but nonetheless I prevailed and created my little skull! I later found out that sugar skulls are often used as gifts during this festival, and they are deemed more prized if the skull has one's own name written on it with icing…so that's what I did!
Tamales
Tamales or tamalli in the Aztec language means to be 'wrapped'. The very popular dish consists of corn-meal dough filled with various proteins (chicken, vegetables and pork) and wrapped in either corn husk or banana leaf, and steamed. Tamales are a favourite food for the Day of the Dead Festival.
During the Hanal Pixan celebrations, large tamales called Mucbipollo were cooked in the underground ovens…I couldn't eat enough of them. I have had tamales in the past but that paled in comparison to those I tried during the Hanal Pixan rituals.
Shaman Ceremony
As much as I wanted to learn and be part of Mayan ceremonies and traditions celebrating those who have passed on, I ever imagine that I would be part of a genuine Shaman ceremony.
I was spoiled by the opportunity of being a witness too and actually take part in a Shaman ceremony thanks to both the Maya Riviera Tourism Board and Alltournative.
The excursion had us travel to a remote part of the Maya Riviera region deep in the jungle. We were invited to the Tres Reyes Community for their Hanal Pixan celebrations where we saw locals from different communities taking part in an altar competition.
A competition where Shaman priests selected the altar that best represented the festival as its winner. The competition was the perfect way to bring children and elders from different communities to come together before the actual Shaman ceremony took place.
As we were led down the endless makeshift stairs into what seemed like a huge hole in the middle of the jungle, the only light that one could see was the moonlight and the light casted by our candles.
Gone were the lights of the city and with it, the noise of the traffic. All that was there right at that moment, were dozens of men, women and children sitting around this cave like setting surrounded by a pond. And ironically enough as we sat there in the jungle close to still water….not one mosquito was present.
The Shaman priests performed their ceremony to which I was in awe. The cave like setting in which we were all part of illuminated in the most beautiful manner. I was fortunate to have friends translate the ceremony for me seeing that it was performed in Spanish. But like all good things, some messages don't need a translation…it's universal.
My experiences during the Day of the Dead Festival, the beautiful Dia de los Muertos will always stay with me and I hope that others will be encouraged to make the same discoveries as I did.
It's an enlightening moment when you embrace a new culture and understand their traditions. A fond new appreciation was had and many more to come!