Leave your worries at home as you embark on a vacation destination that takes care of all your needs. Listed amongst Travel & Leisure's "2010 World's Best Hotels" in Mexico, the Barceló Maya Beach Resort is ideal for travellers who want to be pampered as well as those that place an emphasis on quality.
Located on one of the most beautiful beaches in the Mexican Caribbean, the Barceló Maya Beach Resort stretches over 1.4 miles (2,25 kilometres) of fine crystal sand, coral reefs and stunning aquamarine water that are considered to be the finest stretch of oceanfront in the Riviera Maya. The coastline forms two natural bays and is fully protected by a coral reef, resulting in extremely calm, crystal waters – perfect for snorkeling or simply unwinding as you swim!
This 5-star hotel complex is comprised of five all-inclusive hotels that offer three "distinct levels of accommodation" along with a very modern convention centre.
Arriving at the secured gates of the Barceló Maya Beach Resort, I was taken aback by the vast size of it all. The lush grounds and their manicured tropical gardens adequately complement the stunning views offered by each hotel.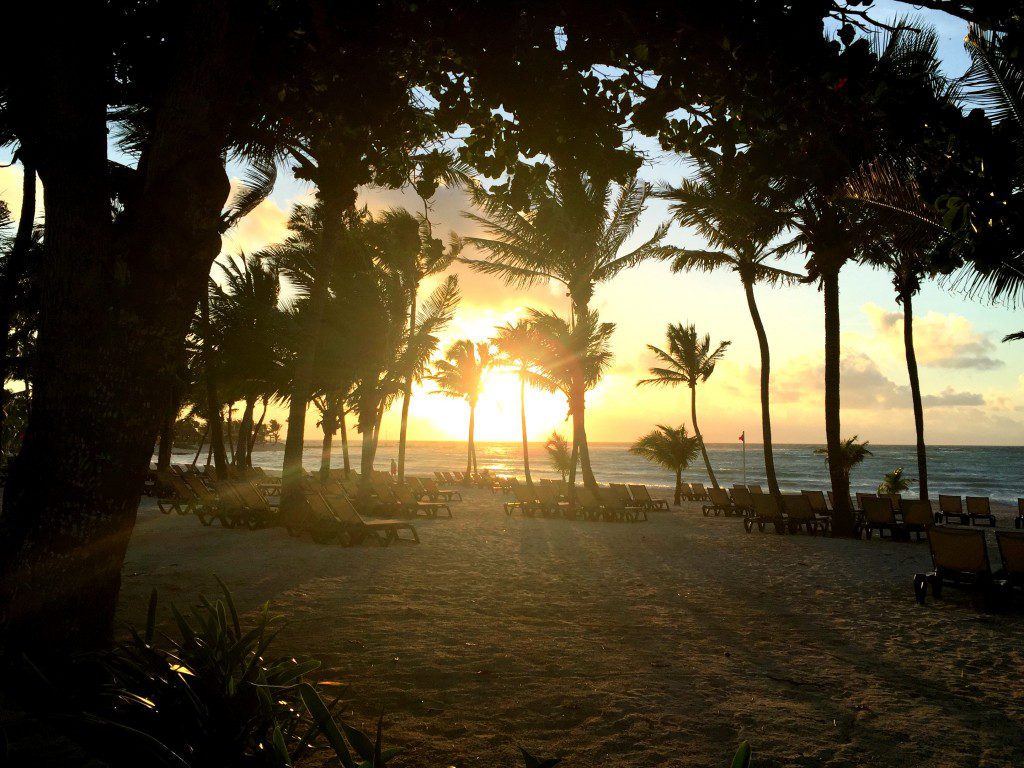 Even though I was a guest at the Barceló Maya Beach Hotel during my stay, I was fortunate to experience many of the services provided by the other hotels, including the Barceló Maya Palace Deluxe which is "a peerless heaven of oceanfront elegant suites, of unwavering taste, anticipatory service and seductive amenities".
Barceló Maya Beach Resort's "Stay at one, play at four" philosophy provides guests with access to services and facilities (e.g. restaurants, bars, pools and beach amenities) offered at the other hotels with the exception of the Barceló Maya Palace Deluxe. Guests staying at the Barceló Maya Palace Deluxe hotel, are indulged with the grand "Stay at one, play at five" alternative!
Resort Hotels
Barceló Maya Palace Deluxe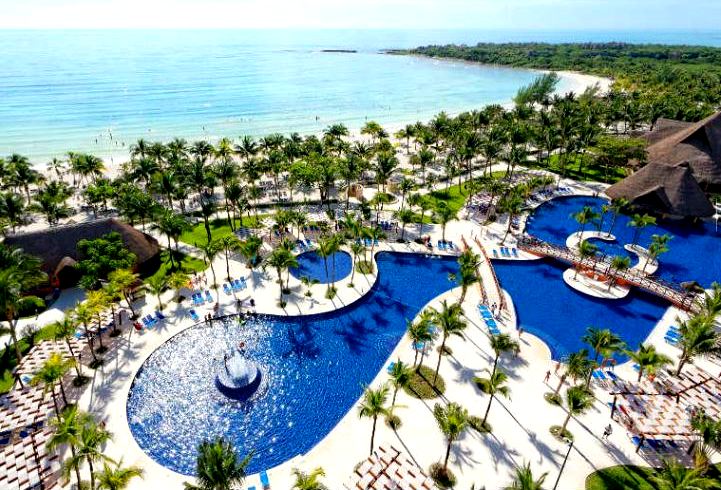 Deemed as the crown jewel of the Barceló Maya Beach Resort complex, the Barceló Maya Palace Deluxe offers a postcard worthy view of lush tropical landscapes, opulent décor and fine dining services that set them apart from other resorts. This is an all-suite, all-inclusive resort that also caters to children with its Kid's Club and waterpark.
Barceló Maya Colonial & Tropical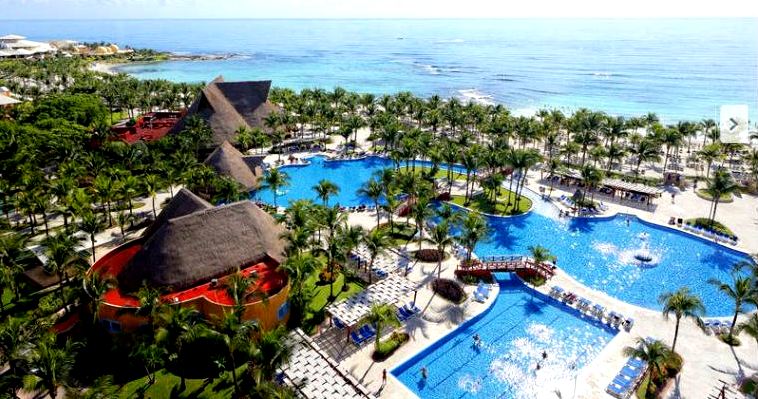 The Barceló Maya Colonial and Barceló Maya Tropical offer guests the opportunity to stay in the middle of the Barceló Maya Beach Resort while taking advantage of the services and amenities at two neighboring Barceló hotels, Barceló Maya Beach and Barceló Maya Caribe.
Barceló Maya Beach & Caribe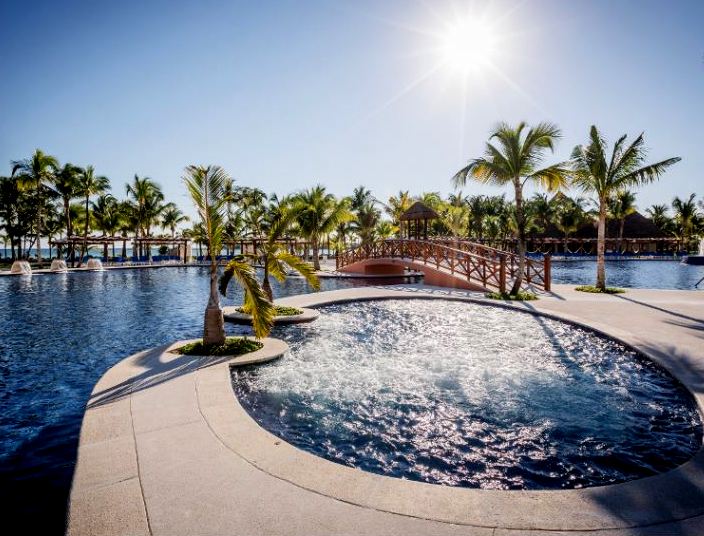 The Barceló Maya Beach, along with the Barceló Maya Caribe, are the largest hotel wings within the Barceló Maya Beach Resort. The resort was recently upgraded in order to better suit their guests' needs.
Additions
In 2014, the resort was renovated to include several modern amenities yet it retains its unique architecture and 'Mayan-inspired designs'. Amongst the additions, a new clubhouse was introduced. All front desk services are located at the Barceló Maya Beach Hotel, as well as the Club Premium Deluxe Lounge, Beach Lobby Bar, all the gift shops you can expect as well as several business meeting rooms should you require them.
Since their recent renovations, Barceló Maya Beach Resort has gone to great lengths to accommodate their guests and address their needs. Here are just some of their latest additions:
• Pirate Island Water Park
• Surf Ride Pool
• The Maya Mall
• Bowling Alley
• Golf simulator & arcade
• Disco club for teens
• Mini Golf
Club Premium
For those that would like to add a touch of luxury to their stay, Barceló Maya Beach Resort offers the Club Premium programme which provides guests staying at the Premium Oceanfront Junior Suites and Club Premium Oceanfront Suites with an opulent and superior experience with its exclusive services and facilities.
Club Premium provides guests an original lavish concept of hospitality with services ranging from dedicated concierge services, welcome amenities of gourmet delights, upgraded minibar, priority reservations at à la carte restaurants to access to the restricted Club Premium Deluxe Lounge and their VIP amenities, and so much more.
Culinary Services
With more than 20 restaurants and 19 bars and lounges, some of which are accessible 24hours, guests can really set themselves free and relax.
I had the pleasure of eating at several of the hotels' restaurants within the resort. The ambiance, décor and level of sophistication will satisfy any guests' personal tastes and needs. Almost all of the restaurants are family friendly; however, for couples wanting an intimate evening of elegance and refinement, I would highly suggest a reservation at the French inspired Brasserie restaurant, located at the Barceló Maya Palace Deluxe hotel.
Being the foodie that I am, I wanted to experience EVERYTHING food related and I was not disappointed thanks to the resort's management and offerings. Indeed, I was given a private kitchen tour to witness the inner workings of a well-orchestrated brigade and an opportunity to taste some of their best dishes. Frankly, I was spoiled!
U-Spa
And then for those that really want to relax…
More than 32,000 ft² is dedicated to the care of the mind and body.
The new U-Spa facility is one of sheer tranquility. Guests can enjoy their excellent facilities which include saunas, steam showers, tropical and bi-thermal showers, a dynamic pool, and immersion pools.
Having experienced their famous flotation therapy service, I strongly recommend it as this is a 'must do'. Marvel as you are guided to a very dark room where you can relax and float in warm tranquil water. The U-Spa designers have created this unique room that is sprinkled with tiny lights as to make you feel as though you are floating amongst the stars. Surreal…to say the least!
Additionally, "high performance massages, body wraps, and facials make up the selection of treatments available in any of its 26 treatment rooms, a float room, a hydrotherapy room, 3 Vichy showers, and a Swiss room. Its beauty salon provides waxing, manicures, pedicures, and even special makeup and hair sessions for brides".
Quick Tips
• For those reserving an oceanfront suite, you will need to take into consideration the time it will take to walk to the Main Lobby; particularly if you have reservations for dinner at the other hotels or if you are being picked up at the Main lobby for excursions. However, you can coordinate with the hospitable front desk to be picked up in their golf carts which, after a couple of days and a couple of near misses, I happily decided to do.
• Keep in mind that the shuttle service between all hotels typically run every 20 minutes. Inquire at the front desk about the shuttle service schedule.
• Don't be afraid to ask a member of the front desk or the Club Premium to address any question or concern you may have.
With all its varied activities and services provided by all 5 hotels, this resort complex is truly the essence of fun and relaxation.
Whether you're leaving a cold climate or longing for the pleasure of getting away to relax and unwind, the Barceló Maya Beach Resort has something for everyone. The only challenging part is deciding when you'll be taking your well-deserved siesta after all the fun! 😉