One of my favorite things to do when I travel to a foreign destination is, I make it a point to try their local food fare. In my opinion local dishes represent the heart and culture of that particular area. Dishes that we see locals buying to bring back home to their families, dishes that have been in families for decades and have been passed down generation to generation…these are the meals that I long for and hunt for during my travels!
I was very fortunate to have a member of the Riviera Maya tourism board guide me when I requested a local food tour. I couldn't stress enough to my guide that I did not want to be taken to local tourist traps or anything of the sort. I wanted an authentic experience of both food and culture and that's exactly what I got!
My tour started bright and early in order for me to start the day on the right foot or in my case a tummy full of delicious local cuisine. As we made our way to the first of many eateries, I was asked if I had a 'healthy appetite'…oh, how they would quickly learn that asking me that, was such a silly question. It's ok, over the course of the day they knew better than to doubt the Food Tease when I say I'm hungry.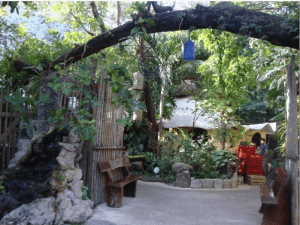 Arriving at our destination for breakfast, I couldn't help but feel like we had just driven hundreds of miles out of Playa Del Carmen, as this restaurant was a complete contradiction to the city setting in which we were just in. Breakfast was about to take place in the beautiful jungle-like setting of La Cueva del Chango restaurant. Having a table in the middle of this outdoor veranda with the sun trying to poke through the array of trees surrounding this eatery was picturesque and very Zen like. Zen with its cascading waterfalls, bamboo décor and lush trees that relaxed me as I sat down and took it all in.
I was told that Cueva del Chango was the best place to have an authentic Mexican breakfast and that the restaurant is typically always hard to get in as it's always packed with patrons. And with that said I requested some of their signature dishes: Molletes and Plain Chilaquiles with chicken. The cheesy and very filling molletes were delicious as it reminded me of a hearty grilled cheese but with the added freshness of the pico de gallo sauce. Big chunks of avocados went hand in hand with the oozing molletes. Very reminiscent to nachos, the chilaquiles with chicken drowning in the cascabel chili sauce (in case you are wondering it wasn't spicy) was both flavorful and plentiful. This dish had to be eaten with my hands at the end of it, to pick up all the last pieces of tortilla chips- messy it was but worth every finger lick! And of course it was served yet again with generous slices of avocados…also known as Mexico's butter! Oh, I almost forgot…I can't leave out one of my favorite new discoveries while I was on my trip – which I consumed heavily during my time in Cancun: Chaya juice, but everyone refers to it as the 'green juice'. It's made with orange juice, pineapple juice and Chaya leaves. Chaya leaves are said to have medicinal properties ranging from improving memory, lowering cholesterol to combatting diabetes. Regardless of the positive health benefits that it can provide, I found this drink super refreshing and left me craving for more! You'll understand once you've tried it.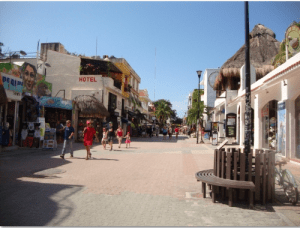 Feeling happy and content with such a hearty breakfast it was now time to leave Cueva del Chango and head towards our next local hotspot. Walking downtown Playa Del Carmen, I took in all the scenery….from the sidewalk stores offering their 'daily specials' to tourists such as myself to the beautiful landscape that this beautiful destination has to offer. Talking with my guide, I couldn't help but feel like the stereotypical tourist. Always wanting to stop and take photos and ask endless mount of questions that I am notorious for. I had to remind myself to stop. Stop and just be 'in the moment'. Photos are nice but real life experience happens when you just live it as opposed to trying to capture it…but I digress.
Our next stop on this ever so hot day was to the Nuestra Senora De Carmen Mercado De Playa. The only way I can describe this locale is to say that it's like a food market or a very huge food court offering mainly Mexican traditional food. Nuestra Senora De Carmen Mercado De Playa prices are considerably cheaper than those that you would typically find on the ever so popular 5th Avenue (main tourist strip in Playa del Carmen) plus it's just a couple of blocks away from for one another.
Like I said, this particular day was rather hot and a refreshment of some sort was in need especially since I knew there was more food to come…and that's when I saw it – my all time favorite: fresh coconut juice and coconut 'meat' with some Tajine spices on it. Every time I travel, I try to seize the opportunity to drink fresh coconut juice/water and eat it's 'meat' whenever possible. I was fortunate to discover the wonderful flavors of coconut 'meat' with Tajine on my Puerto Vallarta trip.
Ok so now I was set, my palate was being revitalized with the coconut juice, my tummy was satisfied with the coconut meat and so we walked on – enjoying the view and the beautiful and interesting people we met along the way.  I must admit I felt really privileged. Here I was walking the streets on one of the most beautiful areas in Mexico with my very own private guide showing me everything that I wanted to know and then some. I couldn't have asked for a better day…and to say we had only just started the tour.
Next up, I was told that we were going to the 'best' taco place that Playa del Carmen had to offer. A true local experience I was promised, a place where once you've found it you must remember its location as nothing else will compare to it. Such telling words I told myself but I guess the proof would soon be unveiled once we got to our destination.
Tacos de Cecina, located on 38th street, was already in full force with people lining up to its little taco stand. The smell of grilled beef and onions was intoxicating as it drew you in. I was taken back and surprised seeing the workers at the taco stand wearing surgical looking masks. I enquired about it and was informed that they take hygiene and cross contamination very seriously. I feel bad to say this but, I never would have expected that from a food truck…more food trucks not to mention restaurants should take note of the high level of health and safety rules that some these food trucks have.
The tacos at Tacos de Cecina were ridiculously amazing! The beef and sautéed onions were spot on. To my surprise I also had on my taco some grilled cactus leaves. Now that was delicious! Each taco had the perfect accompaniments if you wanted: lime wedges and salsa ranging in mild to hot.
Being the Food Tease that I am, I couldn't just have 'one' of the best tacos – I had to have more…for you, my readers to experience! So off we ventured off to another local hot spot. But this particular area was different from that of Tacos de Cecina. Different in that fact this taco stand was in the midst of a very large open area that was full of food trucks and food carts that ranged in all types of assorted food options.
Cochinita Pibil, was where I had a seasoned pulled pork taco. This taco was very, very flavorful and somewhat spicy given the fact that it had a generous portion of haberno sauce and some pickled red onions. So simple of a meal but man it packed a punch with its flavors. I must admit that the portion of pulled pork was less than what I had expected in a taco but maybe its a good thing. After all, I had more food to discover.
Like I had mentioned earlier there was a variety of food selections that one could indulge and be gluttonous over at this food truck alley…ranging from spicy savory tacos to the refreshing fruit cones that compromised of freshly cut papayas, pineapples and watermelons. And for those of us that can't resist the tempting fried treats, there were Churritos. Churritos is flour fried in lard then sprinkled with lime juice and salt. They are usually served with a squirt or two of chili sauce to dip into. WARNING: Churritos are highly addictive….even when you're already full!!!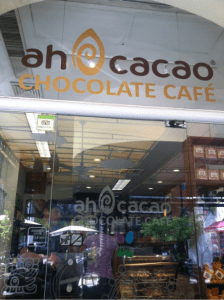 And what kind of food tour would it be if we didn't end it on a sweet note?
Now, I personally don't have a sweet tooth but I couldn't pass up on the opportunity of trying a Mayan chocolate drink. We stopped and took a well deserved break from the sun at the shaded Ah Cacao Chocolate Café. My Mayan chocolate drink consisted of cinnamon, vanilla, Habanero chili and finished off with some honey…Mayan gods earned their title for this drink!
What can I say? This local food tour was exceptional and it wouldn't have been possible without the generosity of the Riviera Maya tourism board. The combination of the different dishes that I had to the charming surroundings in which I was enriched with – they both played pivotal roles to making this experience a beautiful one!