Well my friends there is nothing worse for a person like myself than to be sick…yes, I should be grateful that I don't have some life threatening disease or some other catastrophic black cloud over me. But when you have a passion for food like I do and just the mere thought of cooking let alone trying to find the energy to go grocery shopping seems like someone has just asked you to climb mount Everest, well it becomes for the lack of better words…overwhelming and daunting.
For the last couple of days I have been battling a pretty bad chest cold that has been sucking all desires to do anything food related, that for tonight I needed to find a solution! I really shouldn't complain, I survived the winter months with hardly a sniffle and of course Murphy's Law likes to pop into my life from time to time (just to annoy the crap out of me) and throw me a energy consuming virus right in the middle of summer. Go figure. Well I decided that I would fight fire with fire – literally. For me, the tried and true has always worked…I needed some spicy food to sweat this poison out of my system. Spicy food has always been my 'old school' remedy for colds. It hasn't failed me thus far (fingers, legs and toes crossed).

I decided to go to one of my favorite Thai restaurants here in Ottawa, Singha Thai. This quaint and ever so charming restaurant has been serving patrons in the Ottawa region for several years (it recently closed its sister restaurant, Wang pad Thai in Hull,Quebec which was in business for over 15 years). Singha Thai's consistency where food is regarded has been stellar over the years and that is why I knew I would be able to count on them to provide me with some savory, spicy and gratifying delectables that would no doubt kill this bug that I have become a host too.
I figured that I would first order a soup (now anyone that personally knows me, knows that I typically avoid soups at all costs. I'll explain my reasoning behind this logic…I see soups as fillers and appetite suppressants. Fillers that can be replaced by what I consider 'real' food – which is basically anything other than soup. All kidding aside, I just find that soups cut my appetite in half which in theory isn't a bad thing but when you are craving for some heavy protein and starch – a soup will just kill that dream). But when you're sick, you do things that you normally wouldn't typically do. So alas, my order of Tom Kha (a hot and sour soup with shrimp, lemongrass, mushroom, galangal and coconut milk) came to my table piping hot and ready to be consumed. This soup literally gave me goosebumps…not sure if it was the hot temperature of the soup or the fact that I was reawakening my senses but it was all good. The spicy flavors started to stimulate the taste buds..and this was just the beginning.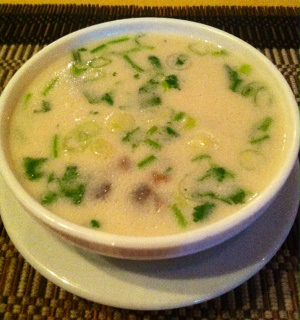 Tom Kha
Next up were my some of my favorites, I ordered a spicy Pad Bai Gra Prow (chicken with fresh chili peppers and basil leaves) and some Pad Thai (Fried rice noodles with chicken, egg, peanuts and bean spouts). I ordered the Pad Thai strictly for comfort reasons…how can you go to a Thai restaurant and not order this dish? Under any other circumstance, I would typically also order (don't judge…leftovers are always good) some Gaeng Kheav Warn, a wonderful rich dish that consists of chicken or beef with some green curry, coconut milk and eggplant to which I absolutely love but I was trying to not go overboard on the dairy since its counter productive when you have a cold or at least that's what they say.
The heat from the chili peppers in my Pad Bai Gra Prow was exactly what the doctor ordered. It instantly warmed up my core and got me reaching for the water right away. I had forgotten how much I love to eat the vegetables in this meal, especially when they are immersed in their own juices and sprinkled with chili peppers and basil leaves. The rich licorice taste of the Thai basil leaves was the true essence of this meal. As for my Pad Thai…sheer comfort noodles with its ever so flavorful sauce.
Not sure if this meal will help shorten the recovery time of this chest cold but at least it got my ever so precious taste buds back in working order and for a short time it gave this Food Tease her bounce back in her step.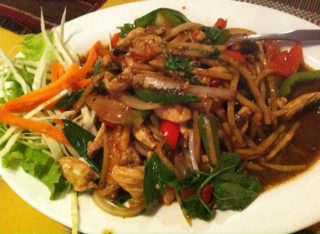 Pad Bai Gra Prow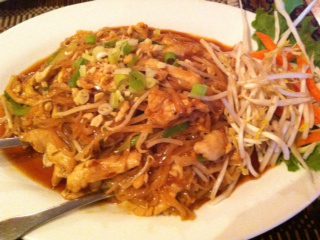 Pad Thai