By now most of you have probably heard about New York's latest food craze…the cronut! This insanely brilliant idea is a croissant-doughnut hybrid, the brain child of French pastry chef Dominique Ansel, at Ansel's bakery shop in Soho, New York.
These croissant doughnut concoctions which have been recently made public (less than 3 weeks) are selling for $5 each at the bakery. But like anything else that sells well, scalpers caught on to the high demand and to the strict 6 cronut limit that the bakery was enforcing and would stand in line and wait patiently for the goodies and then sell them for $40 a pop. As ridiculous as it sounds that the price would skyrocket to such a level, I now I bring you to our present day and just when you would think that the craze has somewhat subsided…it has only gotten worse.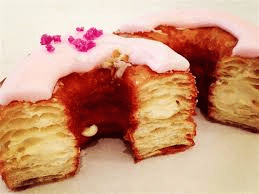 Cronut: half croissant, half doughnut
"Fueled by demand and scarcity, a black market of sorts has opened up for those who are unwilling to wait in line for a fluffy croissant shaped (and deep-fried) like a sweet doughnut. Many services have sprouted up on Craigslist promising the hyped pastry for an inflated premium, often at incredible markups despite the fact that one cronut regularly sells for $5 at Ansel's bakery.
One service, Premium Cronut Delivery, charges $100 for one cronut, $200 for two and $1500 for ten cronuts if you're feeling particularly gluttonous. The site, which adds a 950% markup for each confectionary creation, only makes five deliveries a day, and only on weekdays".
As we scoff at the absurd prices that the scalpers are charging let alone these new delivery services, you know just as well as I do that someone out there is willing to dish out some cold hard cash for these tidbits (oops…Freudian slip). It all comes down to this – what would you do in order to satisfy your fix or in this case how much would you pay?
I remember years back in the early 90's when I would hear on the news of how people from Toronto would drive across the border to reach the closest Krispy Kreme just so they could enjoy their favorite doughnuts. How ridiculous it all sounded to me. I couldn't wrap it around my head that people would have such a craving that they would drive for hours, endure long lineups and spend a nice chunk of cash all for the sake of having their food fix. But all that changed when it was put in a language that I could relate too…substitute sweets for some carnivorous wonderland…now I understood.
Oh how the mighty had fallen, my weakness was at the helm of me driving for a couple of hours to reach the pearly white gates of utopia…meat utopia that is. But we are not talking just any meat utopia, we are talking about one with history and culture. A place where its so cramped and limited in space that you actually dine with strangers at the same table, where the walls are littered with autographed photos of celebrities, politicians and world leaders who have all come to dine and forget everything else in their lives for a couple of splendid stolen moments to sink their teeth in their favorite dish at this meat utopia. This meat brothel is the infamous Schwartz's…the go-to place for smoked meat and all its fixings!
For many years, my idea of a good weekend consisted of waking up early and heading to Montreal so I could start a beautiful day of shopping (I was in Montreal after all). But I had to start this day off right and that would mean to start it with a hearty and artery clogging breakfast of champions….a flame broiled Rib steak and all its trimmings. The trimmings were interesting enough: a small piece of liver (which I would eagerly pass it off to another person), half a Frankfurter, some coleslaw and pickles. I would say roughly 90% of Schwartz's patrons are there for their smoked meat, but for me it's always been about their steak. I think…correction, I know it goes beyond the red meat. It's about the entire ambiance that you are subjected too in that eatery. It's so busy and chaotic with the wait staff taking meal orders and patrons eagerly trying to find an empty seat but at the same time its soothing to know that all of these strangers (some with whom you will be up close and personal with) are all there for the same reason – to eat a flavorful cut of meat like nobody's business. It's as though you have now been inducted into a fraternity of sorts where an allegiance or oath has been taken where you will no longer eat sub par meat at other establishments now that your tongue has been exposed to such perfection. A perfection that made this Food Tease drive for her Rib steak in the wee hours in the morning just so she could have her fix!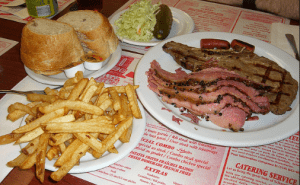 A steak combo consisting of Schwartz's smoked meat and
their staple trimmings and side orders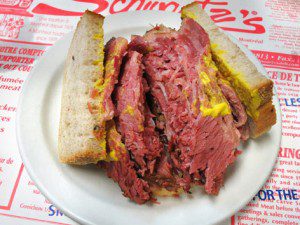 The
famous
smoke meat sandwich at Schwartz's