As I perused the market aisles sipping feverishly on my Aperol spritz cocktail, I was initially drawn to the mouth-watering assortment of focaccias until I was pulled towards the blended aromas of melted cheese, roasted tomatoes and signature Italian ingredients marrying themselves in the wood-fired oven. There, I stood mesmerized by the Italian pizzaiolo chef flawlessly spinning pizza dough in the air with great ease. This was just the beginning of my sensory experience in Ottawa's Little Italy lifestyle market, Mercato Zacconi.
The notion of a grocery market doesn't bring to mind cascading chandeliers, ornate crown mouldings let alone marble-tile walls. Nonetheless, this is the eye-catching setting that patrons are being welcomed to when picking up their favourite foods at Mercato Zacconi. Like many business owners, Tony Zacconi, owner of Sala San Marco Event & Conference Centre, endured the harsh realities of the global pandemic with its endless business lockdowns and the toll it had on his business and its employees. The family business needed to pivot to ensure that everyone would remain employed, explained Doug Hatoum, General Manager of Mercato Zacconi. Hence, the creation of a 5,000-square-foot market in a space that was formerly occupied by Sala San Marco.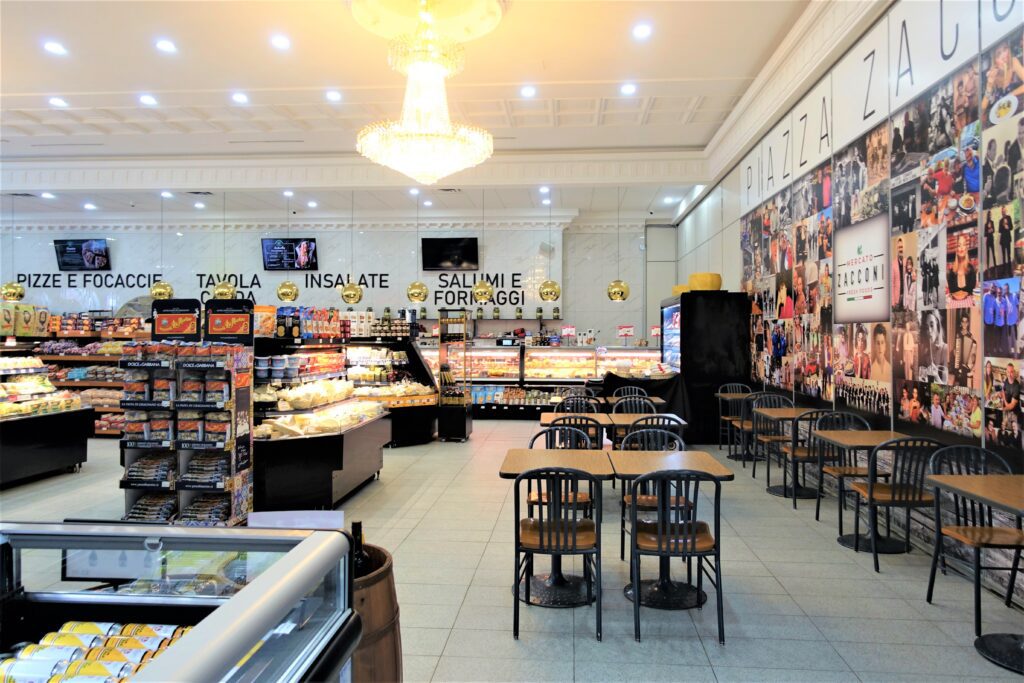 The mission was to save the family, making sure everyone was taken care of – Doug Hatoum, General Manager of Mercato Zacconi
What's on the menu?
This unique marketplace has all your basic grocery needs taken care of: fresh produce, butcher and deli meats, seafood, cheese, hot and cold prepared meals, bakery products, and desserts as well as frozen products. However, Hatoum explained what really separates this market from others is their authentic Italian homemade meals, including their wood-fired pizzas and focaccias. The fact that they have two Italian chefs, who have recently migrated to Canada from Italy, that only use imported Italian ingredients in their meals sets them apart in terms of authenticity. Both Hatoum and Zacconi want their customers to know that when they say their dishes are 'homemade', they are all made in-house in the market's kitchen, to which Zacconi added smilingly, 'I have Italian ladies working in the kitchen, including my mom'.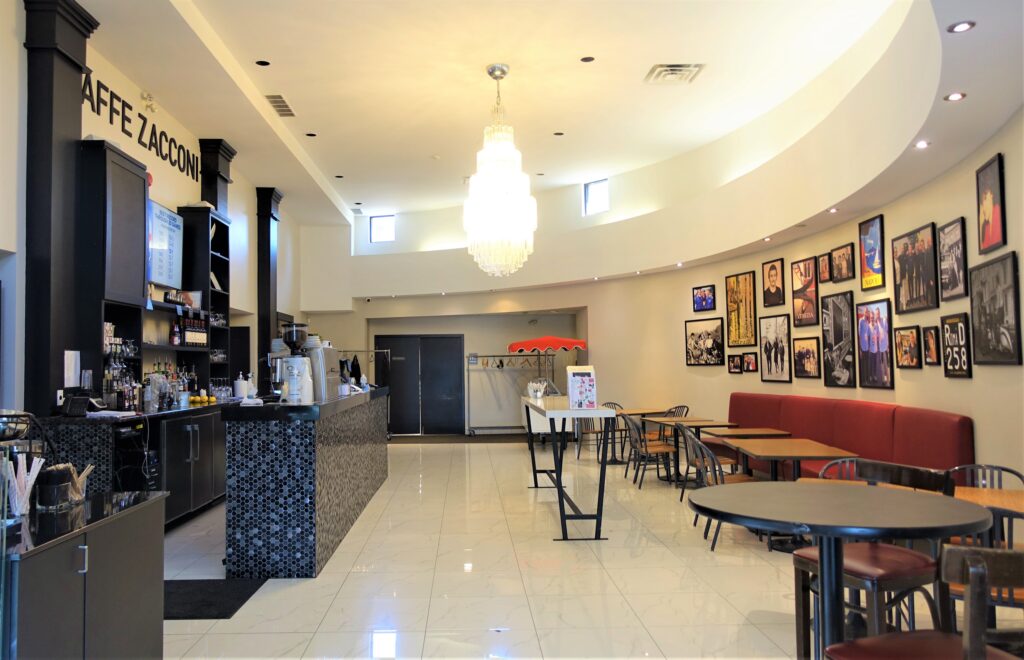 Mercato Zacconi is a unique marketplace inviting the community to shop, eat, and indulge – Tony Zacconi, Owner of Mercato Zacconi
Now let's go beyond the grocery basics. This market should be seen as a one-stop shop in terms of innovation. We start off with something I personally have never seen or experienced, which is enjoying an alcoholic beverage while I cross items off my grocery list. Guests can enjoy a glass of wine or cocktail as they shop thanks to the market's custom-made shopping carts that have a designated beverage holder to secure your tasty libation. This vino privilege is made possible by merging the two family businesses and their liquor licenses. In addition to that, the market also provides patrons with their private-label products which are all hand-selected and curated by Zacconi. And, what would best compliment your homemade Italian entree? A nice bottle of wine of course! The wine selection at the market is specifically chosen and is not available at your local LCBO store. If that wasn't enough, they also organize wine tasting events at the market as well as other engaging activities for food lovers such as mozzarella cheese, pasta, and pesto-making demonstrations.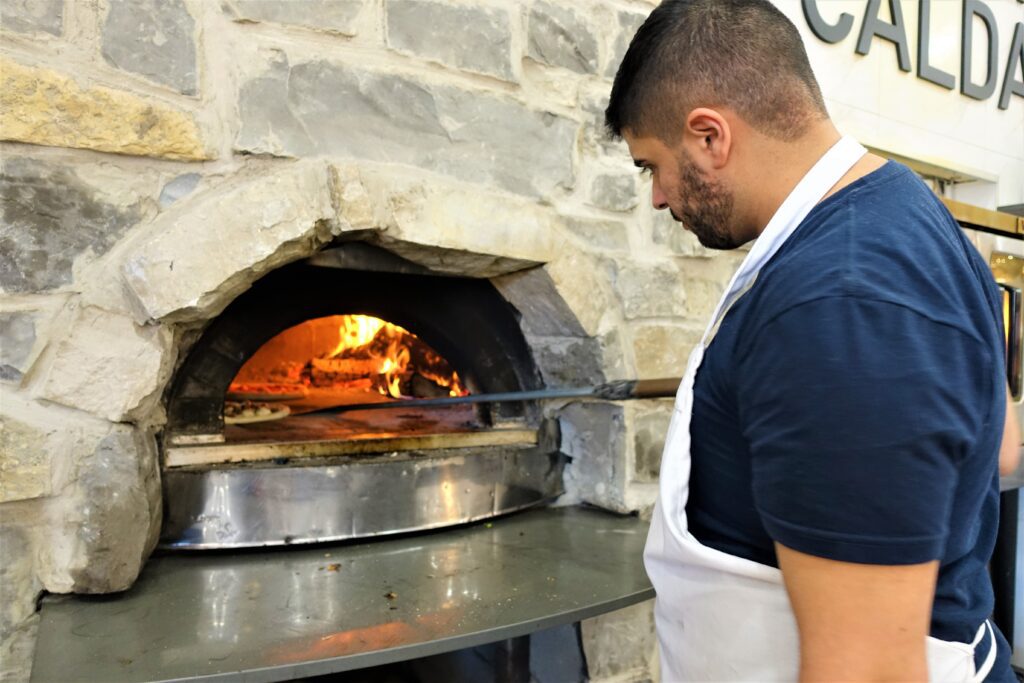 Time to sit back and take it all in
The main principle of the market is to bring people together and enjoy all things Italian. In addition to the market's offerings, there are also two designated areas to sit, relax and enjoy yourself: the Piazza area, located in the heart of the market, and the Caffe Zacconi situated to the side of the market. At the Caffe, you can dig into menu items and enjoy a libation or two all the while viewing a game on the Caffe's bar TV. And, it wouldn't be an Italian market if gelato wasn't involved. Imagine enjoying an authentic gelato, prepared from a traditional gelato cart, on a beautiful sunny day as you relax on the market's outdoor patio.
Doug explained that the customer's happiness is the gauge for the market's success. Mercato Zacconi places its best foot forward to address and deliver on its customer's requests. "Our grocery habits have changed since the pandemic. Value is huge here, absolutely huge". In order to accommodate their clientele, the market also offers an online delivery service in addition to their Uber Eats and SkipTheDishes options.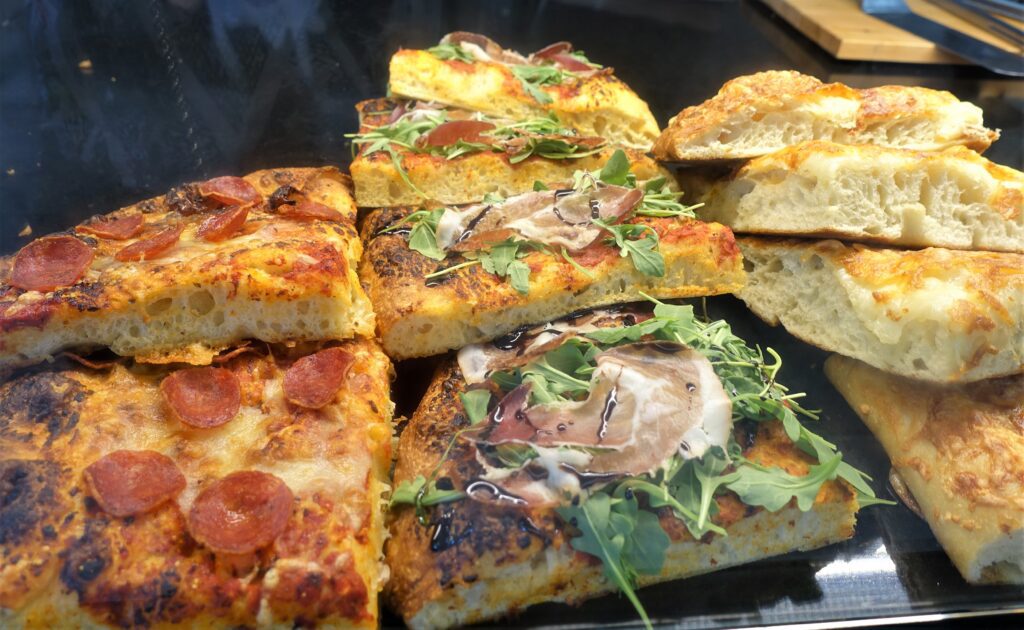 Whether it be picking up a wood-fired pizza for tonight's dinner or meeting a friend for gelato and cappuccino, Mercato Zacconi embodies the spirit of breaking bread with friends, all the while enjoying an authentic Italian experience.
**This article was first published in the lifestyle magazine Luxe Ottawa Magazine and was given permission to post on the author's site.