I guess with summer in full swing, it's natural that I have been asked what I will be doing during my summer vacation and if camping will be one of those activities. Well I can tell you this much, it has been a couple of years that I have gone out and partaked in the joys of camping.
Years back I vowed to never step foot in a tent unless it was located right in front of a hotel…seriously. The idea of camping was for 'others'. I couldn't see how camping could be enjoyable especially when I was envisioning mosquito clouds at the forefront, horse flies that resembled small birds just waiting for me to distracted so that they could do what they do best – take a nice bite out of me. The thought of sleeping on the ground was mind blowing to say the least and lets not forget the outhouse (mind you spending my childhood in Korea, the whole outhouse thing really wasn't so bad). All that being said, I finally agreed to go camping and wouldn't you know it I really enjoyed it…even with the mosquitoes. There was something to be said about having a relaxing meal by an open fire, sleeping under the stars, listening to the sounds of hundreds if not thousands of frogs mating by a lake – it was if anything very tranquil. So before you knew it, still being a 'newbie' at camping I was introduced to 'portage camping' at Algonquin Park.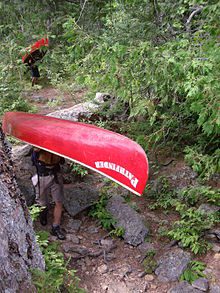 Portaging
For those of you not familiar with this, Portage or portaging is the practice of carrying water craft or cargo over land, either around an obstacle in a river, or between two bodies of water.
In my case it meant canoeing to one island, carry the canoe through a dense forest and then canoe to another island till the marked destination was located. What I failed to mention to you is the fact that from the start of my portage journey, I was also carrying what seemed like a two tonne knapsack that held everything. Now when I say everything I mean the tent, sleeping mattress, food and food accessories like pots and pans and whatever other outdoor gear that was needed for that trip. The icing on the cake while trekking from one island to the next was having an array of insects doing their best to bite me but I found solace in knowing that I had packed some bug repellent and not just any repellent…good ol' Deet in the highest concentration that I could get my hands on. Well the camping gods must have had a field day with me as the Deet was in my knapsack but all the way at the bottom…how convenient. So let's just say the bugs had a feast at my expense. Looking back at my portage experience it was one I will never forget. There are so many memories and so many stories to tell…from the water filtration nightmare that I had to endure in order to drink contaminate free lake water, experiencing first hand that a lighter is your best friend when it comes to leeches (I still have goose bumps thinking back on that one) to fishing for hours only to catch poor sunfish – no gourmet meal there….but I digress.
I have since retired any notion of going camping till recently, when I was introduced to glamping.
Glamping (glamorous camping) is a growing global phenomenon that combines camping with the luxury and amenities of a home or hotel. Also called boutique camping, luxury camping, posh camping or comfy camping, glamping allows travelers to experience nature without the hassle of finding camp space, carrying their tents, and erecting and taking down their own tents. Lodgings at a glamping sites (glampsites) include structures such as yurts, tipis, pods, bell tents, safari tents, tent cabins, and tree houses. Glampsites range in price from as little as $50 per night to thousands of dollars per night, depending on the level of luxury. Sites offer amenities such as fresh bed linens, en suite washrooms, food service, private verandas, and, most importantly, direct access to the great outdoors.
Now glamping seems to be more up my alley. In all fairness I can at least say that I tried and experienced the real 'camping' and now that I am older and much wiser….I say hello to camping with style!
Depending on the destination, amenities vary widely in the glamping packages. The large majority of chichi glamping venues actually provide air-conditioning, toilets, heated showers, and even Wi-Fi. "With all the comforts of a top-notch resort, glamping appeals to a broader audience and has even been dubbed "recession chic" because of its (relative) affordability. It's the ultimate travel compromise — and one where everybody wins. Outdoorsmen can get their nature fix while those of us who like to relax on vacation can still be pampered". It's all nice and dandy that glamping provides all these amenities but I am more concerned about the food. I learned that food is definitely part of the posh glamping experience. Some destinations have "on-site gardens, resident chefs that will add gourmet touches to the regional cuisine making glamping a more exotic and authentic culinary adventure than what you would have at even the fanciest of chain hotels".
Glamping may seem a bit bourgeois but when you take into account that it caters to the two main activities that you are interested in: travelling and eating good food, how can you go wrong?!
This new activity has been in such popular demand that it has packages all around the world, from Africa to Australia, New Zealand to New York. And with such locales comes with it diverse activities be it a safari, dog-sledding, wind-surfing, or spending a weekend cooking with the pros, there's a glamping package that will fit your budget and like the glamping packages state…there's a package to fulfill your vacation fantasies.
Below are some destinations that offer glamping packages…just to entice you even more.
Enjoy!!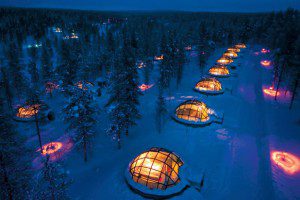 Igloo Village at Hotel Kakslauttanen, Saariselkä, Finland
If sleeping on ice sounds nice,
Igloo Village is for you
. Open from December through April, this frozen getaway boasts multiple dining options. Sip Lappish drinks and try Finnish apps at the Piano Bar, linger over a three-course dinner served on ice tables at the Snow Restaurant, listen to stories about Sami life and sample their native food at the Kota Restaurant, or watch your reindeer and salmon supper being cooked over open flame at the Smoke Sauna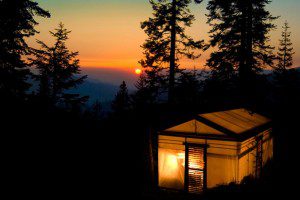 The Sequoia High Sierra Camp, Kings Canyon National Park, CA
Many of the menu items at
this Californian glampsite
are tailored to health-conscious, vegetarian, and vegan visitors. After a hearty breakfast buffet, guests are invited to pack their own picnic to sustain them through their outdoor adventures. Dinner is decadent, with entrées like Gorgonzola Filet Mignon, Rack of Colorado Lamb, and Muscovy Duck. From-scratch desserts include Crème Brûlée and Chocolate Molten Cake with homemade ice cream.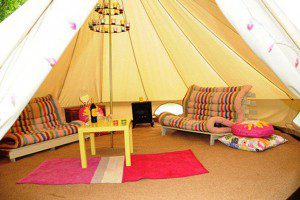 Battlebridge Caravan and Camping, Leitrim, Ireland
Award-winning bar food
and pints of Guinness are enjoyed around the campfire at this eco-pod campground cum pub. Top it all off with an Irish coffee and take a walk along the River Shannon.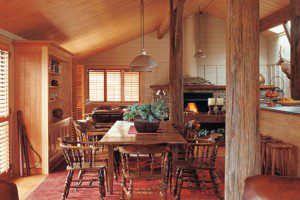 Poronui Waikato, New Zealand
Between fly-fishing, hunting, and horseback riding,
you're going to work up an appetite
at Poronui, where the gourmet food is delightfully unpretentious. Whether enjoying a picnic lunch, impromptu canapés, or fresh fare at the shared dinner table, you can be assured you're eating the best New Zealand has to offer. Ready to step outside your comfort zone? Try a Maori Cultural Experience in which an experienced guide introduces you to tribal land, customs, and cuisine.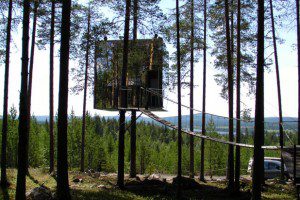 Treehotel, Harads, Sweden
If you've ever wished you could grow wings and fly away, The Bird's Nest at
Treehotel may be for you
. Big enough for a family of four, this circular Swedish splurge is suspended in a network of branches. Once your feet are firmly on the ground, head over to the hotel's Britta's Pensionat restaurant to indulge in a game buffet or three-course table service meal. Reindeer, Moose, and Bear are all on the menu, as are Arctic Char and Caviar of Kalix.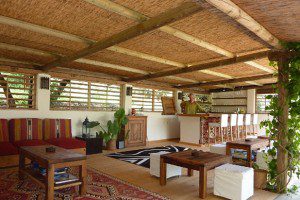 The Hoopoe Yurt Hotel, Andalucia, Spain
Prepare yourself to feast, Spanish style, at
this yurt hotel
in scenic Andalucia. Salad Niçoise and gourmet Paninis are among the savory lunch offerings. Cocktail hour tapas include Smoked Salmon Canapes and Boquerones while dinner, which is often served poolside, includes plates like Pan-fried Quail on Carrot Puree with a Red Wine Reduction or Empanadillas with Spinach, Feta and Pine Nuts. Pair your Panna Cotta dessert with a local brandy or an iced caramel sauce coffee with cream.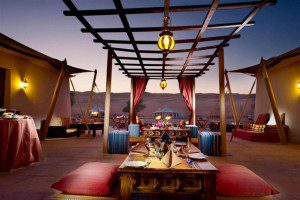 Desert Nights, Oman, Middle East
Expect to be spoiled at this 5-star resort boasting
Bedouin tent suites
at the edge of the Wahiba Sands. After a day spent dune bashing, quad biking, or sand boarding, kick back at The Oasis Bar for aperitifs, followed by fine dining at the Two Dunes Restaurant. For an authentic Omani experience, schedule a "Shuwa," a traditional lamb barbecue around a campfire.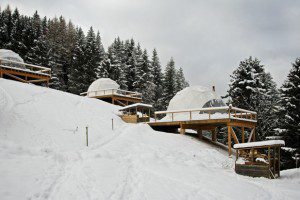 Whitepod, Switzerland
A combination of 5-star accommodations and
a pod campsite
, this romantic Swiss destination includes catered meals at Les Cerniers Restaurant, where you can enjoy fondue while overlooking the Alps and Lake Geneva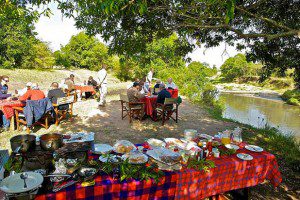 Mara Explorer Tented Camp, Maasai Mara National Reserve, Kenya
With four game-viewing areas, you're sure to spot hippos, giraffe, and even wildebeest from your private veranda on
this nature reserve
. Breakfast and dinner are served by the river's edge or in the bush, while guests often opt to picnic on the plains for lunch.