There are sushi lovers and then there are REAL sushi lovers! In the past, whenever I had the opportunity of being in downtown Ottawa, friends and I would make it a point to get our sushi fix at New Generation Sushi. It became a place where I knew I would leave not only satisfied but completely impressed with the creativity that Chef Peo "John" Diep and his brigade would provide.
Fast forward almost 18 years and chef Diep now owns Shinka Sushi Bar, a warehouse location at 2900 Sheffield Road that (currently) offers takeout and delivery. This is where I had the pleasure of talking with him about his craft and new direction. Asked about his former establishment, he says, "We as a restaurant started to evolve, our dishes started to become art and our clients took notice. This wasn't the same sushi-roll restaurant I opened in my 20s. As well, a New Generation Sushi opened in Toronto and we started to be associated with that all-you-can-eat restaurant … [so] it was time we changed the name. In Japanese, Shinka means change or evolve, which couldn't be more fitting."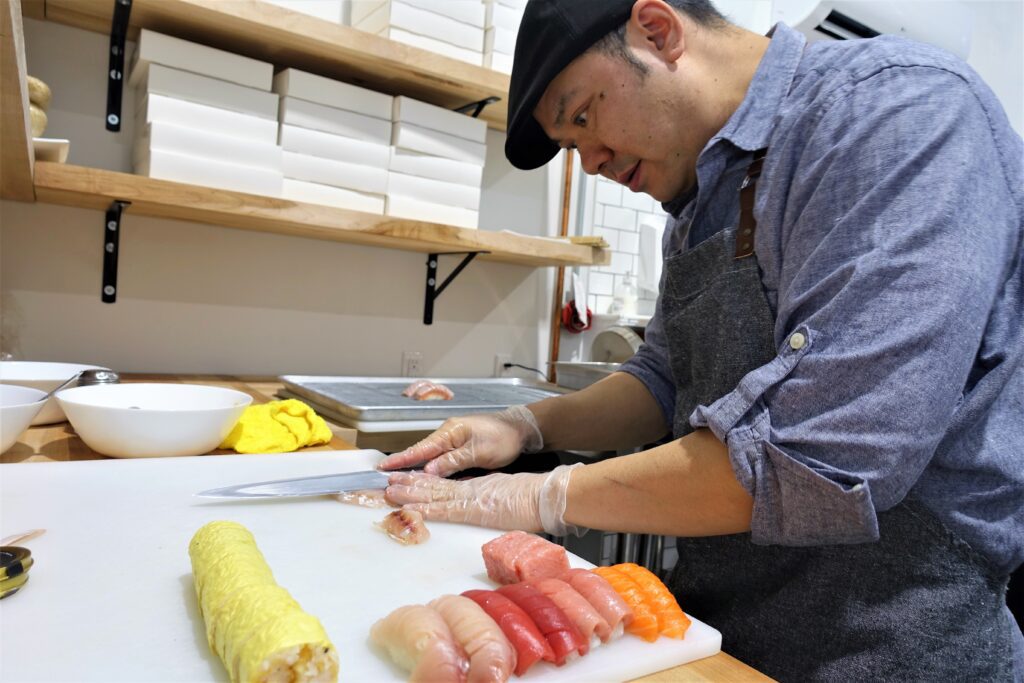 Born in Montreal, Quebec, chef Diep aspired to manage a kitchen from a very young age. While working in restaurants, he was drawn to the lifestyle associated with Japanese cuisine. His mentor, the late master chef Joe Nagara Izayoui, taught him the foundations of Japanese cuisine and provided him with the knowledge and skills to create his imaginative sushi designs.
Evolution
As I chatted with chef Diep and his manager, Joel Pedro, a smooth, yet very busy assembly line was in motion. Each person quietly and swiftly moved as they manned their stations, interrupted only by the sound of the chit machine spitting out orders to be filled. It was a sound that prompted a smile on Pedro's face and reinforced the notion that chef Diep has changed the national capital's sushi scene for the better.
Of course, COVID had something to do with it. "The pandemic was a strain on us all, especially having to close our beloved dine-in (space) and shift to a takeout/delivery operation," he notes. "However, we adapted to the change quite quickly and realized that we are still able to deliver the Shinka experience in a takeout form."
Much to the delight of regular customers, a community delivery service has been created. This allows customers who would normally drive from communities surrounding Ottawa—and who might live beyond the boundaries of typical third-party delivery platforms—to feast at home. The service has been extremely well received, and rightfully so. What other local restaurant delivers to outlying areas such as Perth, Renfrew, Manotick, Carleton Place, Gloucester and other spots on the outskirts? Currently, Shinka delivers to these areas, for a nominal fee, about every two weeks. Beyond that, if you are located outside any of the listed locales, a time will be found to deliver to you too.
Omakase
Watching chef Diep craft one of his premium omakase boxes is a feast for the eyes. Omakase, a phrase that means "I leave it up to you," is a revered Japanese dining experience; at Shinka, the special, chef's choice offering allows this culinary artist to wow customers and reach new levels of creativity.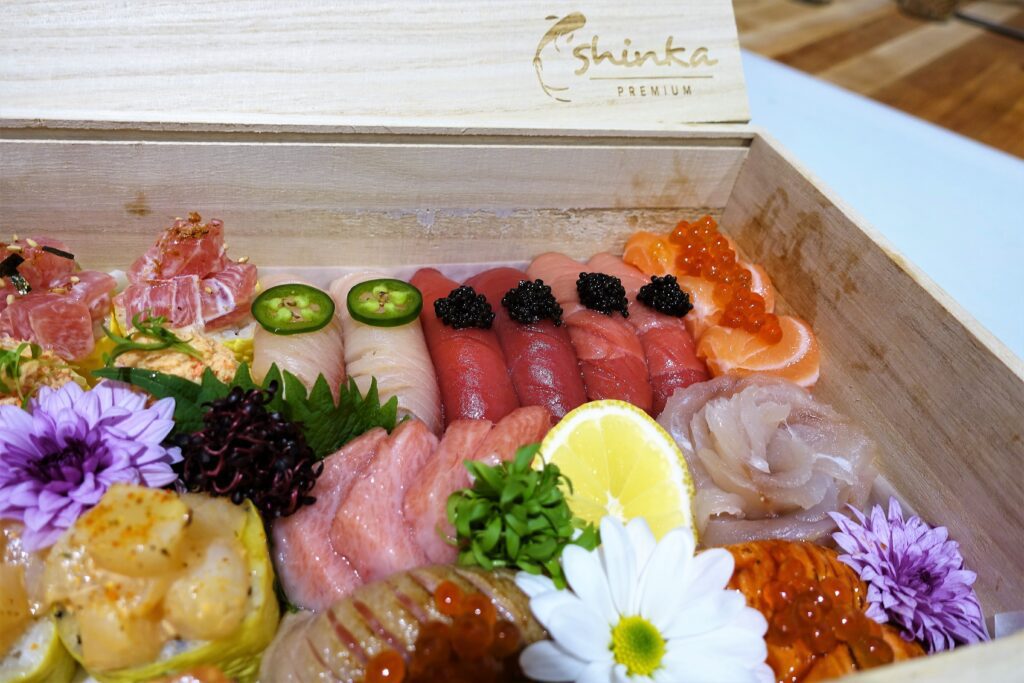 What prompted the introduction of omakase to Shinka's menu? Chef Diep quips that he wants people to explore possibilities beyond traditional maki rolls. In fact, the restaurant's omakase fans believe it is the best way to experience Shinka, since the dishes are constantly evolving. Though you can expect fresh ingredients, excellent quality, delightful flavours and a presentation that's edible art, the rest is a surprise.
Direct from Japan
With most of its ingredients imported from Japan, including the beautiful, edible micro green flowers, Shinka stops at nothing to elevate its sushi dishes. When chef Diep was preparing my omakase, I noticed he wasn't using the typical nori seaweed wrap to encase my lobster roll. Instead, he had concocted a beautiful crepe-like soybean sheet to go around the lobster tail, boosting its flavour and texture. The combination was amazing. And since the fresh fish is flown directly from Japan, it is no surprise that Shinka's signature dish is Salmon and Red Tuna Carpaccio. Supremely popular with area sushi lovers, it delivers a melt-in-your-mouth marvel. My taste buds can attest to it; so will yours.
**This article was first published in the lifestyle magazine Luxe Ottawa Magazine and was given permission to post on the author's site.