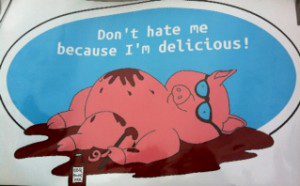 And delicious it was at the 2013 Smoked to the Bone Competition at the Gloucester Fair
I forgot what it was like to be at a fair, the music coming from all the rides was utterly deafening, don't get me wrong I like that sort of thing – especially when you can feel the pulsating base through your body. It may be too much for some but to me I see it as the whole 'fair' experience. Like any fair, the line ups for the rides were long, crowds of people walking aimlessly throughout the fair grounds, the smell of almost everything under the sun being fried and freshly popped popcorn enveloped the sky…my nose was in Carny heaven! But I wasn't there for those traditional treats, I was there to sink my canines in some meat…pulled pork to be exact. The Smoked to the Bone Competition is sanctioned by the CSBBQA, the Canadian Southern BBQ Association, which is the "largest organization of smoking and grilling enthusiasts in Canada"…and now I was going to be one of them!!!
The Smoked to the Bone People's Choice competition was in full swing when I got there. The black smoke was evidence enough that there was some serious "slow and low" cooking that was happening. The Smoked to the Bone Competition is a juried event and not normally open to the general public however; they featured the Second Annual People's Choice competition so everyone who wanted to sample some real competitive BBQ could do so and then vote for the BBQ Master(s) that they felt was the best.
I was giddy as a pig in mud…the irony that I am using a happy pig in this analogy totally cracks me up.The process of judging the BBQ teams was a very easy one. All one had to do was pay $5 for which you would receive 5 tickets and a 'winning chip'. Each ticket allowed you to try any of the teams' pulled pork samples. Once you reached a decision as to who was your favorite BBQ team, you would then give the team your 'chip'. It's goes without saying that the team that had the most chips would win the People's Choice award. So, off I went trying the array of diverse pulled pork that the teams offered. Teams were allowed to use pretty much any form of persuasive tactics to lure you to their BBQ tent to taste their finger lickin' samples. That being said, hawking, yelling, singing, ringing bells and horns was not only permitted but it was highly encouraged. Their underlying motto of the BBQ event was to have a 'fun, loud and proud celebration of BBQ'.
I was pretty surprised at the diverse preparedness that the teams had and in some cases hadn't for this event. One would think that since all the teams would be providing the public 1 oz cupplets of pulled pork that you would expect that you would be provided at the very least with a fork or toothpick like contraption to wolf down the meat, especially since you are drizzling their signature sauces onto their cooked to perfection meat. But nope, that was not the case for some teams. When asked for some fork-ware or anything else to help me eat, I was told to use my fingers….seriously? I know I was eating pork, but that doesn't mean I have to act like a pig in a trough. What lady would do that? So, I had a dilemma…I didn't want my utter disapproval for something that to me and apparently to almost every other team was a given (that you should provide people who are going to sample your labor of love with some form of a mini pitch fork) to cloud my judgement from the real reason why I was tasting their sample – to see if they had what it took to get my ever so valuable winning chip. Some teams were smart about their strategies, seducing us- the voters with wet one's, bottles of water and good old Southern charm to their advantage. I must admit it worked…to a certain degree. But then again I'm a sucker for old fashioned chivalry and gallantry.
After sampling my five teams from the array of teams that were part of the People's Choice, I thought I knew what team I was going to select as my favorite. But as I was still chewing the last morsel of my fifth team the tenderness and juiciness of the pork stayed with me even though I was about to vote for another team….what a close call that was. So, there you have it I had finally made my decision…my last team was the my favorite and off I went to hand over my voters chip. I'm not sure who was happier, the team that I handed it too or me as I felt confident with my decision (knowing how close I came to making the wrong call).
Overall the day was picture perfect…great weather, loads of fun, amazing memories of experiencing some 'firsts' with loved one's (participating in the BBQ event and being grateful to some other events, all thanks to some 'carny hospitality') but that's a different story for another day. I can't divulge everything…what kind of lady would that make me?!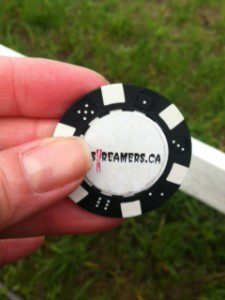 Who would be worthy of my 'winning chip'?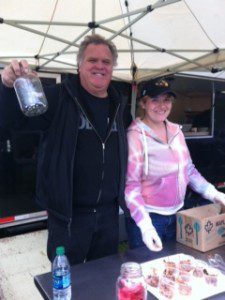 The look of pride as the "Black Pig" BBQ team scored another
chip…one from the Food Tease herself