All right my foodies, many of us have two common loves in this world…travelling and enjoying good food. So to that I say, why not have both?! There are many international food events that take place each and every year. Yes, budget constraints can hinder us from taking part in these events – a big difference from attending our local ones. But can you imagine what it would be like to travel to foreign and in some cases very exotic locales that just add to the whole food experience?!
On my quest to do something different in my life, I made the decision last year to go after one of my bucket list items…to venture off to a different country and attend a world re-known culinary event…and do it all alone!!
When I started questioning myself as to what I wanted in this type of vacation I couldn't have asked for more when I had turquoise waters surrounding me, sand so soft that it was a must to go barefoot everywhere and crisp sea air that filled my lungs with every batted breath. The answer for a foodie like me was the Caribbean Food and Wine Festival in Turks and Caicos. This was the second year that the Turks and Caicos Tourism Board had been hosting this gastronomical event and what an event it was. The three day event held typically in early November was one that I had been waiting for – for some time now. I was originally planning on going to Mistura– the world's largest food festival held in Lima, Peru but since I was travelling alone I was advised to go elsewhere unattended. So after doing some research for international food festivals – The Caribbean Food and Wine Festival in TCI (Turks and Caicos Islands) popped up. Yes, I know the suffering that I would have to endure to make the pain stacking decision if this was a right fit for me. The decision was a tough one – do I want to spend seven glorious days in what the French call the Turquoise Islands and be catered hand and foot by the most hospitable staff, enjoy some unforgettable snorkeling and diving in the most beautiful part of the world and let's not forget the "small" detail of why I was there in the first place – to eat my heart out on gourmet dining that was about to exceed all of my expectations. That being said, the decision was made – I just had to take a deep breath and take it all in. I was actually going to go on vacation down south alone! I know for some this is a small detail to overcome but for me this was huge as I have always shared my experiences with friends and loved ones. So when the opportunity presented itself, I jumped on it! I still remember telling the travel agent to hurry up and ring in my Visa card to pay for the trip so that I wouldn't change my mind. This trip was going to mean many different things to me – stepping out of my comfort zone, taking risks (something I have always done being somewhat of an adrenaline seeker – just not alone) and most important – finding out what I was capable of doing for me and me alone. I figured that this trip could and would in the end be the best thing for me. How could I possibly go wrong when gourmet dining was at the helm of this adventure.
So for the first four days of my trip I literally took in the sun and sand and relished in the beauty that TCI was offering me. At first, hurricane Sandy still managed to affect the trademark of TCI – the calm and serene ocean. The waves were choppy and at a moment's notice waves would be so high and so strong that they would literally swallow the beach lounge chairs off to the sea (when the ocean calmed down and went back to normal, tourists made a game if you will to go snorkeling and retrieve the chairs. This tourist didn't as I was saving all of my energy for my conch shell diving and for all the food festivities that were soon to start. The conch shell excursion was one of my highlights on this trip as it tested my endurance and drive on how badly I wanted this shell. For those not familiar with conch, it's a term generally applied to large sea snails in which the "meat" is used typically served either raw- ceviche style in a salad or cooked as a fritter (super yummy) or in a chowder or gumbo. All parts of the conch meat is edible including its "pistol". I was informed it's what the locals equate to being a natural Viagra of sorts. So when in Rome or in this case in Turks and Caicos… I figured that with all my hard work of finding a live conch (there are many dead one's on the sea floor that to the untrained eye (like mine) they all look alive that I deserved and needed to have a full `conch` experience…and that I did! And I have kept the shell as a beautiful souvenir and reminder that if I put my mind to something like diving over and over for what seemed like an eternity – then it'll be worth it even at the cost of swallowing what seemed like gallons of sea water to achieve it. The most rewarding part of the excursion other than finding the conch was having it served ceviche style right on the boat minutes after having caught it – it really doesn't get any fresher than that. As for the "pistols" affect on me, my lips remain sealed – you will have to discover that one on your own.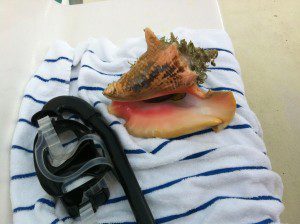 My prize after diving for what seemed like forever – a beautiful conch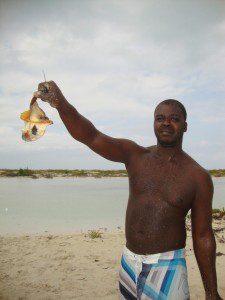 A conch in its entirety, out of its beautiful shell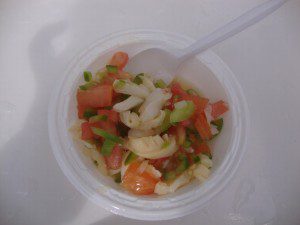 My conch served ceviche style
And now for the main attraction and main purpose for my trip – the Food and Wine Festival. The next three days were going to test my limits on how much I could eat – don't get me wrong this wasn't about quantity over quality by any means. It's just that with all the events I didn't want to sacrifice any left over morsel on my plate – now that would be a sin in itself! We started with the "Welcome dinner" at the exclusive and uber chichi resort –
The Amanyara
. This resort is so exclusive that it's not listed on the tourist map as a hotel or resort to visit and for good reason. The clientele at this resort want their privacy and anonymity at this lush palatial like setting. The Amanyara resort is located at the outer tip of the island and can be reached by their guests driving Land Rovers as part of the way to the resort is gravel with off terrain like conditions to deter unwelcomed visitors. But that night I was amongst the privileged ones who had access in this heavily guarded retreat. After several security checks one literally walked into paradise by the sea cliff. Tiki lights guided the walk way to the Beach Club where the main event took place. Teaming up with lo
cal chefs were international chefs Beau MacMillan and Paul Richard Newman (both Iron chefs) to take part in the festivities. W

e had winery estates that were flown from the states to take part in the Food and Wine Festival:
Terlato Family Wines, Duck Pond Cellars, Tuck Beckstoffer and Heidi Barrett to pair their wines with our meals for the next 3 days. Now I should mention that by no means am I a wine connoisseur – but as it was all part of the package I had nothing to lose but try and seek out a wine that I could finally enjoy. For years I have always turned down wine – be it red or white due to the fact that it always felt like sheer acid was being poured down my throat. So, I stuck to my tried and true favorites – Mojitos and very dirty martinis. That was until I found my citrus wine of all wines – a 2011 La Sirena Napa Valley Moscato Azul by Heidi Barrett. Now let me tell you – this wine was going down like water, a very refined water that is. But as Murphy's Law would have it – currently it's not being supplied to Canada. What can I do except drink more dirty martinis! At the Amanyara Resort, the press were kept busy with their video cameras in hand vying for the perfect quote from governor Ric Todd of the Turks and Caicos Islands and the handpicked wineries that were in attendance. And with that, the governor praised the success of the evening and looked forward to the remaining two days of the festival.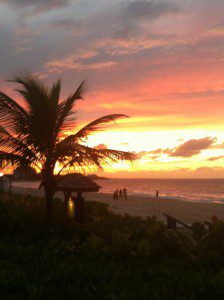 The start of the Gourmet Safari on the beach
Day two of the festival was one in which has been taking place for the last six years – the Gourmet Safari. And understandably so, this part of the festival was worth every inch that my waistline gained…for the those women reading this -I should have worn my Spanx! The gourmet safari is an evening where you are taken to five of the best resorts on the island and indulge and I do mean indulge in a gourmet experience in which that particular resort has to offer. It's also an opportunity to gain access to areas within these establishments that typically would be restricted if not a guest of that hotel, now that's what I call VIP treatment! The unforgettable event started with a cocktail reception at the luxurious Grace Bay Club. The setting couldn't have been more picturesque – right by the beach, a million dollar view of the sun setting and the evening's festivities were just about to start. Masks and colorful beads were given to every guest upon entry to the event – there is something to be said about wearing a mask, the possibility of an alter ego that could emerge, but that's a different story…back to the food. So while I wolfed down on sweet and tangy lobster, lion fish pizzetta, corn and pumpkin quiche and my ultimate finger licking piece of heaven – jerk roasted pork belly. With all the excitement, I had forgotten that this was just the beginning of my night filled orgy of food. Our time at the cocktail reception came to an end when we heard this loud thundering beat that seemed to be getting louder and louder with every beat of what sounded like drums making their way towards us. Flashes of bright tropical colors danced in my eyes as the Junkanoo (a street parade with music) made its way to the beach area to guide us to our first course. The beat and rhythm of the parade got the guests moving. As it did for me in hopes of burning some of those rich multiplying calories that I ever so painstakingly consumed. The electric parade led us to the Coyabarestaurant where we feasted on zucchini, callolloo, onion baji's, a roasted beet and love apple terrine, goat cheese quenelle, pumpkin soup and finished off with an exotic papaya brulee. Our next stop, being the fish course brought us to the breathtaking grounds of the Regent Palms. Guests were treated like royalty as we dined in what seemed like the garden of Eden, amongst beautiful water fountains and being serenaded by a songbird whose voice resembled that of Norah Jones. Our table that seated close to eighty people reminisced that of a private wedding I had attended years passed. Every detail was thought of and spot on, from the lace detailing on the chairs to the surreal table center piece – a crystal bowl with lemons and what seemed like faux red coral magically bubbling and smoked throughout our dinner. It was like a scene out of a science show – every couple of minutes the bowl would start bubbling and a fresh lemon scent would take over the air. With the utmost precision every guest was served at the exact same time as every guest had its own server. Before us in our bowl stood a beautiful and generous piece of Chilean Sea Bass in a tomato broth while a Mediterranean couscous accompanied it. Every piece of that fish melted in my mouth, it was so light and airy that I didn't feel guilty finishing it all. Now our next stop was one that I had looked forward to the most: the entree part of the evening – what can I say…I'm a meat lover. As we entered the Seven restaurant at the Seven Stars Resort, we were greeted with a beautiful Rosé that seemed to bubble over in smoke, much like the centerpiece at the Regent Palms. I'm not sure if it was the bubbles from the dry ice that made me want more or if it was the intoxicating bubbles of the Rosé – but I was in my element. Meat was going to be served and I was having a great time enjoying the bartender making me another Rosé volcano as I like to call it. As the pièce de résistance was being served, I couldn't contain my joy. My plate was decorated with two beautiful mouth watering morsels of venison that needed no knife (that's how tender they were) surrounded by a succulent piece of langoustine and as if that wasn't enough an oxtail and foie gras cannelloni added the rich factor to the plate. I was in a carnivorous heaven and to add to my meat bliss, one of the guests with whom I befriended and with whom happened to be a wine writer for a New York magazine told me that she couldn't touch her plate as she was a vegetarian. And with that a compromise was made – she could enjoy my glasses of wine as she would no doubt appreciate them more than I ever could and I would begrudgingly take her plate of heaven. Now, before thoughts of sheer gluttony and over kill enter your mind – keep in mind I sacrificed my wine for her and must admit I pushed the envelope on what I could possibly consume in one night's festivities. I'll keep you in suspense if I actually finished my plate or not, but I'll give you a hint – some vegetables survived the carnage. Last but not least, dessert was being served at the Stelle restaurant in the Ganesvort Hotel and Resort. Now just when I thought every seam on my then comfortable dress was about to burst, I was served a beautiful chocolate cup of Dulce de Leche Parfait. This rich and ever so sweet concoction compromised of a spiced huckleberry compote, citrus shortbread crumbs and crystallized Thai ginger. Now I should explain that by no means do I have a sweet tooth – seriously. I'm the type of girl who has and will continue to ask for an entree or appetizer for my dessert if I've enjoyed it that much – to me that's a dessert. Having said that the Dulce de Leche Parfait was sinfully delicious, every spoonful of this sweet liquid gold was one of perfection and an unadulterated way to finish the gourmet safari and my uber indulgent evening.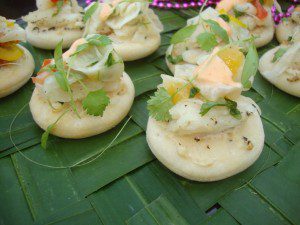 Lion fish pizzetta
Jerk roasted pork belly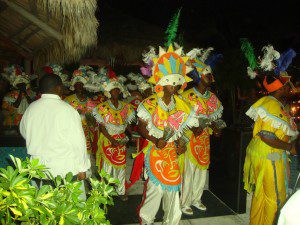 The heart pounding Junkanoo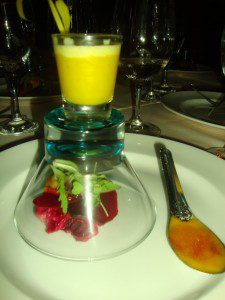 Roasted beet and love apple terrine, goat cheese quenelle, pumpkin soup and finished off with an exotic papaya brulee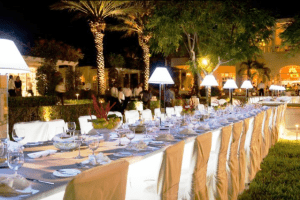 Dinner fit for kings and queens at the Regent Palms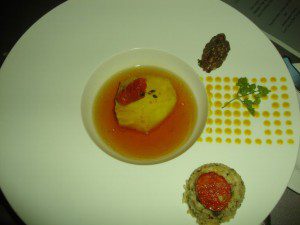 Chilean Sea Bass in a tomato broth with a Mediterranean couscous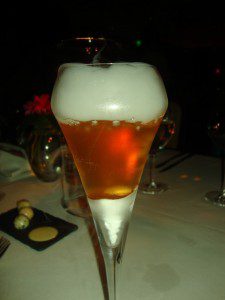 My

Rosé volcano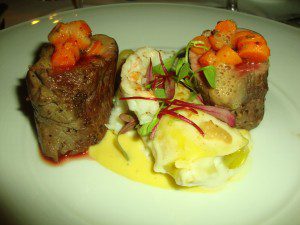 Venison,
langoustine and an
oxtail and foie gras cannelloni
Chocolate cup of Dulce de Leche Parfait with
spiced huckleberry compote, citrus shortbread crumbs and crystallized Thai ginger
Now less than 16 hours after, I was about to start day three of the festival – the Food and Wine Tasting hosted by my hotel – the Veranda Resort. Just when I thought I couldn't eat anymore especially after consuming the feast of all feasts the night before, I had four food and wine pairing events to attend – all of which took place in separate beach houses. A beach house for each category; seafood and wine, meat and wine, cheese and wine and chocolate and wine.
Each category was perfectly paired with two wines that were handpicked by the wineries and sommeliers selected for that particular category. There was nothing pretentious or ostentatious about the wine presentations. We were met with an ease and sense of relaxation (now that could have been helped by my consumption of my favourite wine) when the sommeliers were explaining how terroir has a huge impact on the production of wine. I was expecting to hear some aristocrat hoity-toity snobbery explanation of why we should appreciate certain wines over others – but there was none of that. It all came down to enjoying a wine that you felt best complimented and matched the food presented before you. After all why would you want to consume a wine that you didn't enjoy just because someone with a degree told you that you should enjoy it – it just doesn't make any sense. I was spoiled at each beach house; the seafood beach house treated us to conch, langoustine and grouper; the cheese house was a utopia of sorts – a full plate of various cheeses ranging from Manchego's firm cheese to Humboldt's Fog goat cheese and everything in between. The chocolate house was a sweet tooth's nirvana. Bacon topped dark chocolate was a hit with every palette in attendance. The jewel in the crown for me in the chocolate house was a rich hazelnut mousse that made me defy any dining etiquette that I once possessed – just short of licking the bowl clean in front of the other guests, I opted to use my spoon to save whatever dignity was left. And last but not least, my favourite house was about to open its doors to its biggest fan – me of course. The meat house lived to its reputation – a delectable array of meats waited to be devoured – a generous portion of beef tenderloin, lamb, prosciutto and lip sticking pork belly were all cooked to perfection. The wines were tasty as well but I couldn't fool anyone, my priority was to sink my teeth in these forkfuls of goodness that were fit for the gods.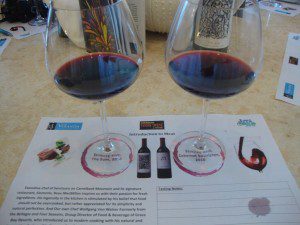 Wine pairing at the beach houses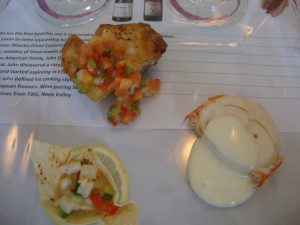 The seafood house (conch, langoustine and grouper)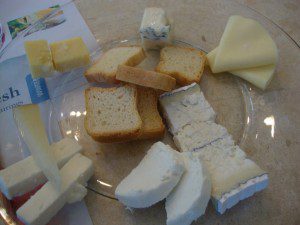 A cheese lover's plate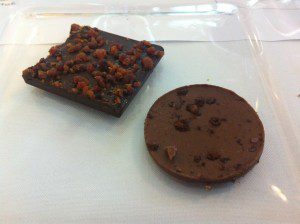 Bacon topped dark chocolate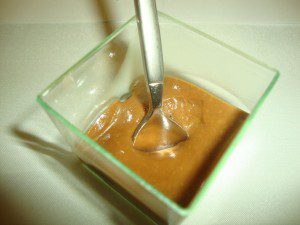 My uber rich hazelnut mousse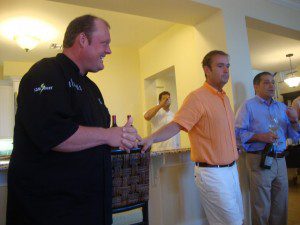 Iron Chef Beau MacMillan and wineries
Terlato Family Wines and Duck Pond Cellars explaining the wine pairings at the meat beach house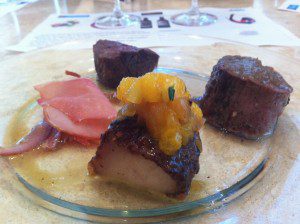 My heavenly plate: beef tenderloin, lamb, prosciutto and lip sticking pork belly
Would you believe that my day of overindulging wasn't complete yet?! I still had the Island Street Food Fair to attend. Both locals and ticket holders of the Food & Wine festival attended this event. It wasn't hard to find the fair in downtown Provo, all you had to do was follow the smoke filled air that in one whiff you could smell the charcoal ribs that were soon to be ravaged. The festival was hosting the grilled food tasting featuring local restaurants, a cook-off competition and it wouldn't be complete without the acrobatic Junkanoo to get everyone moving. It was at this island street food fair where I finally learned the secret ingredient to the TCI famous Rum punch – their Bambarra Rum. What can I say, a little pineapple juice and a splash or two of their Rum and good times were being had by this little Canadian tourist.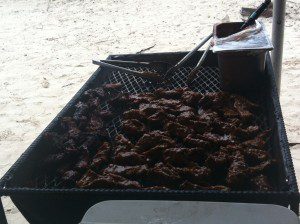 Ribs grilling on the open flame…does it get any better?!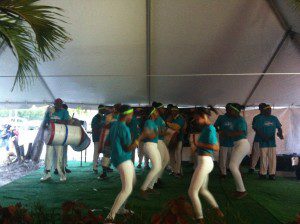 The

acrobatic Junkanoo provided entertainment during the

Island Street Food Fair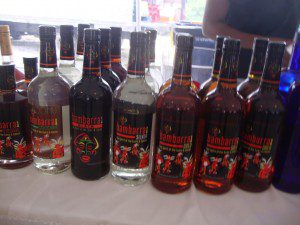 My now favorite Rum…Bambarra Rum
My three day culinary adventure was one in which I will no doubt treasure for a very long time. My adventure was all encompassing; the picturesque post-card locale, the ever so friendly and personable people of TCI and the incredible whirlwind experience I had during the Food and Wine festival. What more can a foodie ask for in a trip like this except maybe for some looser fitting clothes and tickets to next year's festivities!