The joy of traveling allows food lovers to experience many of the world's culinary offerings. They get to indulge in the tastes and smells of delicacies that only passports can provide.
However, at the 1000 Islands Harbor Hotel, a AAA Four-Diamond full-service resort located on the beautiful St. Lawrence River, guests are offered a delightful evening of European gastronomy delights!
For one night, the 1000 Islands Harbor Hotel, in collaboration with Executive Chef Patrick Leibacher, guests will be swept away as their taste buds are immersed with the flavours that Chef Leibacher and his brigade will be presenting.
'Tour of Europe' is the theme to this unique dinner. Delicacies from various European countries that have left their mark on the international culinary scene will be showcased. These include Spain, Germany, Italy, France, Switzerland and Austria. And if that wasn't enough, each dish will be paired with offerings of Finger Lakes Wine. What more can one ask for?
Menu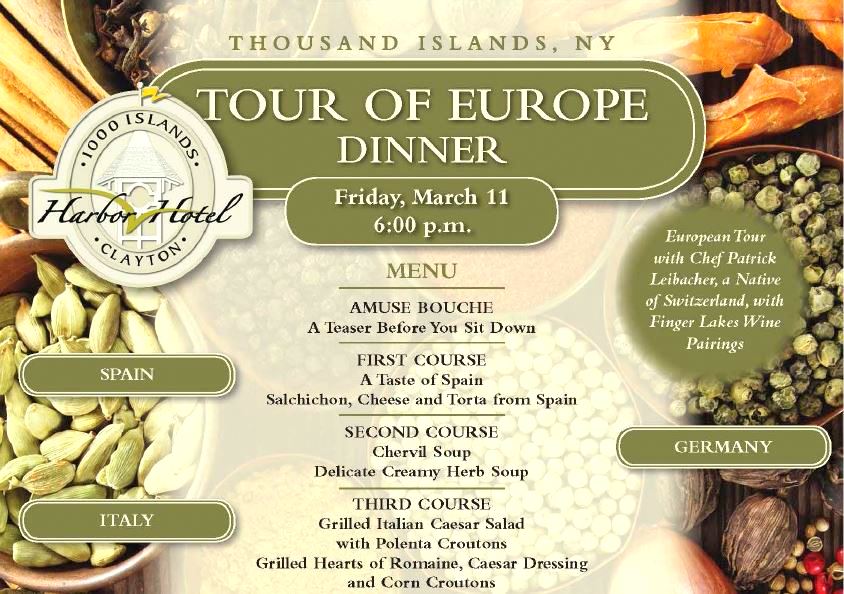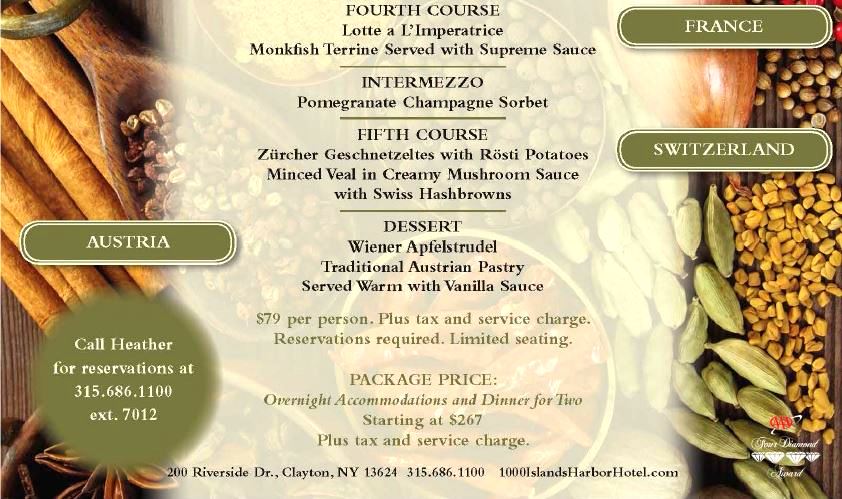 I chose the 'Tour of Europe' dinner for our guests because I wanted to give them a taste of the cuisine I grew up enjoying. I was raised in Switzerland and traveled through many parts of Europe while I was an apprentice chef, so these dishes are inspired by my own favourite comfort foods." – Chef Patrick Leibacher
Important info regarding the event:
Date and Time: Friday, March 11th, 2016 at 6:00 pm
Where:  1000 Islands Harbor Hotel, 200 Riverside Dr, Clayton, NY 13624, United States
Dinner cost: $79 per person
Reservations: Required as seats are limited. Please call Heather at 315-686-1100 ext. 7012.
Special Package: The 1000 Islands Harbor Hotel is offering a special package in conjunction with this event: a dinner for two with overnight accommodations starting at $267 (US funds, plus tax and service charges).
See you there!