Celebrating Food Day Canada
By admin on August 6, 2013

I must admit that I wasn't aware of how popular Food Day Canada was when I first heard about the event. So me being me, I did a bit research to see how this event all came together and how it transformed from a BBQ event several years ago to being a National Day of celebrating our food providers and most importantly utilizing only Canadian ingredients.
It began in 2003 as The World's Longest Barbeque, a massive, Canada-wide response to the sanction of Canadian beef exports by our largest trading partner and the dramatic hardship it imposed on our agricultural community. The WLBBQ was a huge success and has evolved into Food Day Canada®, an annual mid-summer celebration, always held on the Saturday of the August long weekend, when we share Canada's rich culinary heritage, our delicious northern bounty and the best managed food system on the planet. Food Day Canada is the time and place for Canadians to share their food and their stories with each other while leading other nations in cultural diversity, food ethics, magnificent flavours … and fun! We know how to throw a great party, so LET'S SHOW THE WORLD!
Reading about this unique culinary event, inspired me to make an ALL CANADIAN meal…but reading further on, I noticed that on the Food Day Canada website: (www.fooddaycanada.ca/about/) they listed all the restaurants (by province) that were participating in the affair. Now that changed everything for me…as much as I enjoy cooking I still prefer to be pampered and spoiled. I wanted to go to a restaurant and see how they would properly utilize the bounty that our Canadian providers have to offer. I wanted to be surprised and be in awe struck of the meal but more importantly see how the meal captured the essence of the event. Well it turns out that I would definitely be surprised because I was about to experience a 6 course blind tasting at Ottawa's very own Juniper Kitchen and Wine Bar where they have been celebrating Food Day Canada for several years now.

My blind culinary voyage was at the mercy of Norm Aitken, chef and owner of Juniper Kitchen and Wine Bar. Aitken and his team had me wait with bated breath with curiosity and anticipation of what was in store for me that evening. I had experienced blind tasting menus before at other restaurants but for an event like Food Day Canada, imagination, creativity and vision were about to be showcased. Imagine if you will, that each course was better than the last…just when I thought my taste buds couldn't be pleased any more, along came another creation that rendered me speechless and desiring for another morsel.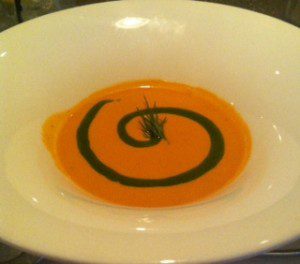 Chilled Soup featuring Rochon Farm tomatoes
with basil lime oil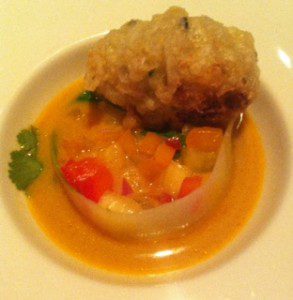 Crab Fritter with a coconut tamarind broth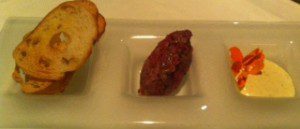 Beef tender Tartare served with corn-truffle aioli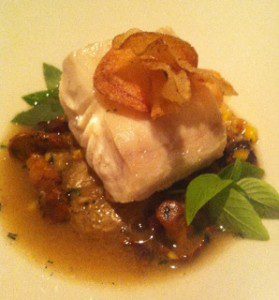 Black Cod that had been tomato water poached
with bacon-corn potato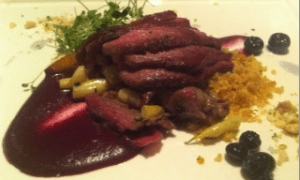 Aux Champs D'Élisé duck, a citrus cured breast, duck confit
with peach and bluberries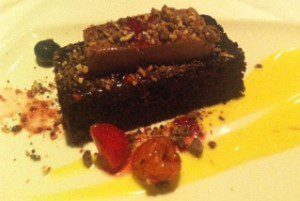 Beau's beer cake, chocolate crémeux and Ottawa Valley
berry compote
My goal was accomplished ten folds when I had sought out to be pampered and spoiled. Aitken and his brigade made my Food Day Canada experience unforgettable!
Looking forward to next year…(don't forget to mark it on your calendars).
FT