A splash of RED… Lumiere Gala charity event
By admin on August 28, 2014
As most of you know, I am a big supporter of restaurants and businesses alike who not only standby charities but actually support and work with them on one capacity or another. I am proud to announce that the Brookstreet Hotel is hosting their 12th annual Lumière Gala on Thursday September 25, 2014 in partnership with the Wesley Clover Foundation.
All proceeds will go to the Ottawa Regional Cancer Foundation, an important local organization dedicated to cancer survivorship in Eastern Ontario. To date Lumière has distributed over $462,000 to local charities and another $244,000 towards Cancer Research.
This year we are asking everyone in attendance to wear red or a 'splash of red' to show their support of the Ottawa Regional Cancer Foundation. The red themed evening will include ten food stations serving contemporary creative cuisine, as well as a selection of delicious cancer busting super foods. Paired with exceptional wines, live jazz, silent and live auctions and an unforgettable fireworks display, this will be an evening to remember!
With an anticipated 500 attendees, Brookstreet's intimate and luxurious surroundings optimize networking and socializing with the most notable figures in local business and within the community.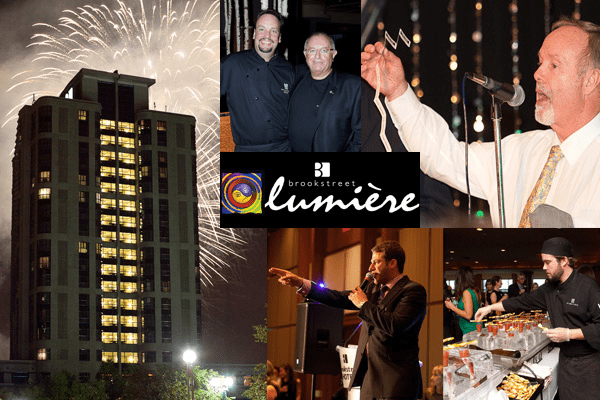 I had the pleasure of talking with Brookstreet's executive chef Clifford Lyness regarding this great cause. Lyness stated that he is rather proud of the Lumière Gala's reputation and success as he has seen the attendance steadily increase each year. Spending time with chef Lyness, it's easy to see that he has a passion for people and worthwhile charities like Lumière. Lyness mentioned that charities have always been important to him both professionally and personally speaking and its rather evident as lots of time has been spent carefully executing the cancer fighting food planning sessions with the collaboration with the Ottawa Cancer foundation.
Having worked the Lumière event years ago (my Cordon Bleu years) I can attest to the amazing evening that awaits and will no doubt impress and wow the guests with the outstanding food and live entertainment…and all for a great cause!
Please join me in making a difference to raise funds for such a great organization and who knows…you just may see a certain 'tease' working a food station 😉
FT