With snow still on the ground and ice slowly melting, I wouldn't have thought of exposing myself to the cold wind blowing off the St. Lawrence River for a getaway retreat. However, I was wrong.
Indulgence and pampering were in the cards for me as I enjoyed the beautiful 1000 Islands Harbor Hotel located on the St. Lawrence River in the picturesque touristy town of Clayton, New York.
Just shy of celebrating their two-year anniversary, The 1000 Islands Harbor Hotel has already garnered such prominent accolades for their service that it has recently been awarded the Four Diamond status from the Automobile Association of America (AAA).  The 1000 Islands Harbor Hotel is one of only 24 hotels in Upstate New York to earn this distinction. And I was about to find out why!
Driving from Ontario, Canada, the hotel is relatively close-by considering it seems tucked away in its splendour surrounded by the 1000 islands. My two and half hour drive was nothing short of scenic. As one crosses the U.S. border, the beautiful landscape with its many islands took my breath away! I knew then that my getaway retreat was nearby.
I was informed that Clayton, NY is very much a busy town during the touristy summer months with travellers coming from all parts of Canada and the nearby states. Visitors strive to find a beautiful locale in which to rest and relax. When I arrived, not even the snow could take away from the beauty and tranquility offered at the hotel and by the surrounding environment – the St. Lawrence River and the 1000 Islands.
A deep-rooted history is connected to the new 1000 Islands Harbor Hotel establishment. Before the hotel was built, the property was owned for over 80 years by the owner of the former Frink Snow Plow Company, Carl Frink. This is the man who is credited with having created the double-winged V-Plow which is something that we Canadians are very grateful for with our merciless snowstorms. And, for history buffs out there, you will find it interesting to know that the surrounding property was once The Clayton Railway Station which served as the end point of the Philadelphia and New York Railways.
As it was back in the day, thousands of passengers 'flocked from the big cities each summer to visit the resort town, explore the 1000 Islands and stay in its world famous hotels'. This sentiment is something that the 1000 Islands Harbor Hotel hopes to carry on. And by the looks of it they will!
Throughout this past year, there have been several diversified culinary events held at the hotel under the craft of Executive Chef Patrick Leibacher. His passion for food and his approach of involving guests are in constant development as he tries to integrate new concepts and other branches of passion.
This year, our 'Farm to Table' and 'Wild Game' dinners were very popular among guests, so I would like to keep them as a part of our programming and offer them year after year. Another theme I would like to explore is one that revolves around the fusion of art and food. I'm still developing this concept but I look forward to seeing what may come of it!" – Chef Patrick Leibacher
I had heard about the exciting culinary events that the 1000 Islands Harbor Hotel had successfully held and I was very eager to partake in this particular one, the Taste of Europe Dinner. An event with a unique dinner menu highlighting dishes that were specific to that particular region was created by Executive Chef Patrick Leibacher and his brigade. The Opici Family Distributing of Upstate New York paired each dish with their wine selections.
Knowing that Chef Leibacher hailed from Europe and had studied as an apprentice chef throughout many parts of Europe, I was excited to taste the renditions on his favourite dishes.
I chose the 'Tour of Europe' dinner for our guests because I wanted to give them a taste of the cuisine I grew up enjoying…these dishes are inspired by my own favourite comfort foods." – Chef Patrick Leibacher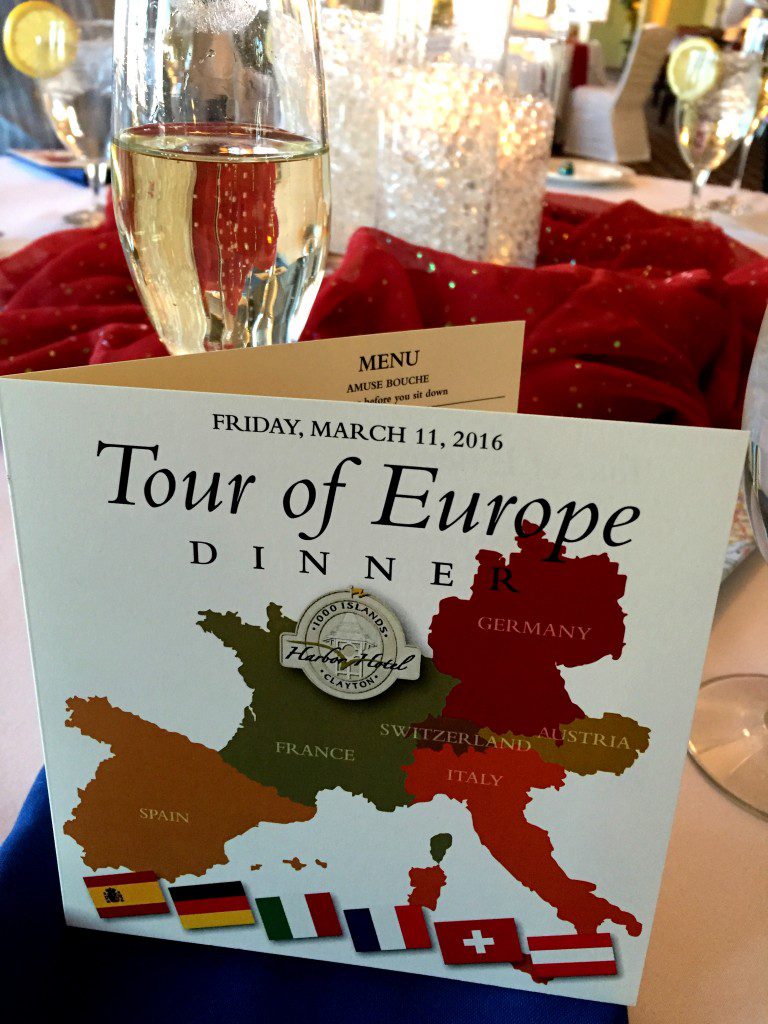 Menu
1st Course:
Spain: Salchichon, cheese and torta from Spain.
Wine:  Damini Lemberger 2013.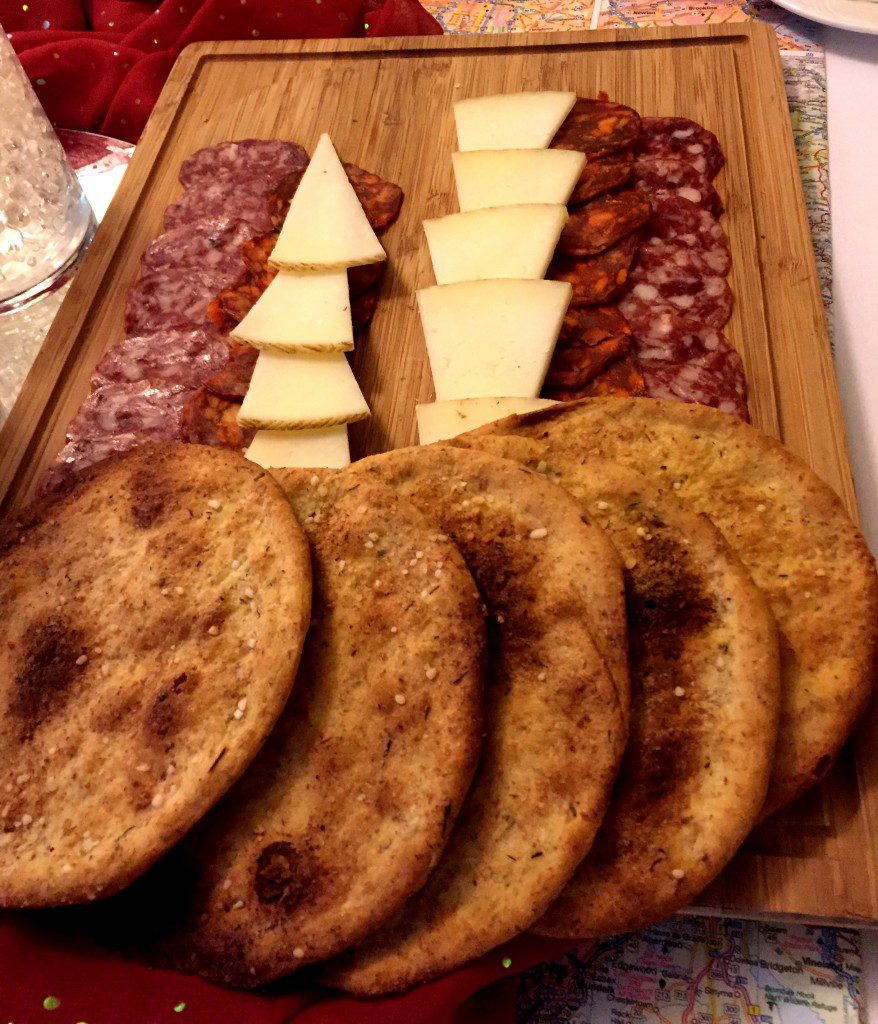 2nd Course:
Germany: Chevril soup
Wine: Wagner Rosé of Cabernet Franc 2015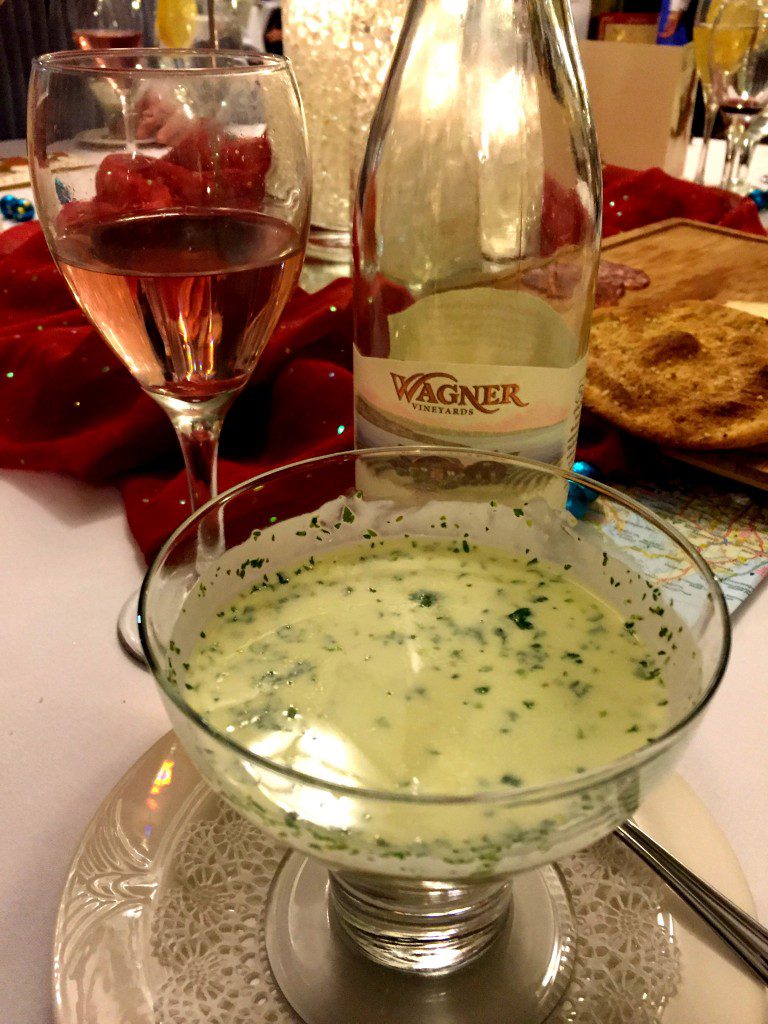 3rd Course:
Italy: Grilled Italian Caesar Sald with Polenta Croutons
Wine: Sheldrake Pinot Gris 2014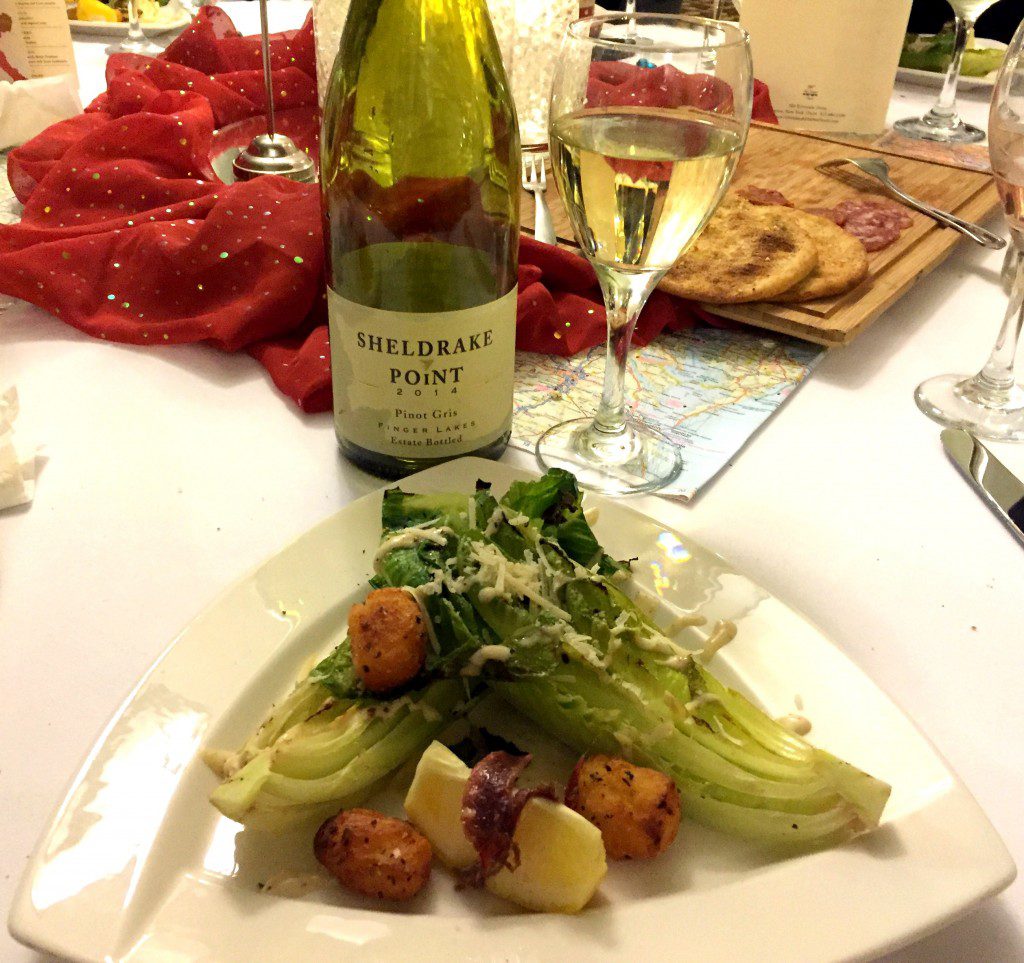 4th Course:
France: Monkfish Terrine served with supreme sauce
Wine: Anthony Road Dry Riesling 2014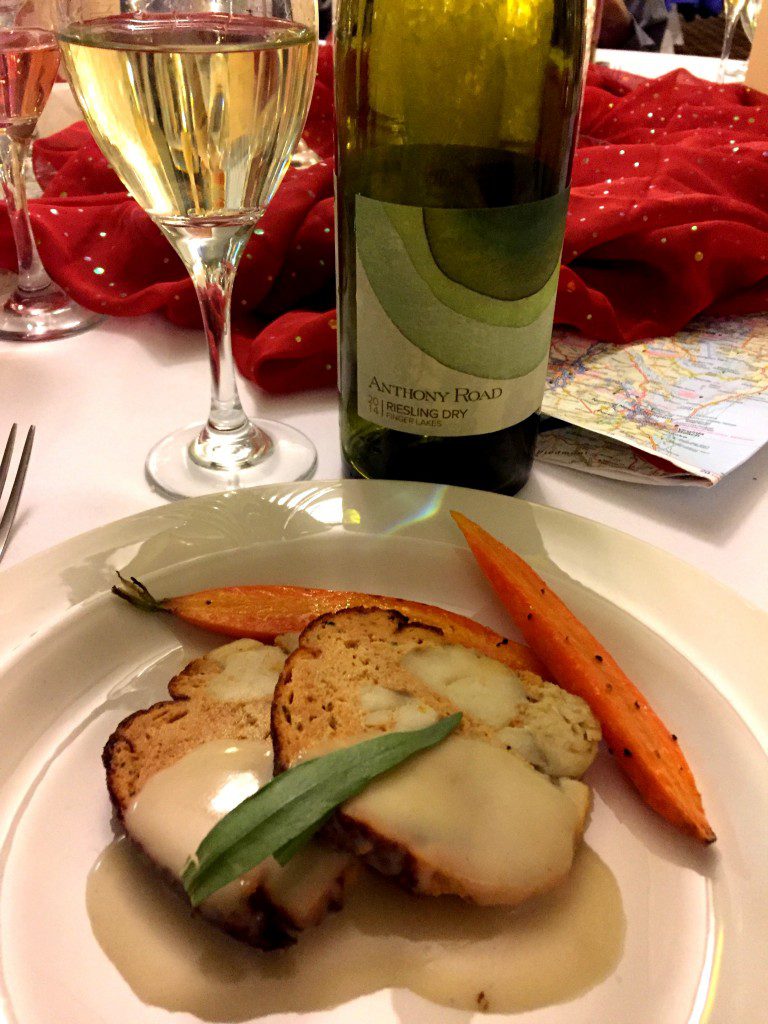 5th Course:
Switzerland: Minced veal in creamy mushroom sauce with Swiss hashbrowns
Wine: McGregor Cabernet Franc Reserve 2013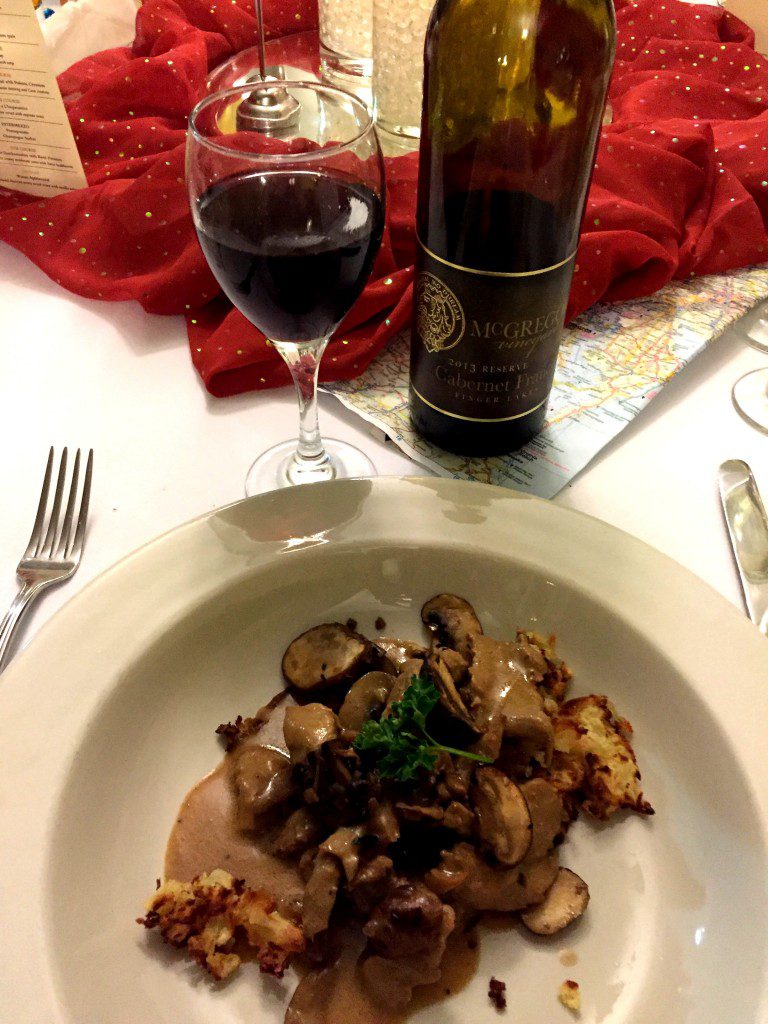 6th Course:
Austria: Traditional Austrian pastry served warm with vanilla.
Wine: Fulkerson Vidal Blanc Iced Wine 2014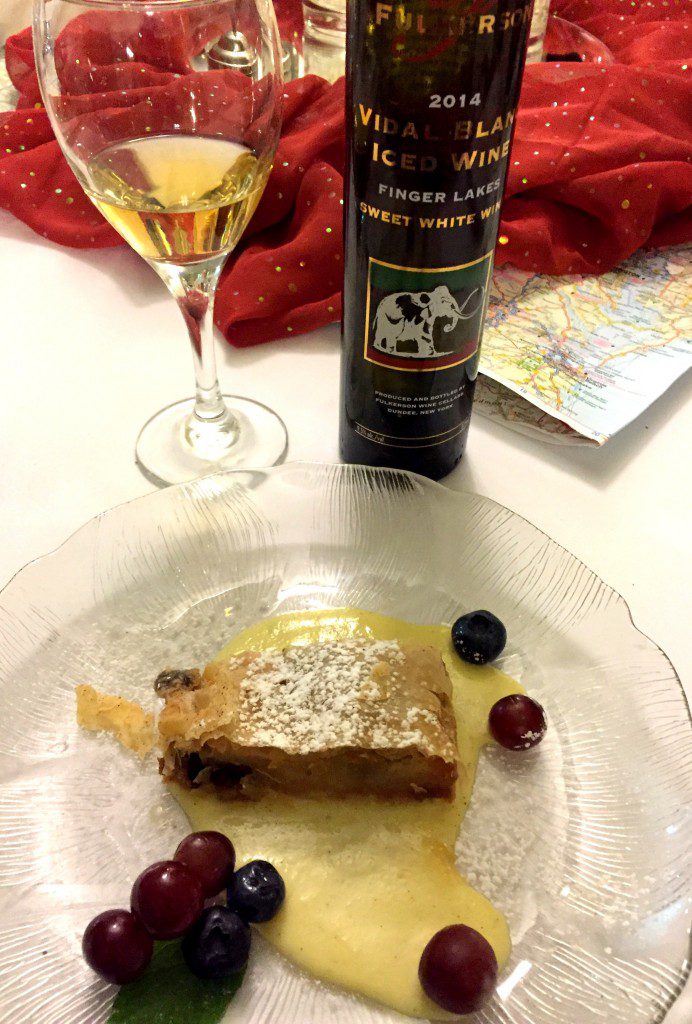 Verdict: Delicious dishes (especially the monkfish terrine) and excellent concept for a culinary event.
Many tourists are drawn to the 1000 Islands Harbor Hotel as it's all encompassing to close-by tourist attractions that have both history and beauty. The Clayton Opera House (the centerpiece of Clayton's culture) and the Antique Boat Museum (the largest collection of antique boats in North America) are just a few to mention; however, the major attractions in my opinion, especially during the warm summer months, is to take a boat ride to Boldt Castle and Singer Castle.
Imagine spending a day of splendour, discovering new areas and learning the history of the islands and their surrounding castles while knowing that after your boat journey, you can retreat back into your own castle-like quarters.
What you can expect at the hotel:
1000 Islands Harbor Hotel Facilities:
• 105 Deluxe Guestrooms and Suites
• State of the art fitness center
• Indoor heated pool and Jacuzzi
• Business Centre
• High speed wireless internet service throughout the hotel
• Full service dining: breakfast, lunch, dinner and room service
• 1000 Islands Bar
• The Riverside Patio
• On site concierge services
• 24 hour room service with limited menu
• Safety deposit boxes located at front desk
• High definition T.V.'s
• over 6,000 Sq. Feet of Conference/Function space (great for conventions and weddings)
• 6 Accessible rooms*
*They have designated rooms for guests with disabilities (according to the American Disabilities Act). Rooms that have TDDY phones (Telecommunications Device for the Deaf) and accommodations are lower in height. The hotel has gone the extra mile to make sure that all guests feel not only welcomed, but feel as though their needs are being met.
During my stay, I watched as the hotel prepared for one of many weddings that normally take place at this time of year. With the spacious conference and banquet areas, including a grand ballroom, hosts can be assured that their guests will feel comfortable and relaxed as the hotel has given much attention to space and how to best utilize it.
And of course it doesn't hurt that guests are spoiled with the beautiful view of the St. Lawrence River, especially at sunset. The hotel's large fire pits located at the Riverside patio is a source of relaxation and enjoyment as the heat and ambiance they provide can be enjoyed all year round.
Throughout the year, the 1000 Island Harbor Hotel offers guests a multitude of diversified packages for all to enjoy. From romance packages, wine tastings, in-house or off-site spa packages, private island cruise excursions to sport packages, the hotel literally caters to everyone's pleasures!
I know for myself, I look forward to experiencing more of their events particularly with the warm summer months just around the corner. Since I enjoyed the hotel when there was snow on the ground, can you imagine when the hot sun is beating down on the river…the possibilities must be endless!