Travelling to different destinations, travellers have the opportunity of being exposed to exotic flavors and dishes that can take them away to new levels of food euphoria.
But imagine what it would be like to travel around the world and literally be on a culinary voyage…well now you can.
The 1000 Islands Harbor Hotel, a AAA Four-Diamond full-service resort located on the beautiful St. Lawrence River is offering their guests an exceptional evening of wining and dining with dishes inspired by the worlds 7 continents.
The hotel's Executive Chef, Patrick Leibacher, a chef with an impressive resumé of diverse culinary training is at the helm of this taste bud expedition.
The 7 Continents Dinner Menu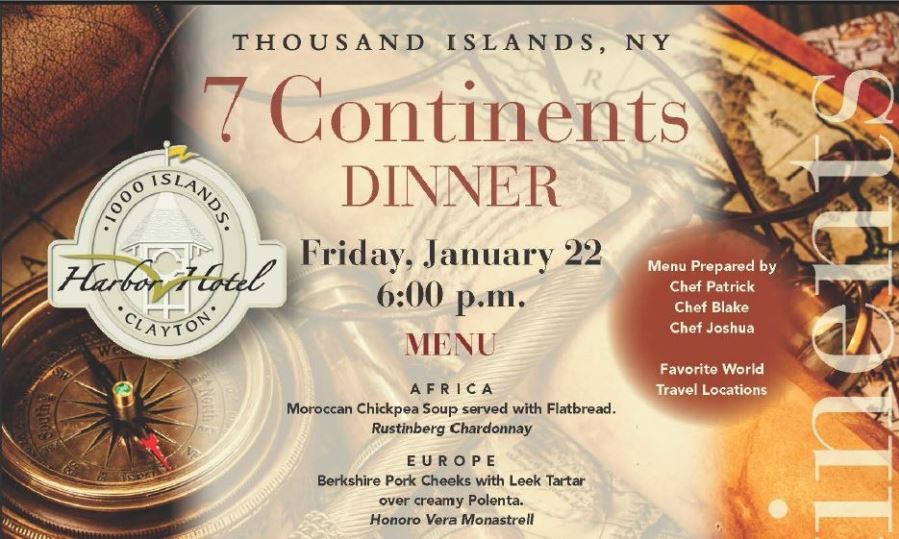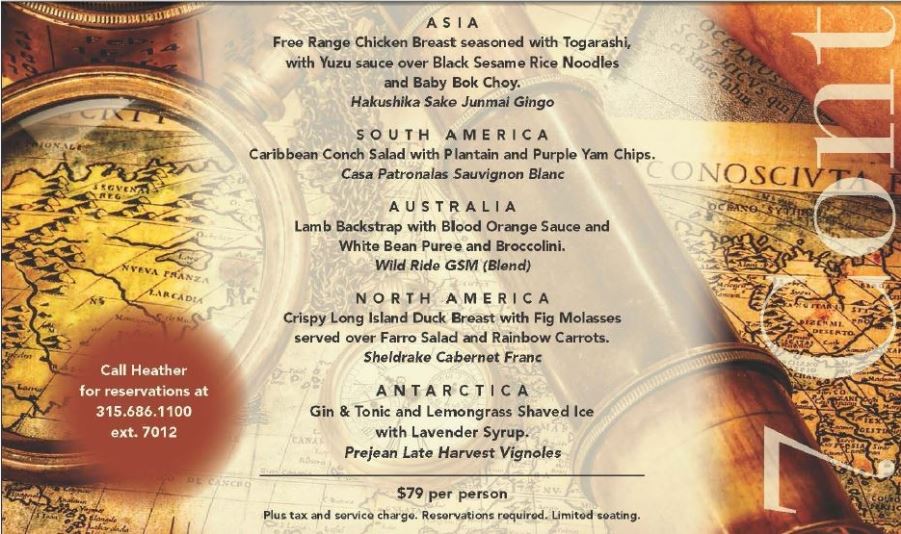 Having read about "The 7 Continents Dinner", I wanted to know more about how the dinner came to be. Chef Leibacher explained that he created this dinner to bring something new and unique to New York's North Country and the Thousand Islands region, and to give people something to look forward to during the lull of the post-holiday season.
Chef Leibacher explained that he "wanted to create a festive, multi-course meal that stretched beyond a standard wine-paired dinner, and started thinking about fun themes that could highlight interesting ingredients and perhaps introduce people to different types of cuisine from around the world".
I've always loved sharing my travel experiences with guests through food.
The source of inspiration for the dinner: While growing up in Europe, Chef Leibacher had the opportunity to live in several different countries and was exposed to many types of cultures and cuisine. "I knew I wanted to create a meal that consisted of seven courses, so designing a menu around the seven continents was a natural fit.
Date and Time: Friday, January 22, 2016 6:00 pm
Where: 1000 Islands Harbor Hotel, 200 Riverside Dr, Clayton, NY 13624, United States
Dinner cost: $79 per person
Reservations: are required as seats are limited. Please call Heather at 315-686-1100 ext. 7012.
Special Package: The 1000 Islands Harbor Hotel is offering a special package in conjunction with this event: dinner for two and overnight accommodations starting at $267 (US funds, plus tax and service charges).
No need for passports to enjoy this 'around the world' culinary trek, just a healthy appetite and a sense of adventure! What more could we want…a great dinner paired with tantalizing wines all set at the beautiful venue of the 1000 Islands Harbor Hotel.
Bon voyage!