Viva Italia
By admin on June 8, 2013


When & where: June 6-16th, Little Italy
What: Italian culture, food, music and sports are celebrated at various events centered around St. Anthony's Church on Booth Street and on Preston Street.
Italian Week Ottawa, now in its 39th year, celebrates the rich diversity of our Italian-Canadian community, our heritage of culture, food, music, poetry and the vibrant passions of its people. Plans are well underway for this city's most anticipated festival.
Come to Little Italy! Dance under the stars, share in our gastronomic delights while attending the Assaggi, highlighting the delicious and varied regional cuisine of Italy. Cruise along the Ottawa River and see some historical sites, attend the St. Anthony's Church procession, now in its 100th year and enjoy some beautiful fireworks lighting up the evening sky.
June in Ontario allows us to celebrate the 3nd anniversary of Italian Heritage Month. So come, partake in the vibrancy and allure of this annual festival and join us in the age old tradition of meeting old friends and making new ones, sipping espresso at an outside café, all while enjoying a taste of Little Italy. Be prepared to lose yourself in this tribute to all that our vibrant Italian culture has to offer – art, sport, culture and cuisine.
**Don't forget the the Ferrari festival that takes place June 14th-16th.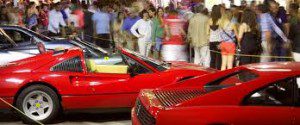 Ciao!!
FT