Rooftop oasis was the perfect ingredient to start the 4th annual edition of the Wine & Food Festival Cancun-Riviera Maya
By The Food Tease on March 22, 2015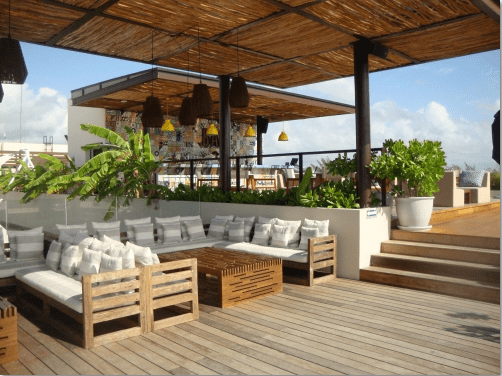 Boarding off the plane in Cancun, I reread my "instructions" directing me to where I was to meet a member of the Riviera Maya Tourism Board so that I could start my culinary adventures at the Wine & Food Festival. Not realising that I had landed in a different terminal than originally scheduled, I was on the lookout for someone holding The Food Tease logo. Getting worried and increasingly concerned that my 'contact' had left without me since customs took ever so long (you know what I am talking about….where you feel like you're a piece of cattle slowly being pushed forward in sweltering heat – waiting for your turn along with several hundred other people in line)…but I digress. Walking from one terminal to the next, being stopped every couple of feet by taxis drivers, condo sales reps and excursion tour representatives I was determined to find my contact one way or another…and there it was – my logo, being held high in the air for all to see. Relief and excitement kicked in all at the same time. Having travelled alone before, I thought the feeling of uneasiness would not exist – but it was only when I saw the tourism board representative holding my logo that I realized, it doesn't matter how long or how experienced of a traveller you are – even the smallest fluctuation in your schedule can cause you some stress and some anxiety when things don't go EXACTLY as planned. Lesson learned: go with the flow and it will all work out (fingers crossed)!!
Onwards and upwards, I was off to my first of two guest hotels during my stay for the festival. Hotel Cacao, located right in the heart of Playa del Carmen's thriving club and restaurant scene (on the infamous 5th Avenue) is very much a boutique chic hotel. Hotel Cacao is not like most big chain resorts that you would come to expect, it is modest 5 story hotel with a ridiculous rooftop oasis…who needs a big scale hotel when you are surrounded by serenity and tranquility all the while being situated on one of the busiest areas in Cancun.
Within minutes of arriving at this boutique hotel I had the great pleasure of being introduced to Elsie Mendez, Mexico's top food blogger and culinary expert who was also attending the festival. Elsie's reputation is well know throughout Mexico and several other countries as being an avid 'foodie' as well as a gastronomy connoisseur. Having over 89K followers on twitter alone, not to mention all the other social platforms that she is successful at including her famous website Saboresdemexico  (flavors of Mexico) she is truly a force to be reckoned with and I for one was very fortunate and grateful to be in her company. Elsie is a wealth of knowledge when it comes to food, spirits and of course anything having to do with Mexico's rich culture. I was in for a treat…no amount of 'schooling' could compare to the insight that she was about to bring into my life.
Right from the beginning Elsie and I both realized how we have an infinite passion for the culinary arts and our passion like our hearts, are worn on our sleeves for all to see!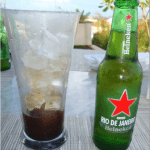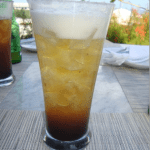 In true 'foodie' form, what better way to connect to people than by sharing some drinks and some food of course! That being said, Elsie introduced me to the refreshing and savory drink called Michelada. I'm not typically a fan of beer due to the heaviness that I feel afterwards and primarily due to the 'beery' aftertaste that I can personally do without. However, the Michelada was something very unique and different for me. I was told that many regions of Mexico have their own personal take as to what ingredients go into this drink but for the one I tried and very much enjoyed I was surprised of its savory ingredients: Maggi, Worcestershire sauce, lime juice, salt rim and whatever light beer you may have on hand…in this case we had a Heineken. Something definitely worthy of a try on a beautiful sunny afternoon – it accompanied very well with the shrimp tacos, pineapple salsa and guacamole that we ate…all in the splendor of the exquisite oasis that we were in!
And now the culinary adventure was about to start…stay tuned to read about all the extraordinary events, amazing people and mouth-watering meals that I was treated too!