The BBQ Diva Q is in the house!!
By The Food Tease on March 2, 2015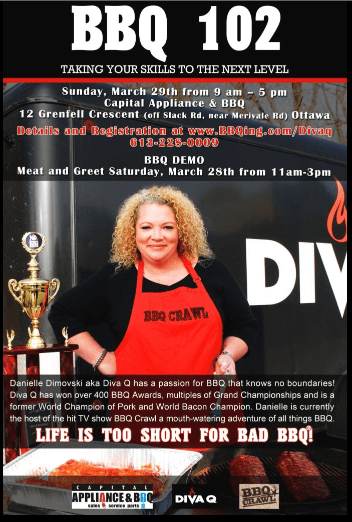 With summer around the corner in a couple of months, I know I am not alone when I say that I look forward to the beautiful warm air and lush green spaces that we have been lacking…especially as we have been trying to survive one of the coldest winters ever. Just seeing a BBQ, I can virtually smell the charbroiled steaks sizzling on the open flames…you know that addictive and beautifully intoxicating smell that I am referring too. The smell where you walk outside and catch a whiff of succulent meat being cooked to perfection except, it's not your steak sizzling…it's that of your neighbors! Why be left out in the cold so to speak and deprive yourself of such pleasures? You too can have the perfectly cooked steak, brisket and ribs and make your BBQ the talk & smell of the town.
"

Capital Appliance & BBQ

has teamed up with acclaimed BBQ champion, Danielle Dimovski aka "Diva Q" to teach you how to take your BBQ skills to the next level. Diva Q is one of the most accomplished  BBQ Champions of the World and is one of the most entertaining people you will ever meet". Diva Q will introduce a variety of cooking techniques on the:
Big Green Egg charcoal grill
Diva Q's BBQ 102 seminar will cover a wide range of topics regarding BBQing techniques such as:
 

   

Cuts of Meat and selection



Trimming Meat



Injections



Brining



Making Rubs vs Commercial



Preparation



Cooking Techniques



Finishing Techniques



Types of grills and smokers



BBQ techniques



Types of wood



Fuels



Common mistakes



Holding & freezing & reheating



Right amount of smoke



Selecting Meats



Regional variations
I for one am looking forward to this event so that I can dispel some BBQ myths that we have all heard and been victims too at one point or another in our lives.
Hope to see you there!