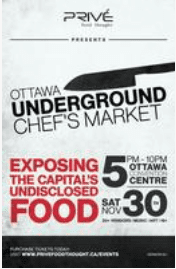 Well like I have mentioned in previous posts, Ottawa is really coming out of it's shell as company's like Privé start to host more and more food and drink related events. Ottawa's food scene is starting to take shape and is sending out a vibe that Ottawa is a leading contender in regards to becoming a food destination.
At first I wasn't familiar let alone ever heard of Privé, so I dug a little to inform myself and of course to you, my readers. Privé's main objective is to unite foodies and food around "the ever-evolving culinary talent of inventive leading-edge chefs for one part, for the other".
Privé is a food movement that seeks to break this pattern by promoting and supporting independent culinary talent and aspires to provide these food hipsters with a platform to reach new heights. Our mission is to support our local food community through the production and promotion of food events and through unique marketing strategies. These events will bring to the front-line quirky independent culinary rock stars and will showcase their latest food inventions.
By supporting existing small food businesses and encouraging unique start-ups, we are shaping and preserving our city's culinary identity and stimulating our local economy. One of a kind locally owned independent food businesses are an integral part of what makes a city a great place to live in and fuels ongoing innovation and prosperity. Our purpose is to keep our city diverse, exciting and on the cutting edge of the hospitality and entertainment industry
(www.privefoodthought.ca).
Ottawa's Underground Chef's Market
What is it? The Ottawa's Underground Chef's Market is where chefs and foodies connect. Completely new to Ottawa, this market will showcase food cooked by chefs and amateurs alike, and will allow the community to sample the city's future food. This is neither a farmers market nor a food festival. This is Ottawa's only platform where 'underground' delicious recipes and new food ideas are shared with the community and made public.
Date and Time:
Saturday, November 30, 2013, 5:00 p.m. – 10:00 p.m.
Where: Ottawa Convention Centre
Tickets: Advance tickets are $10 each and can be purchased on the event website (www.privefoodthought.ca). Tickets will also be available at the door after 8:00 p.m. for $15.
**This is a 19+ and cash only event. ATM machines will be present on site. Please be prepared to show ID.
All food is priced between 1-10$ and goes to support local businesses. Tickets at the door are available for 15$ only after 8pm.
I hope to see you at the event…discovering Ottawa's culinary talents of those who have already made an impact on Ottawa's food scene and for those just getting started.
FT