Ottawa's latest food festival: Poutine Fest!
By admin on November 13, 2013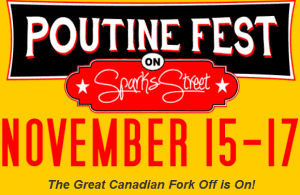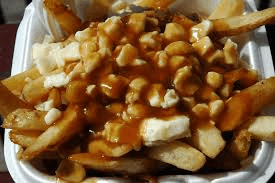 Maple syrup, beaver tails and…what other food screams Canadian culture? I'll give you a hint…it's become a meal of epic proportions. Visions of melted cheese strings being pulled back and forth as your fork tries to nail down its next prey begins to wet your appetite. Golden fried fries mercilessly tangled by the impenetrable web of cheese – endlessly toying with your patience as you try to consume its victims all at once. It's flavors are fueled by the potato gods, with their crispy rods that swim in a thick bone-hugging aromatic gravy pool that has no other job other than to melt the fresh squeaky cheese curds and warm your insides giving you a feeling of artery-clogging rich utopia. Say hello to one of my 'anytime, anyplace' treat: POUTINE!!!
The Ottawa area has its share of food festivals but this upcoming weekend will be the first for the Poutine Fest that Sparks Street will be hosting. The festival will have over 20 restaurants taking part in the 3 day Poutine Fest fun!
WHEN: November 15-17
Friday: 11am – 7pm
Saturday: 11am – 7pm
Sunday: 11am – 6pm
WHERE: Sparks Street
ADMISSION: FREE!!!
POUTINE PASSES: Poutine Passes are options if you wish to sample a variety of Poutines. $20.00 will get you 5 tickets. Each ticket is good for one 8 oz. poutine sample at ALL participating Poutine Fest Vendors on Sparks Street.
Poutine Passes will be available during the Poutine Fest at the Poutine Fest Centrall Tent during the event.
For more details: www.sparksstreetmall.com/poutinefest
Enjoy and see you all there!
FT