Looking back it doesn't seem or rather it doesn't feel that long ago, that I walked up to the podium to receive my Haute Cuisine diploma from Le Cordon Bleu Culinary Institute. No doubt the school has had a HUGE impact on my life. Without the foundation of knowledge and experience that Le Cordon Bleu taught me, I wouldn't have had the courage to write, let alone pursue my dream of discovering and sharing exciting culinary adventures via this blog!
Just last week, Le Cordon Bleu celebrated its 120th anniversary and they couldn't have celebrated it any better than by presenting an aspiring culinary talent with a $30,000 scholarship award!!!
Knowing first hand what the pressure is of having to cook several dishes in front of your peers and mentors and then be judged is one thing, but having a scholarship on the line is whole different level of stress and that is exactly what three young aspiring chefs did.
Le Cordon Bleu Ottawa presented the first Passion For Excellence Scholarship Award during their 120th Anniversary of the Culinary Institute at their Ottawa campus. The scholarship, sponsored by Restaurants Canada and Canada's 100 Best made a student's dream come true.
Three finalists vying for the scholarship, were selected based on their entry videos and Skype interviews and were flown from across Canada to the Ottawa Institute for their examination process.
A culinary exam wouldn't be a TRUE culinary exam if it didn't pay homage to the Queen of Cuisine…alumni Julia Child. The four-hour long exam process would consist of the final exam that Julia Child had:
•"Mollet" eggs in Béarnaise sauce
• Veal Chops "en surprise"
• Madeira sauce and caramel custard
A panel of judges would score the dishes based on the following criteria's: presentation, technique, taste, hygiene and organization. An overall scoring system would determine the winner with the highest points.
The Passion For Excellence Award comprises of the following:
• A fully funded, nine-month placement in the coveted Diplôme de Cuisine program at Le Cordon Bleu Ottawa Culinary Arts Institute.
• A Paid internship under the guidance of Executive Chef Yannick Anton, the esteemed chef of the renowned Le Cordon Bleu Signatures restaurant in Ottawa.
And the winner is…
And for the other two finalists…I was pleased to hear that they will be receiving 50% off their tuition!! That in itself is worthy of a celebration as the culinary institute is rather expensive, especially if students decide to tackle Le Grand Diplôme. Le Grand Dimplôme signifies that the student has been successful in both the haute cuisine and patisserie areas of study.
But the soirée was not over…we needed to indulge as this was an evening to celebrate all things good and all things food!
An evening highlighting 120 years of tradition and innovation!
Executive Chef Yannick Anton and Chef Hervé Chabert, Head Pastry Chef and Director of Operations and their brigades provided sumptuous teasers of appetizers and sinful desserts. Guests indulged on octopus with artichoke barigoule, smoked tuna with halibut brandade and without a doubt my favorite…braised duck leg with risotto. And the sweets were aplenty…chocolate mousse creations to sugar dream delights!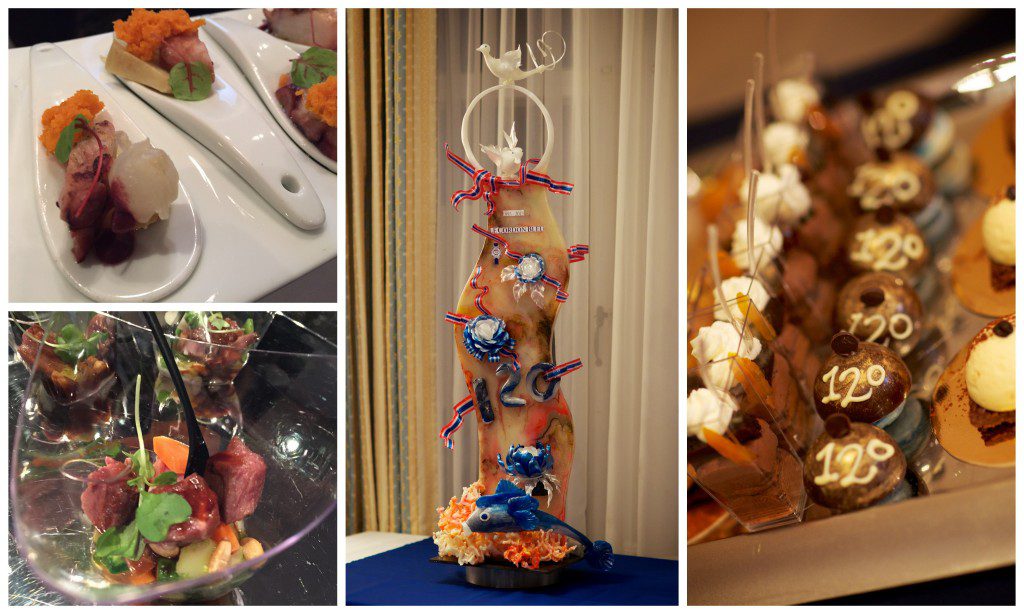 Le Cordon Bleu is considered by many to be the world's premier culinary arts institute. "With over 120 years of teaching experience, Le Cordon Bleu network has remained committed to providing a solid foundation in best practices in Gastronomy, Hospitality and Management". With these reasons and many more, it is easy to see why there were so many applicants all wanting to fulfill their dreams of having their formal education with this prestigious establishment.
Le Cordon Bleu is dedicated to providing the highest level of culinary and hospitality instruction through world-class programs. The institute continues to evolve by combining innovation and creativity with tradition through the establishment of Bachelor's and Master's degrees in business that 'focuses on the demands of a growing international hospitality industry'.
Through their international faculty of Master Chefs and industry professionals, Le Cordon Bleu applies its distinctive teaching methodology where students gain experience through hands-on learning and by theory based training.
Le Cordon Bleu is considered to be the guardian of French culinary technique through its culinary programs that continue to preserve and pass on the mastery and appreciation of the culinary arts that have been the cornerstone of French gastronomy for over 500 years.
I for one am very proud to have taken part in this historical event, as The Passion For Excellence Scholarship Award will no doubt change the course of many aspiring chef's lives and in turn we get to benefit from their amazing culinary creations!