The Big Band era of the 1950's with all its glitz and glamour came to life this past Saturday! The Loft Gala proved to be the most prestigious soirée that socialites, fashionistas and foodies had been waiting for all year!
Set at the beautiful Lac Leamy Hilton, men donned their dapper suits and the women wowed with their glamorous gowns. This year's theme was the swinging 40's & 50's and the Loft Gala didn't hold back on impressing their guests by giving them a show that will no doubt have people talking about it for months to come.
Swing Time
The 500 or so guests were treated to nonstop entertainment. The Stan Clark Orchestra 17-piece Swing Band had guests up off their feet dancing throughout the evening. And speaking of some fancy foot moves, the Side Street Swing dancers impressed guests with their signature swing moves, making everyone feel like Fred & Ginger were in the house! And if that wasn't enough, Juno Award winner, Sophie Milman dazzled the crowd with her sultry jazz vocals.
Let's Eat!
In between sets, guests were patiently waiting to be amazed by Executive Chef Denis Girard and his culinary dishes created specifically for the event. Chef Girard is not only the Executive Chef at the Casino du Lac-Leamy where he has maintained Le Baccara's Five Diamond rating, but he is also responsible for the Arôme Seafood and Grill restaurant at the Hilton hotel, and since 2010, the Altitude Seafood and Grill restaurant at the Casino de Mont-Tremblant. 
Being the food lover that I am, I wanted to see the inner workings of a high volume kitchen and all the hard work being performed for such a huge event. Thanks to Chef Girard I was able to see how their hard work came together – like a well-oiled machine, except this one tasted delicious!
Chef Girard explained that for high volume events, the use of 'food warmers' is utilized. After meals are cooked and plated they are placed in a trolley designed to hold large amounts of plates at one time. They are then rolled into a 'food warmer' which resembles a very high-tech oven. These machines were developed to keep food warm for approximately twenty minutes. Programmable temperature settings are used to prevent food from overcooking. This allows everyone to enjoy a warm dish at the same time; regardless if it's for a seating of 50 or 500 people.
The Menu
Seeing as there was a theme to the gala, I just had to know what Chef Girard's inspirations were. Chef Girard explained that since the gala paid tribute to the 1940's & 50's, he worked with the classic dishes that were popular during that time. For every course, Chef Girard described the style of cooking being used to create the dishes.
First Service:
Poultry and lobster galantine, asparagus vinaigrette and sour cream.
Galantine: a charcuterie specialty composed of pieces of white meat (pork, veal, poultry and game) surrounding a mixture of farce and diced vegetables, cooked in jelly . The preparation is shaped into ballotine (rolled into a cylindrical shape), then pressed and surrounded by jelly. It is usually served cold.
Second Service
Rare salmon "chaud-froid", crunchy vegetable salad, smoked tomato light and zesty foam.
'Chaud-froid': a dish of poultry, game or fish, prepared hot and topped with sauce and then served cold. The 'chaud-froid' is frequently offered in buffets.
Third Course
Red wine marinated beef tenderloin, mushroom and roasted leak mousseline, sweet peas, sautéed mushrooms, pork flank and roasted cipolinni with a red wine sauce.
Chef Girard and his brigade took the classic 'bœuf bourguignon' and made it their own.
Fourth Service
Pears Belle Hélène dome with logo.
Poire Belle Hélène: a dessert made from pears poached in sugar syrup and served with vanilla ice cream, chocolate syrup, and crystallized violets
The four dishes were a success as I heard rave reviews from the guests. After all, how can you go wrong with French cuisine regardless of the era?!
The Forum
The evening wasn't just about the music, dancing and food, it was about raising funds for cancer patients, specifically cancer coaching and clinical trials which are offered by The Ottawa Regional Cancer Foundation and Cancer Coaching in Eastern Ontario. Such treatments are unfortunately not covered by our current healthcare system.
"After many successful seasons of Ottawa Fashion Week, I wanted to create a new forum to leverage fashion, arts and entertainment. One of my priorities is to keep the spirit of fashion alive in the nation's capital while raising funds for a meaningful cause in Ottawa. – Bruno Racine, Loft Gala CEO 
Signature event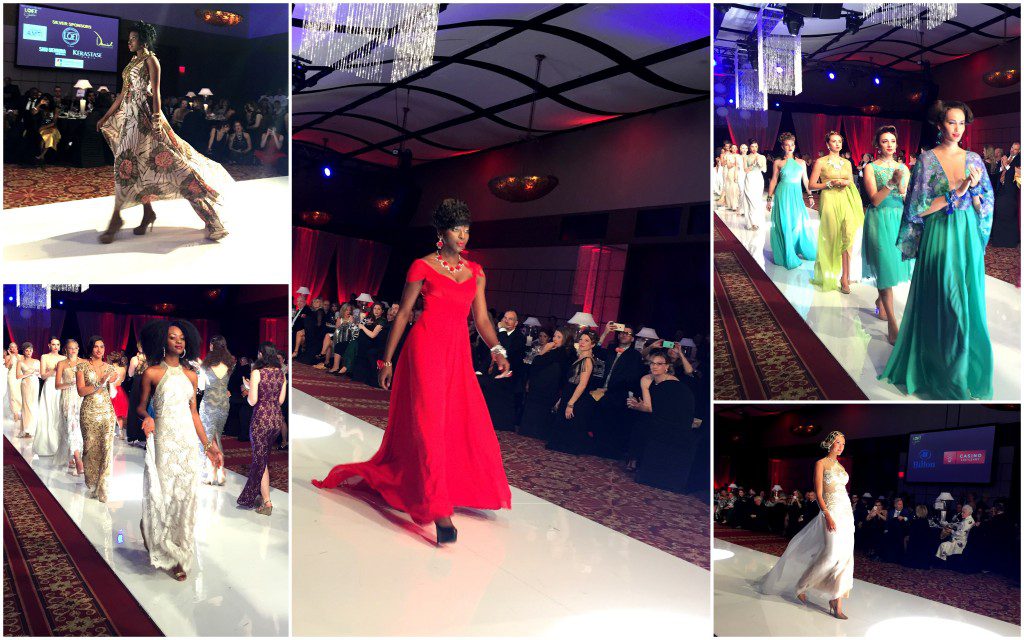 The signature event of the evening was the highly anticipated fashion show. Israel Ambassador, Rafael Barak introduced this year's fashion designer, Eyal Zimerman who showcased his 'Spring Blossom' line.
Throughout the soirée, guests had the opportunity to place bids on both the silent and live auctions. And to keep the gala's tempo in high gear the ever so enthusiastic lawyer, Lawrence Greenspon acted as the evening's auctioneer for the live auction. Part of the entertainment was seeing guests in some friendly bidding wars for some lavish getaway trips and delicious group dinners which were obviously being sold to the highest bidder.
The evening was a complete success as guests were dazzled with the music, dancing, food and fashion, and most importantly, the event bettered last year's goal and raised approximately $30,500 for the Cancer Foundation!
Looking forward to next year's gala!