Typically I am not one to be known for my love of all things healthy and nutritious and I'm okay with that. Yes, I should be mindful of what I consume and be more informed of the nutritional ingredients I digest, but if I'm being totally honest…I really don't give it much thought. I really enjoy great tasting food and IF they happen to also be nutritious then BONUS for me. But this devil-may-care approach changed after I spent an afternoon eating my year's worth of lentils in a span of 4 hours!
I had the pleasure of being part of  Canadian Lentils FunDeLentil Tour restaurant competition, which is taking place for the entire month of June. And what a competition it is and with that said, the lentil competition has taken off!
FunDeLentil Tour, a cross-Canada lentil restaurant competition. The 24 restaurants from seven cities have created signature dishes using the world's best lentils grown right here in Canada and have added those dishes to their menus for customers to order throughout the month of June. Participating restaurants are located in Vancouver, Calgary, Halifax, Ottawa, Toronto, Winnipeg, and Saskatoon.
Each participating chef was invited to use one or any combination of lentils grown in Canada to create their signature dish. I was amazed to learn that in Canada we produced a varied range of lentils: green lentils, split red lentils, black or beluga lentils and French Green lentils.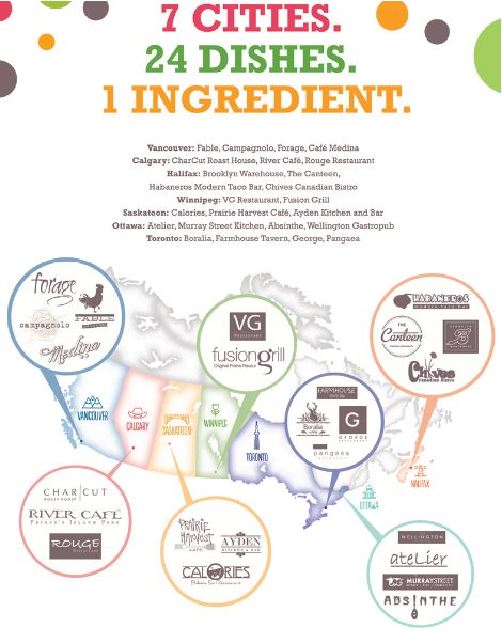 Not realizing the significance of this integral ingredient, I was like a sponge trying to absorb as much information as I could. I never realized the important role that this little pod has on Canadians let alone the impact that it has on an international platform.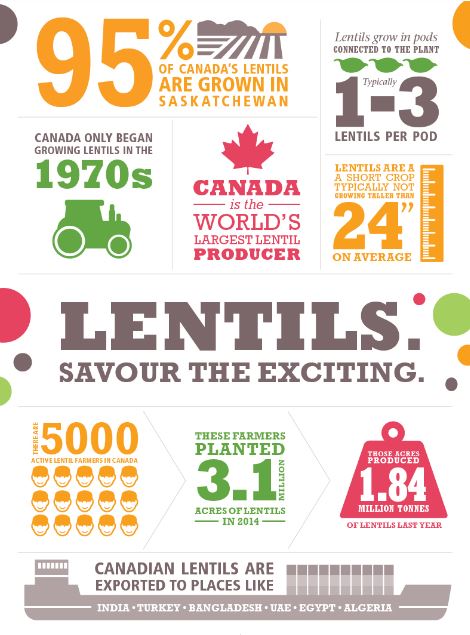 During my Lentil Tour I had the pleasure of meeting Anita Stewart, Canadian food advocate, Food Day Canada founder and Canadian Lentils campaign ambassador. "Stewart was instrumental in bringing on board the 24 restaurants, which are also Food Day Canada participants committed to using Canadian ingredients".
Canadians are going to love the signature lentil dishes created by our incredibly talented chefs," says Stewart. "Just watch the videos online and you'll see their passion for this humble ingredient; their creativity is astonishing. The resulting dishes are as varied as our Canadian landscape, which speaks to versatility of lentils. Putting considerable thought into the dish they hope will win over Canadians, the chefs used lentils to reflect their restaurants' viewpoint, seasonality, and their personal culinary roots.
Oh, how I was getting excited to try the signature dishes from these very well known Ottawa restaurants as I knew the calibre in which each eatery has strived and attained. This was going to be good!
First stop: Atelier with Chef Marc Lepine
Second stop: Wellington Gastropub with Chef Chris Deraiche
Third Stop: Absinthe with Chef Patrick Garland
Final stop: Murray Street Kitchen with Chef Steve Mitton
As you can tell from the meals that I had…I was definitely spoiled! Spoiled in so many ways. After this very educational and of course it goes without saying, very satisfying and extremely tasty experience my outlook on lentils let alone other vegetables has changed dramatically. Each and every meal that was presented and served was unique and deserving of a prize in their respective element…but there can only be one winner! And that is where you can make the difference.
The FunDeLentil Tour Contest Details
During the month of June, visit participating restaurants to taste their signature lentil dish.Visit fundelentil.ca to view short videos about each restaurant and to vote for your favourite for a chance to win airfare for two and three nights accommodations in the choice of city (from cities with participating restaurants) with gift cards to each of the participating restaurants in that city.
Don't forget to Love Lentils Vote and Good Luck!