Siren…
Temptress…
Femme Fatale…
What more could you want in an event inspired by the Film Noir genre?!
Bash Noir in support of the Snowsuit Fund, will be throwing a very chic and very swanky soirée. Think Grey Goose bottle service, VIP treatment and Champagne bubbles to lure you topped with opulent cocktails to tempt you.
And my favorite part…A tantalizing menu to seduce your palate.
And how apropos it is to have Ottawa's very own Femme Fatale be the driving force behind such a creative and sultry menu, ACE Mercado's Chef de Cuisine Trisha Donaldson. Chef Donaldson also happens to be the ONLY female chef representing Ottawa at this years Gold Medal Plates, she is truly a force to be reckoned with.
I had the pleasure of talking with Chef Donaldson about all things sexy and dangerous and how she will be tempting guests with her creative appetizers all in keeping with the theme of evening.
We are going with the fatale theme, so everything is either 'dead' or mysterious or dangerous…little bit sexy, little bit forbidden if you will. So all the ingredients we'll be using will be things that are floral and really kind of seductive…vanilla and lavender – flavours that are going to suck you in.
Chef Donaldson's Tempting delights
Lies and deceit: a play on a cheesecake, turning it into a savory cheese course. Warm on the top and ice cold on the bottom. A beautiful texture change as you bite into the goat cheese with a flavorful raspberry filling, coated with pistachios…finished with a lavender mist.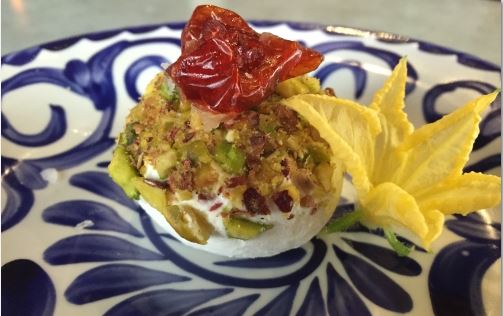 Day of the Dead: in-house made bread with in-house cured duck breast, cucumber ribbons, sabayon, lemon preserve and sweet drop peppers.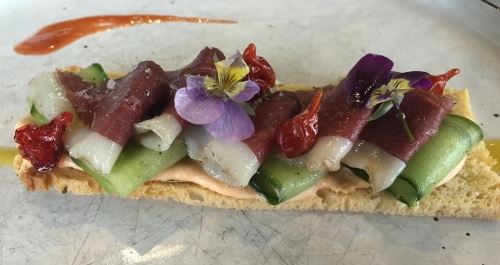 Hypnosis: a mystery veiled truffle with a hazelnut ganache.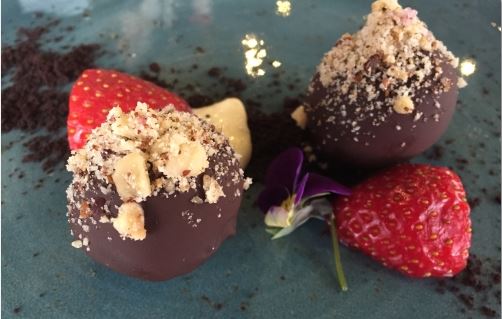 Chocolate Cigars: tuiles with hazelnut dipped in chocolate ganache with a sweet red pepper ash.
 Posh Libations
I can't show you all the tempting nibbles that Chef Donaldson and her brigade will be offering guests at the Bash Noir event. If I did, then I wouldn't be your tease…The Food Tease that is!
It wouldn't be a true Femme Fatale evening without ladies being adorned in their beautiful come hither gowns and men in their dapper suits so that being said, an upscale dress code is in effect with the sultry color of noir being the theme as well as the seductive and passionate color of blood red.
Join me as we get captivated by the Film Noir décor, tantalized by the ambiance, mesmerized by the Femme Fatale libations and without a doubt…be seduced with the culinary treats that will not just be pleasing to our eyes but satiate our palates as well.
See you there!
Date and Time: Saturday June 20th, VIP admission commencing at 8pm
Where: Horticulture building in Ottawa's Lansdowne Park
Tickets: buy tickets online at Bash Noir