By admin on April 27, 2013
Sushi Umi
Address:
1311 Wellington St. West
Ottawa, ONT
With all the 'all you can eat' sushi buffets that are sprouting up in the city, the true art of sushi making has become almost nonexistent…that was until Sushi Umi spoiled its patrons with their pieces of art. Located in the heart of Westboro, I have seen this small restaurant be transformed into a restaurant that has a diverse Japanese menu that will be enjoyed by all sushi loving palates – be it from those that consider California rolls the quintessential staple of Japanese cuisine to those who crave the truest form of Japanese cuisine – sashimi. Regardless of what bought you to this eatery, Sushi Umi will no doubt impress you with their delectable's.
My personal favourite that I believe makes Sushi Umi stand out is their sushi pizza. This pizza is unlike any other I have tasted – it is not only pleasing to the eye in regards to the vibrant colors that grab your attention from the get go but pleasing to your other senses as well. The fresh peach color of the salmon tartar diced to perfection as it marries with the fresh spring onions gives the salmon that added bite that we all love. If that wasn't enough, small morsels of bright yellow mango give this dish a tropical fresh spin to it. Now envision the soft salmon that practically melts in your mouth as it lies on a crunchy puck like bed of sushi rice. The sushi pizza truly is a treat for all senses from the bright colors to the smell of the tangy sweet sauce that is drizzled on it. But just when you thought you experienced everything from this treat – your tongue gets pleasured with the ever so soft and perfectly cooked rice encased inside the golden crunchy puck. It truly is a symphony for the senses. Just thinking about this dish makes me salivate….I digress as that seems to happen with many dishes that Sushi Umi offers. And before I forget, Sushi Umi caters to even the most hard core carnivores – their BBQ short ribs are ridiculously mouth watering and finger licking good. I dare you to eat them and try not to lick your fingers bone dry…that's how good they are!!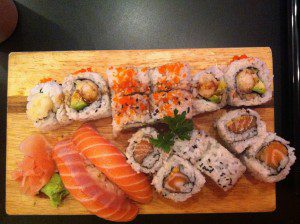 Assortment of sushi rolls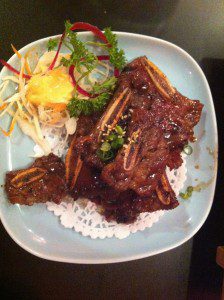 BBQ Short Ribs
Arigato,
FW