By admin on April 26, 2013
Streat Gourmet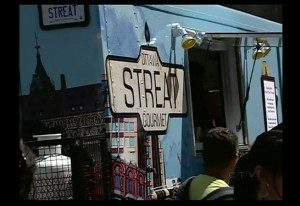 On the menu: International dishes made with local ingredients. The menu will change daily based on the chef's inspiration and could include anything from Croatian spiced meat-filled pitas to spaghettini tossed with fresh basil pesto and sprinkled with tomatoes and local goat cheese. Beverages will include new Harvey & Vern's sodas from Kichesippi Beer Co. and truck-brewed lemonade and ice tea.
Keep an eye out for a new creation: something called "the double-barrelled crêpe", a large crêpe and put a different filling on each side, then roll up it up. You can eat it straight, tasting one filling at a time, or bend it in half to make it "double-barrelled" and taste the fillings together. Combos might include tamarind-glazed duck on one side and a napa-cabbage-radish-wasabi slaw on the other, or char-grilled tomato bruschetta on one side with whipped local goat cheese with chives on the other.
Where: North side Queen street, west of O'Connor street. Near Parliament Hill, the truck promises to be a tourist attraction: it's covered with colourful scenes of Ottawa, including red tulips and the Changing of the Guard band.
When: Lunch hours on weekdays, probably 10:30 to 11 a.m. until 2:30 or 3 p.m. starting May 15 or possibly earlier. All day on Canada Day.