By admin on May 6, 2013
Red Roaster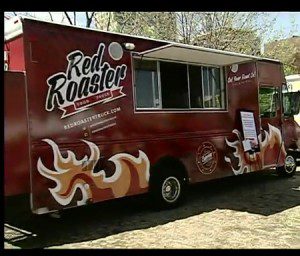 On the menu: roast chicken will be the specialty, with quarter, half and full roast chicken dinners, all made with high quality, air chilled chickens. Roast pork and roast beef will also be occasional specials, with a roast pork sandwich with balsamic onion marmalade on the regular menu. The truck will also serve four international street-food side dishes: everything from curry chips to Thai fried noodle balls.
Where: North side of Argyle, east of O'Connor (that's behind the Museum of Nature and in front of the YMCAYWCA). ***UPDATE*** As of May 30th Red Roaster has moved and they are hoping to be approved for a spot on Bank Street near Clemow Ave.
When: seven days a week, starting at 11 am and going until 3 pm, maybe until 5 to 6 if there's a demand for dinner.