By admin on May 20, 2013
Ottawa Chicken & Rib Festival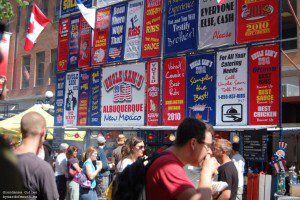 Sparks street is home to a few well-known festivals, one of the most notorious being Ottawa's Chicken & Rib Festival. Regardless of rain or shine, the ribbers will be ready for anything the elements have to throw at them. Sparks street will be converted into a culinary battlefield with blazing grills and plumes of smoke that will paint the sky with its smokey haze. Every chef on the strip will be fiercely competing for the 2013 champion title.
DATE: June 19-23, 2013
**Food Tease's thoughts: I have been going to this carnivorous event for many years now and one thing I have learned is, you can't walk down town without be drawn to the smokey goodness that comes from the competing BBQ's. One year in particular was pretty ridiculous, I went everyday to the festival whether it was for lunch or dinner and some days for both….such good times!! If you are like myself and you would prefer to devour the meat as opposed to all that white bread when ordering a pulled pork sandwich – then just ask them to hold the bread. They will happily fill up to the rim of the sandwich container with some ooey gooey finger licking pulled pork yumminess. It's a win win situation since you wont be full on some stomach space taking bread and it'll give you a chance to try another BBQ camp without being completely full.
Be sure to bring some wet-ones or napkins as you will definitely need it and if you don't then you're doing it all wrong!