Nothing tastes better in my opinion, than knowing your delicious tasty meal is contributing towards a worthy cause.  A Taste for Life is one those worthwhile events. An event that brings awareness to a virtuous cause, all the while providing diners with an enjoyable time at one of your local restaurants.
The A Taste for Life event embraces the love of food and more importantly, the dining-out experience at local restaurants. All participating A Taste for Life restaurants will donate 25% of their evening sales to AIDS Service Organizations in the community.
A Taste for Life, which is in its 18th year, started in Ottawa in 1999 in support of Bruce House and The Snowy Owl AIDS Foundation.  Since then A Taste for Life has been joined by 21 communities from Hamilton to Saskatoon, Toronto to Sudbury and London to Calgary.
I had the pleasure of attending the A Taste for Life launch event held at Urban Element this week, where guests learned about the amazing medical advancements developed for those affected with HIV.
One particular progress is the fact that pregnant women no longer transfer the disease to their children, which is a phenomenal achievement. Knowing that there are over 80,000 HIV positive individuals in Canada, the support and comfort given by Bruce House and The Snowy Owl AIDS Foundation plays an integral role in these peoples' lives.
Jill Woodley, Fund Development and Community Relations Manager of Bruce House explained that the event "showcases the generosity of the restaurant community, both in Ottawa and nationally.  In 21 communities all  over Canada, Taste brings together thousands of diners and restaurants and truly demonstrates the support for those living with and impacted by HIV.  In Ottawa, TD's support ensures that 100% of all funds raised goes directly to our core programs".
We are so grateful for the kindness we receive.  It truly is Hope made Delicious." – Jill Woodley, Fund Development and Community Relations Manager of Bruce House
The A Taste for Life launch wouldn't be complete without having showcased some delectable nibbles from several Ottawa restaurants that will be participating in this year's event. Guests were spoiled by Siam Bistro, Jak's Kitchen, The East India Company and Ottawa's very own "Steph the Grilling Gourmet".
Guests were treated to the beautiful sounds of the cello played by Alexis Castogiovanni as attendees mingled and tried the various tasty offerings. Heartwarming speeches from sponsors and organizers made the event launch very touching as many attendees have been affected one way or another by this incredible event.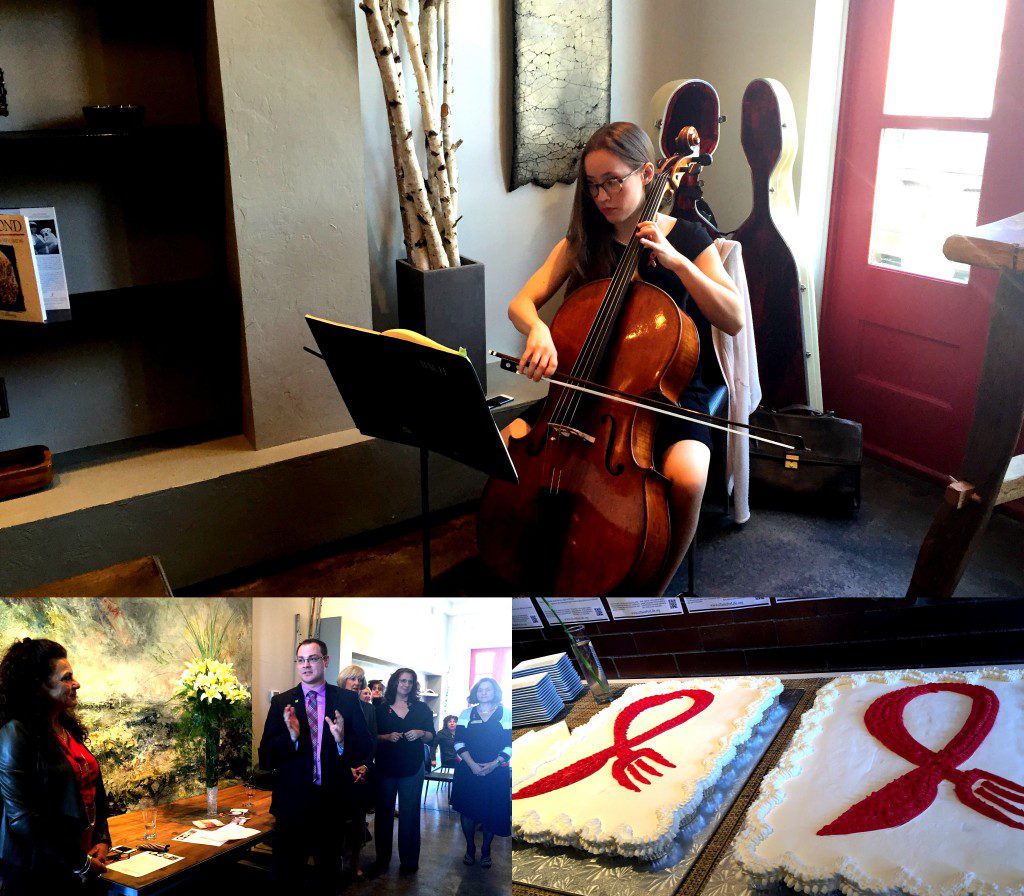 It is absolutely a fantastic way to raise awareness and build community while having a fun night out"
Support for the A Taste for Life event has been coming from all areas, including Canada's very own television personality, Rick Mercer.
Information to know
Date and Time: Wednesday, April 20th, 2016
Where: To find your local participating restaurants, click here.
Over the years I have participated and volunteered my time at various charity fund raising events, all with the hopes that one day there won't be a need for them. Until that day comes, I feel proud that communities such as the one I live in, take an active approach in creating awareness with such causes. But also for being proactive with the fight and determination to raise funds until there comes a day when they are no longer needed.
So mark it in your calendars…on April 20th grab your friends and loved ones and enjoy an evening out knowing it's going to an amazing cause!