Lions and tigers, and bears, Oh My!
Lions and tigers, and bears, Oh My!
That chant kept playing in my head over and over when I found out that I would be visiting The Ringling. I had heard of The Ringling before, being synonymous with old school circus acts but other than that I did not know much about it. But all of that was about to change as my Sarasota Culinary Immersion trip started to transform itself into an all-inclusive Tourism trip…How fortunate I was for the exposure!
Sarasota, thanks to circus magnate John Ringling has become known as the 'Circus Capital of the World' and it's easy for one to see why. As soon as you step onto The Ringling's 66 acre grounds, you can see and appreciate the past, present and future of the circus dynamic as it's beautifully presented in every feature of the grounds.
The Ringling is Florida's State Art Museum which features not only an impressive art museum which includes over 600 Baroque masterpieces as well as a Peter Paul Ruben collection, considered the finest in the world. John Ringling built the museum on his own property due to his passion of art and education.
The Ringling is also home to a historic and opulent mansion, circus museum and historic theatre…all of which are beautifully woven within the exquisite bayfront gardens. 
The Ringling campus was created to preserve the legacy of John and Mable Ringling by educating and enabling a large and diverse audience to experience and take delight in a world-renowned collection of fine art in the Ringling Art Museum
Seeing the circus museum was one thing but seeing a mansion that was built to resemble a Venetian-Gothic style palace is whole other thing entirely! As if the mansion needed any more help to make it more attractive, having the backdrop of plush manicured gardens and the view of the bay was just breathtaking to say the least. The mansion called Cà d'Zan (House of John) was the winter home of John and Mable Ringling which luckily for us is open to the public. And let me tell you, it's the perfect setting for any special occasion especially for those in the romantic state of mind – the roof top view of this over-the-top mansion would make any lady swoon!
What an experience it was to visit The Ringling and its majestic grounds, but now it was time to experience why I came to Sarasota – for their award winning culinary creations! And what perfect timing, as it was Savor Sarasota Restaurant Week highlighting three course menus at some of the area's top eateries without "breaking the bank".
The Bijou Café, known for having won numerous accolades from Bon Appetit and Gourmet magazines was the perfect spot to have a light lunch. The Bijou Café's cuisine reflects chef/owner  Jean-Pierre Knaggs South African and French heritage.
The Bijou Café is a Sarasota Original that has set the standard for fine dining in the heart of the Theatre and Arts District since 1986.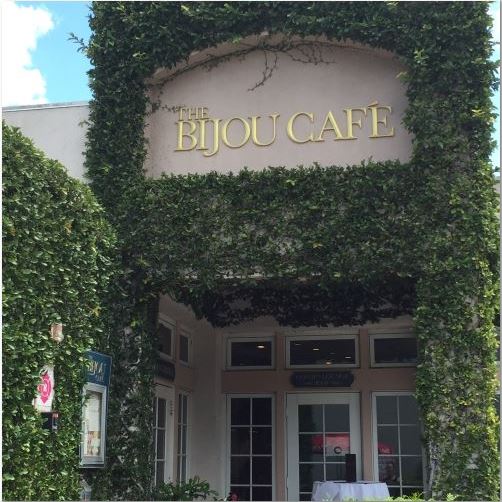 Knowing that I would be eating a hearty dinner later on, I figured that I would be 'good' and have a light lunch (yes, I can do this from time to time). So that being said I wanted to try their seafood, especially since I don't eat enough of fish in my carnivorous diet that I am so proud of.
And of course this happened…I swear it wasn't my fault!!
As it states on the Bijou Café menu: "No visit to the Bijou is complete without a taste of these delectable potatoes. Smothered in cream with a hint of garlic, baked to a bubbling golden brown with Gruyere cheese".
Well, there went all my good intentions of having a 'light' lunch. I take it as a sign that the Food God was just making sure I didn't go without…Oh, how I am loved!
One of the signature tourist 'musts' that I visited literally brought me to a tranquil peace of mind, the Marie Selby Botanical Gardens. Originally the home of William and Marie Selby, today the Marie Selby Botanical Gardens is a 'urban, bayfront oasis' showcasing a living collection of rare and beautiful tropical plants.
The Gardens is also a respected world leader in the study and conservation of plants, particularly epiphytes–plants adapted to live in the tree canopy, including orchids, bromeliads, gesneriads and ferns.  A tropical, urban oasis featuring unparalleled horticulture displays and a Sarasota bay-front setting, Marie Selby Botanical Gardens is a world-class center for education, research and conservation.
Being a lover of all things colorful and beautiful, I was mesmerized as to how close this conservatory was in regards to the proximity of the city. Because once there, you feel like you are light years away from the hustle and bustle of the city stress.
You can literally pass the day away just walking through this lush wonderland. It's easy to see why this local is often used for weddings and business functions. Just beautiful! It truly is an oasis amidst the city landscape.
After a long and fulfilling day of sight-seeing, one can only guess as to how I would want to finish the day…by going to an old school restaurant with all the trimmings. Old school by means of top-notch hospitality, superb culinary creations and some live entertainment via piano bar to enjoy some late night libations – now that's what I mean by "with all the trimmings"!
Michael's On East, is Sarasota's only AAA Four-Diamond Award Restaurant, an award which they have earned and won for its 26th consecutive time! Now if that's not impressive enough, well let me tell you: their food definitely is – accolades or not, this restaurant is a model to which many should strive towards.
Each guest should be treated the way they expect to be treated, every moment of each and every visit!
Michael's On East recipe for success: Contemporary fine dining with inspired cuisine, handcrafted and dangerously addictive cocktails, a world-renowned wine program and exemplary service set in a 1940s supper club atmosphere makes the dining experience an unforgettable and noteworthy one.
And so the feast commenced…
Appetizers
Entrée
And, because I couldn't resist…
Finishing touches
It seemed as though every facet of the 'dining experience' was thought through in such meticulous detail without ever missing a beat. From the moment you are greeted to the time you leave, superior hospitality seems like second nature to them. Your every need is met and then some. Don't take my word for it, go and experience Michael's On East for yourself…And then afterwards, come and tell me that I was right 😉
You can see how Sarasota has so much to offer tourists and locals alike and to think that I was only skimming the surface. From my time of admiring art master pieces to literally eating creations of art, I would say that I had very fulfilling couple of days…but I wasn't ready to say good-bye just yet to Sarasota County.