Since we can't hibernate…Enjoy the activities that go along with the cold weather
By admin on February 2, 2014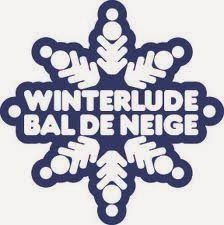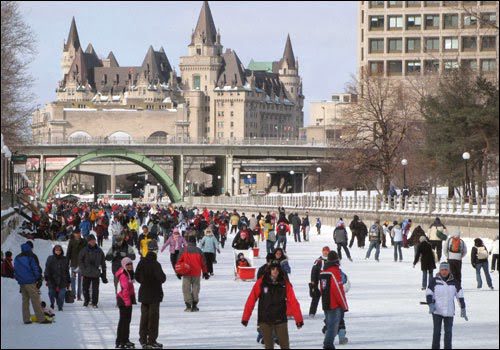 Winterlude in Ottawa, Canada, skating on the Rideau Canal 
As many Ottawa natives know, we have been experiencing some rather cold temperatures this year (-40ºC/-40ºF) with the windchill factor. Having said that I find it hard at times to get motivated when in order to brave the cold elements you tend to be dressed like the Michelin Tire man – layers upon layers of clothing to avoid Mother Nature nipping at any square inch of flesh that is exposed…but I digress. So to turn lemons into lemonade so to speak, I try to focus on the pleasures that the winter season brings with it.
Ottawa celebrates winter with one of the biggest festivals around that attracts hundreds of thousands of tourists from all over to take part and embrace winter: Winterlude. Aside from the endless fun activities that Winterlude has to offer like skating on the Rideau Canal (the world's largest skating rink) you can also enjoy the breathtaking and spectacular ice sculptures at the Crystal Garden at Confederation Park. Ice carvers from around the world turn blocks of ice into stunning works of art. At night, coloured lights reveal the magical beauty of the ice sculptures. And for those that really enjoy snow, the Snowflake Kingdom at Jacques-Cartier Park in nearby Gatineau, Québec has a multitude of snow activities to partake in. Deemed as North-America's biggest snow playground, Snowflake Kingdom, features giant snow mazes, ice slides, snow sculptures, obstacle courses, kicksleds, horse-drawn sleigh rides, live entertainment and more!
Ice sculpture at Crystal Garden
 at Confederation Park
Now to the part I love the most…the food!!! You simply cannot and I repeat CANNOT skate or walk on the Rideau Canal without having a BeaverTail. In my opinion, eating a BeaverTail is the quintessential part of enjoying the Canal. This warm deep fried wonder is perfect when you are cold and in need of some TLC in form of food. For those of you not familiar with a BeaverTail (poor you), let me educate and entice you. BeaverTails are fried dough pastries that are hand stretched to resemble a beaver's tail. Now there are several toppings to select from and they vary from the sweet (hazelnut and chocolate, maple and chocolate, cinnamon sugar with lemon juice (my favorite) to the savory (garlic and cheese) just to name a few. Regardless of your topping, BeaverTails and Winterlude go hand in hand or in this case hand to mouth perfectly!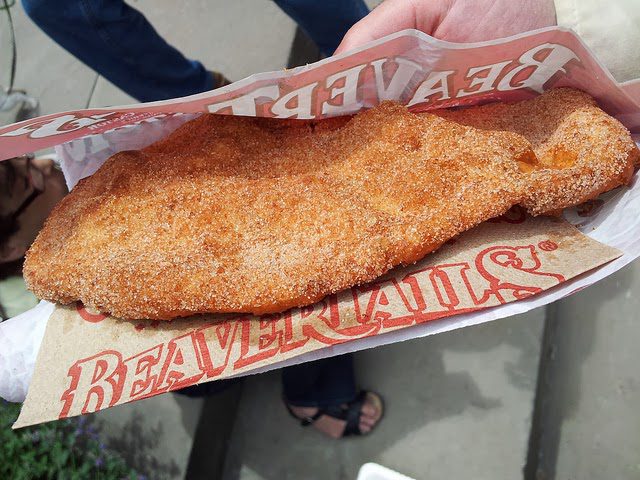 A "Killaloe Sunrise" 
BeaverTail
(melted butter, cinnamon, sugar and fresh lemon juice)
To commemorate Winterlude, some local restaurants are incorporating the winter theme in their menus. One of those restaurant is Eighteen, located in the heart of the downtown market. Eighteen is having their 5 course tasting menu aptly called Fire and Ice on Tuesday February 4th.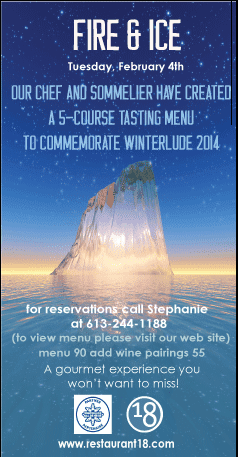 Being a romantic at heart, I can can already envision the 'perfect' Winterlude evening… Enjoying a sumptuous meal at one of Ottawa's great restaurants in the downtown core since its very close to the Winterlude festivities. From there proceed to walk to Confederation Park to take in the impressive and magnificent ice sculptures that light up the park. And if that wasn't enough to put romance in the air, a beautiful night's stroll on the canal where you can savor and share some hot coco (and if you have some room left, a shared BeaverTail) as you sit in front of the many fire pits along the canal…now that my friends sounds to me like a memorable Winterlude experience.
Enjoy!
FT