For the love of noodles…
By admin on February 12, 2014
With the cold weather that mother nature is throwing at us, who wouldn't want to dig into a nice steaming aromatic bowl of Asian noodles to warm our insides up and make us feel all warm and gooey inside?! And with that said…I welcome you to Ottawa's very first Sip n' Slurp Noodle Fest.
Whether it be it some Vietnamese Pho, Japanese ramen or some hearty Italian pasta there will no doubt be a noodle dish at the
Sip n' Slurp
that will make you forget the cold front that Mother Nature is subjecting us too. But more importantly if you are anything like myself – a real carbohydrate fiend, you will enjoy this noodle fest as there will be so many variations of noodle and pasta dishes that it'll be like you traveled to the exotic countries of the far east to the amore country of Italy and everything in
between!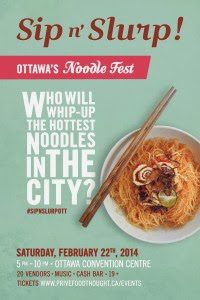 Date and Time: Saturday, February 22, 2014, 5:00 p.m. – 10:00 p.m.
Where: Ottawa Convention Centre
Tickets: Advance tickets are $10 each and can be purchased on the event website (www.privefoodthought.ca). Tickets will also be available at the door for $15. All food samples will be priced between $1-$6.
Dress code: Casual
**This is a 19+ and cash only event. ATM machines will be present on site. Please be prepared to show ID. Cash bars will be in full affect.
****IMPORTANT TO NOTE**** There will be Vegan, Vegetarian and Gluten free options available. 
Looking forward to sipping n' slurping with you all!!
Your carb fiend,
FT