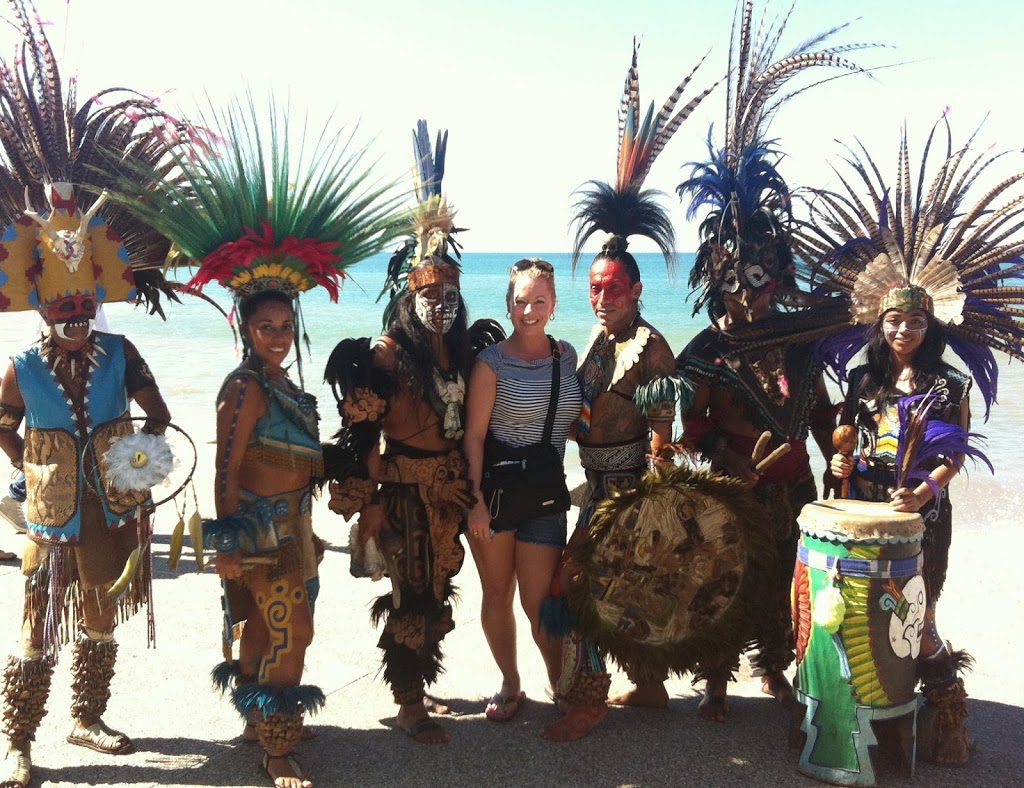 As much as I'm a lover of fine dining and being spoiled with culinary dishes that deserve the red carpet treatment, I am also one who loves to venture out to discover the 'real' authentic flavors of a particular region. There is a time and place for duck confit and Moet Chandon just like there is also a time and place for bona fide pure local cuisine!
I had the pleasure of of taking part in Puerto Vallarta's Food Tasting and Cultural Walking Tour (www.vallartafoodtours.com). It was a culinary journey featuring several food locations carefully chosen to highlight the best regional flavors Puerto Vallarta has to offer.
Our first stop on our Food Tasting Tour was to Tacos Robles. Bear in mind that this tour started pretty early in the morning (there is also a night tour for those that like to indulge after sunset), luckily for me I don't need coffee to wake me up, however; I wasn't prepared for the flavor "wake-up" that my taste buds were about to encounter…I'd like to see a coffee that has the same effect!
Tacos Robles, a family run business has gained the reputation of being the best and busiest taco stand in Puerto Vallarta and has been in business since 1986. I was informed by our food tour guide Ricardo Lopez, aka 'lobo' that this taco stand sets up bright and early as the crowds start lining up on the street for their delicious tacos. The secret, well not so much a secret anymore for their success in standing out above all other tacos stands is their aromatic broth that is served with their tacos. Broth being served with taco is something I have never experienced before. Locals swear that after a heavy night of drinking this magical broth will make all tensions subside and ease all your hangover symptoms. Well I for one was curious of the 'magical' properties that it had. I was told that the broth consisted of layers of bay leaves that are steeped for a period of time to give its aromatic flavors and properties.
The verdict…deliciously appetizing! The broth, magical or not was truly a unique experience. It complimented the taco very well and I can see how this would ease any hangover ailments that you would have – be it by having a placebo effect or not. It's flavors were strong and bold but not overwhelming as the bay leaf aroma left you leaving wanting for more. The beef in the taco which had been cooking for several hours was tender and oh so flavorful with a generous amount of garlic and various peppers that were used to make their signature tacos. Understandably, I see why Tacos Robles, goes through 500 tacos a day and runs out by 2pm…the tacos are ridiculous! I wanted more but I was told that we had many more stops to make.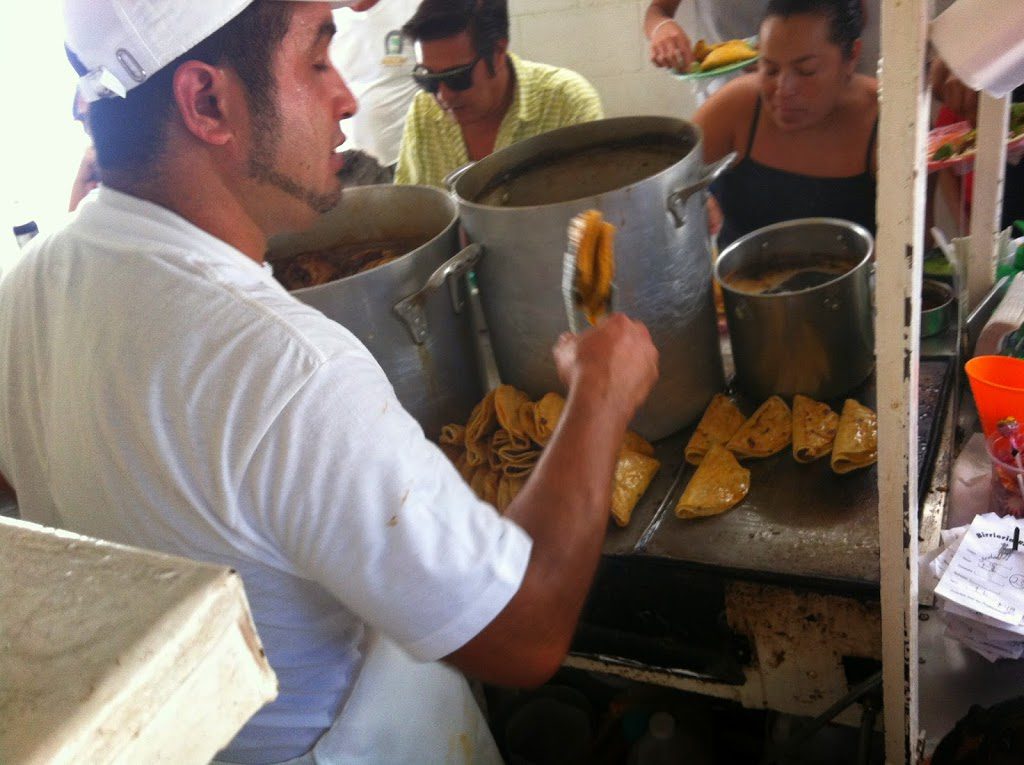 Warm and freshly made tacos
being served by the hundreds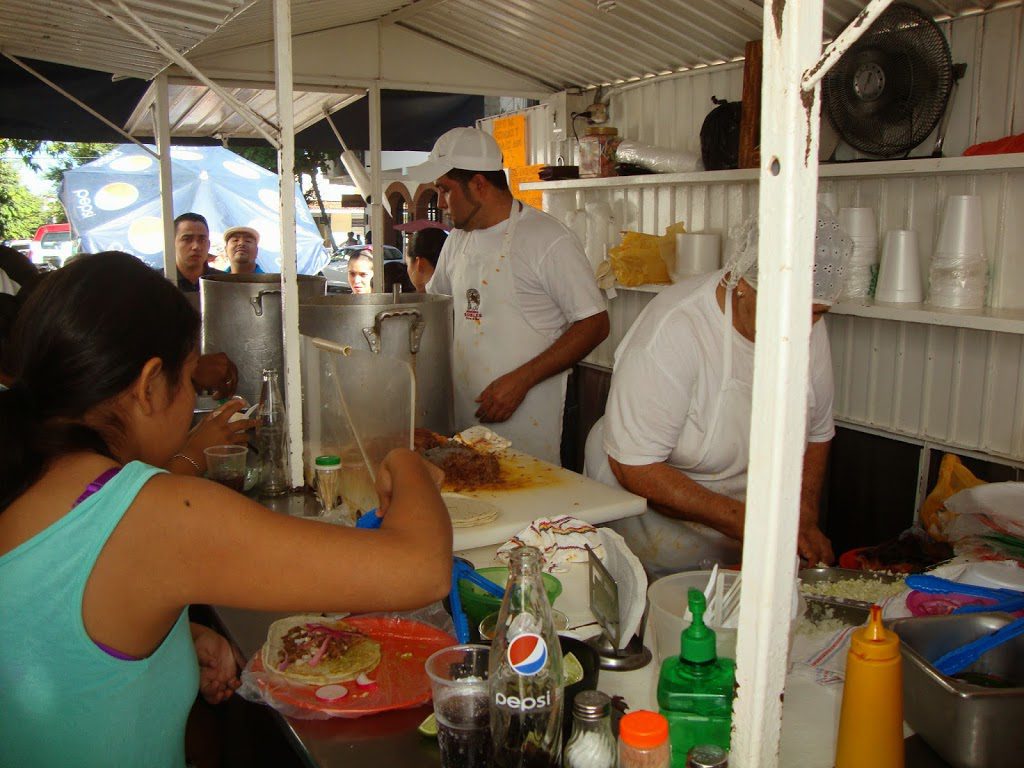 Patrons enjoying Tacos Robles upfront
where the culinary action takes place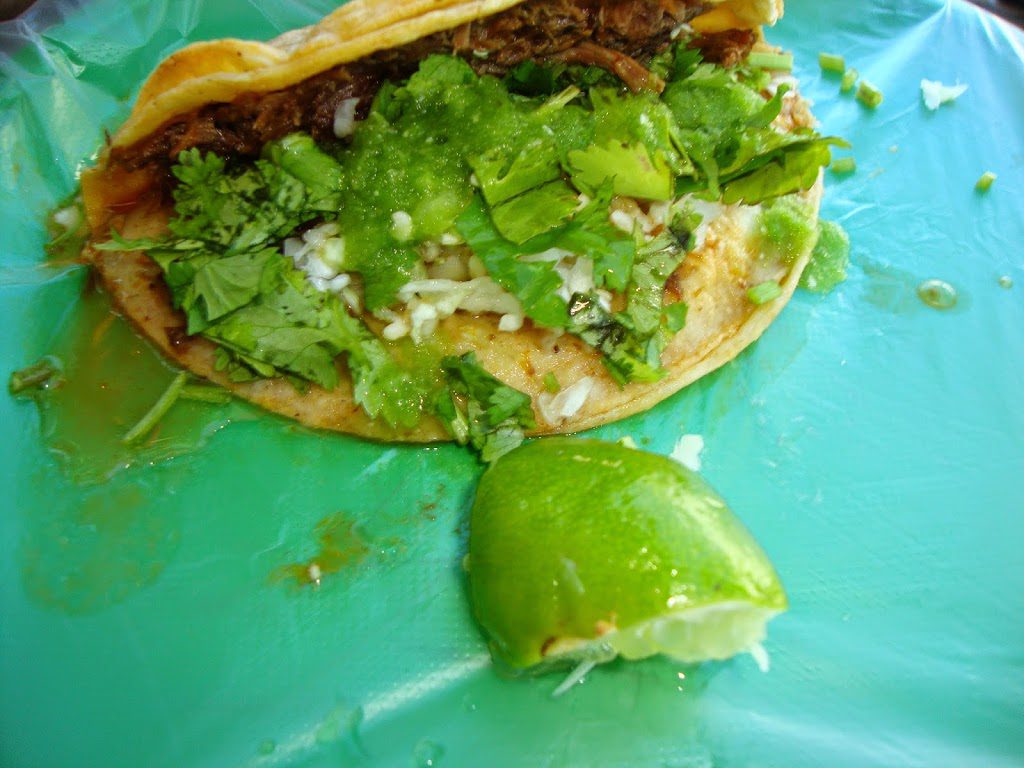 Beef taco with garlic, ancho pepper, chilli pepper,
loads of cilantro and freshly cut lime juice
During our walking tour we had the pleasure of experiencing more tacos stands, each one had its different and unique spin on them. One of them in particular was Tacos El Cunado. This taco stand also stood out, as they are one of the few stands that actually fry up its onions. I personally enjoy it more when the onions are fried…nothing beats the smell of meat and onions being fried in the open air!!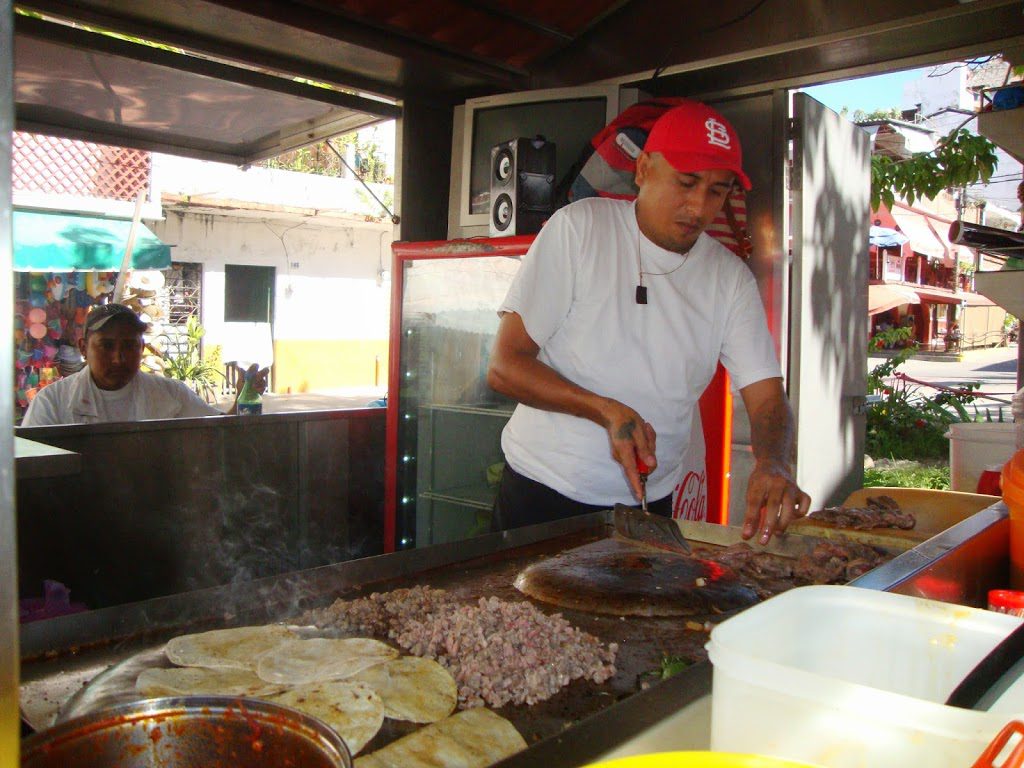 Working hard at Tacos El Cunado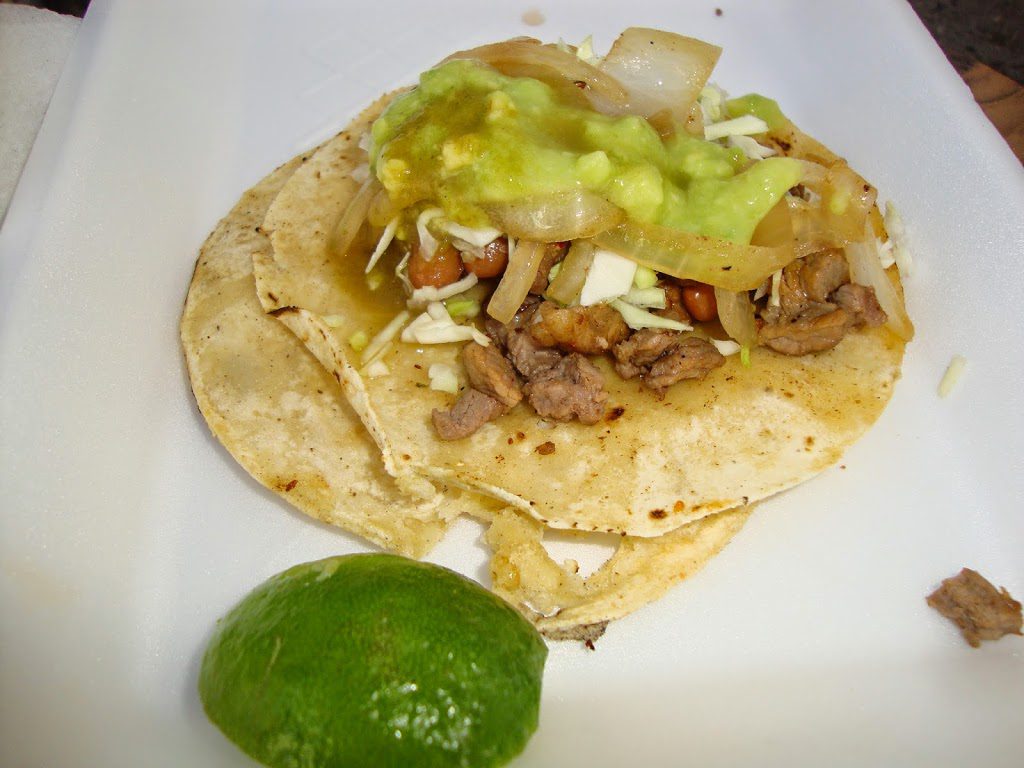 Beef, beans, fried onions, avocado sauce
and lime juice make these tacos heavenly!
With all this meat and savory flavors it was time to cleanse our palate. And what better way to cleanse our palate then with some delicious coconut meat. I must admit that I love, love, love coconuts! As you can imagine, I was super excited when I heard that we were stopping at a local coconut stand. Cesar's Coconut Stand  isn't your normal coconut stand as we experienced. This stand has a 'drive thru' operation so to speak. Cars will idle beside the stand as they wait for their coconut treat to be served!! Now this was something out of the movies for me to see. Imagine having that in your local neighborhood?!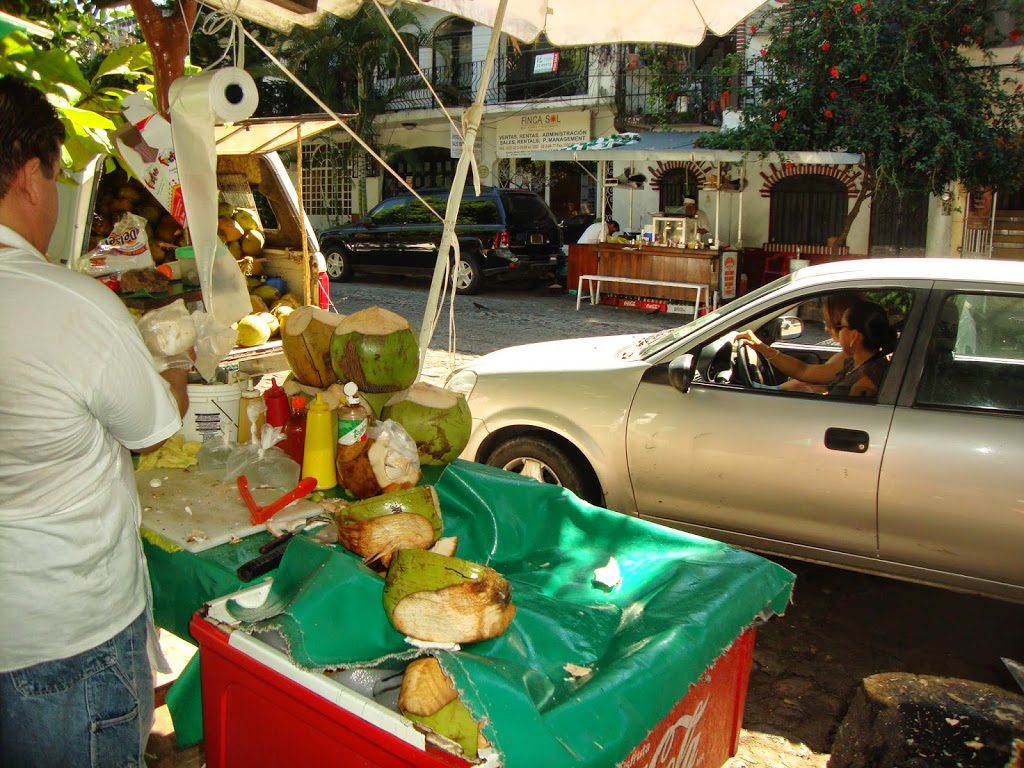 'Drive thru' patrons waiting for their coconut orders!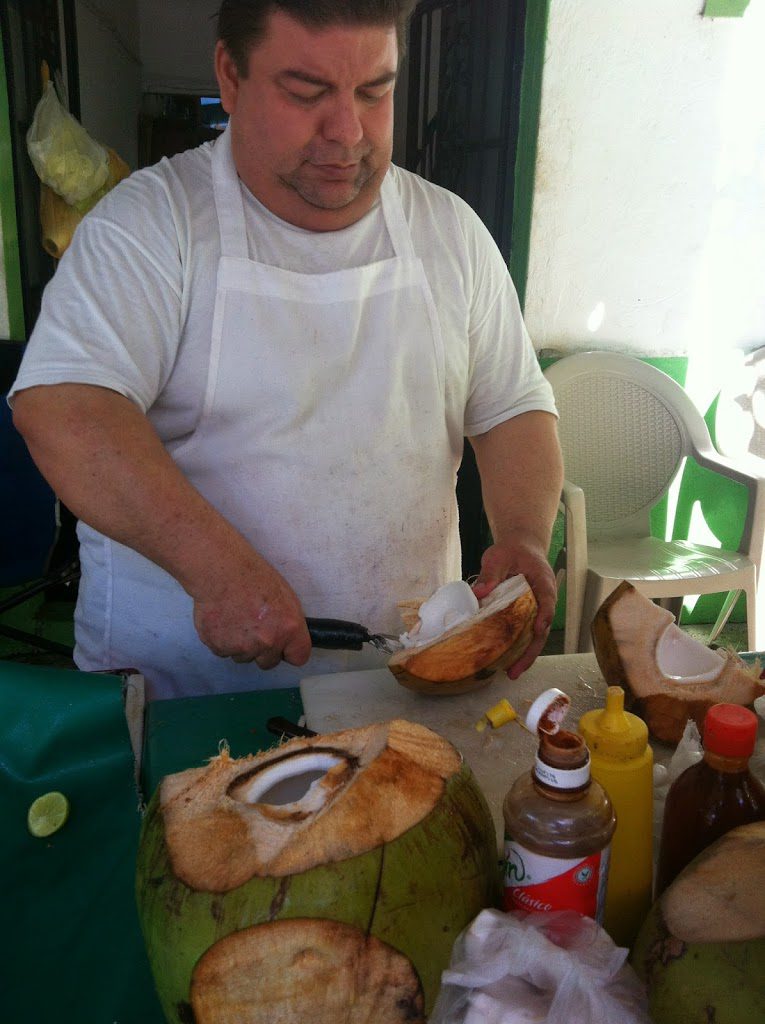 Fresh coconut meat being scooped out
at Cesar's Coconut Stand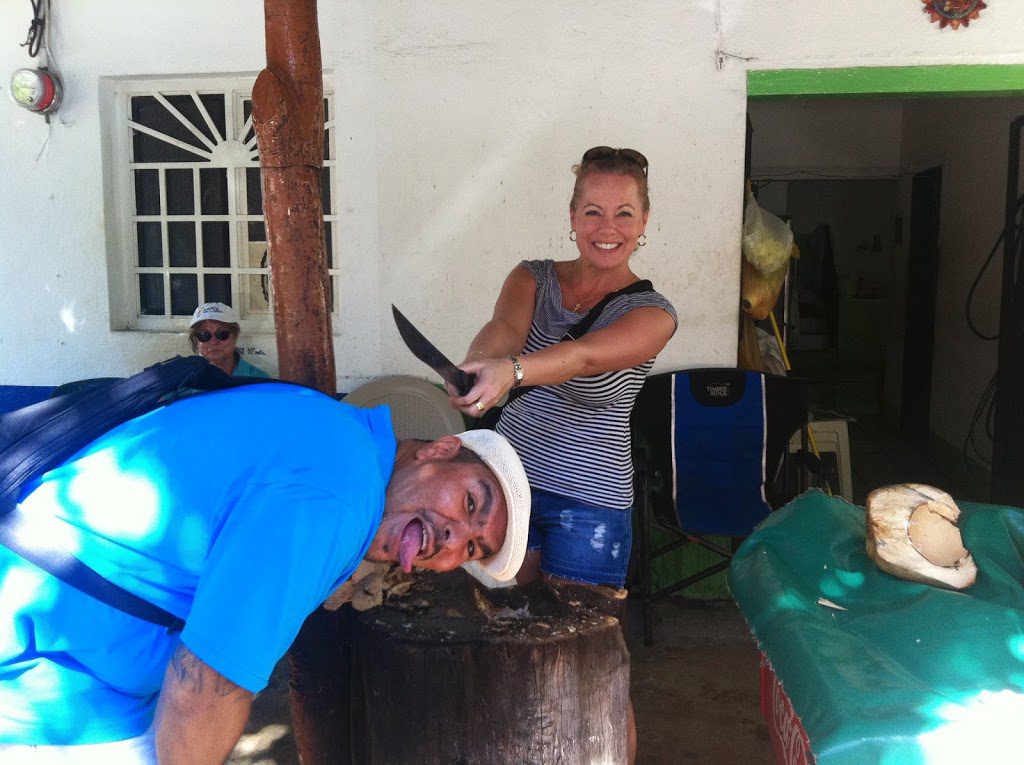 Coconuts weren't the only thing on the
chopping block! I was having fun with
Lobo, our food guide.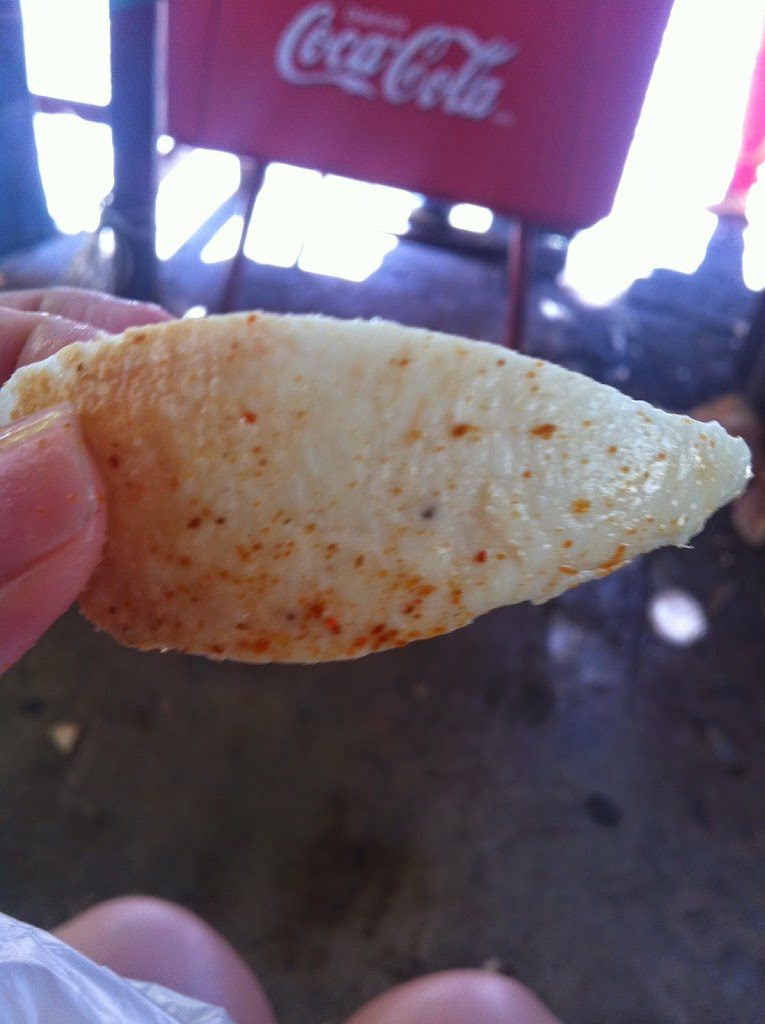 My favorite: Coconut meat sprinkled with Tajin.
Tajin is mixture of spices, lime salt and chili
So now the food tour really took it up a notch as we hit Cevicheria El Guero. As some of you already know, there is no limit for my appetite when it comes to ceviche or seafood tartar. What can I say? Done properly, ceviche is light and refreshing and leaves you feeling content without that rich bloating feeling that we sometimes get when we over indulge. Yes, even for me – there is a limit as to how much I can eat without feeling like I should be rolled home, feeling like the Goodyear blimp…like the visual? But I digress…
We were spoiled at Cevicheria El Guero's. This quaint restaurant with its open concept kitchen epitomized what I thought Puerto Vallarta's seafood was all about. Fresh local ingredients were at the helm at this eatery and it showed as we devoured their offerings. The smoked Marlin appetizer was the perfect tease before we had Cevicheria El Guero's signature Mahi Mahi ceviche.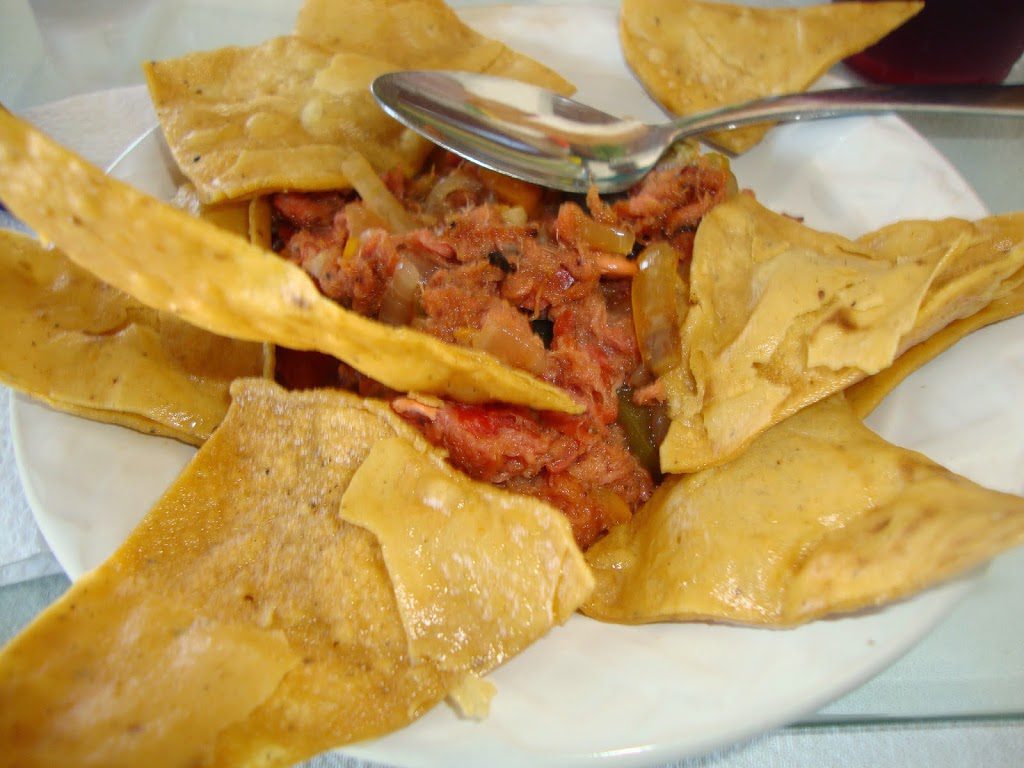 Smoked Marlin with onions, carrots and bell peppers
served with tortilla chips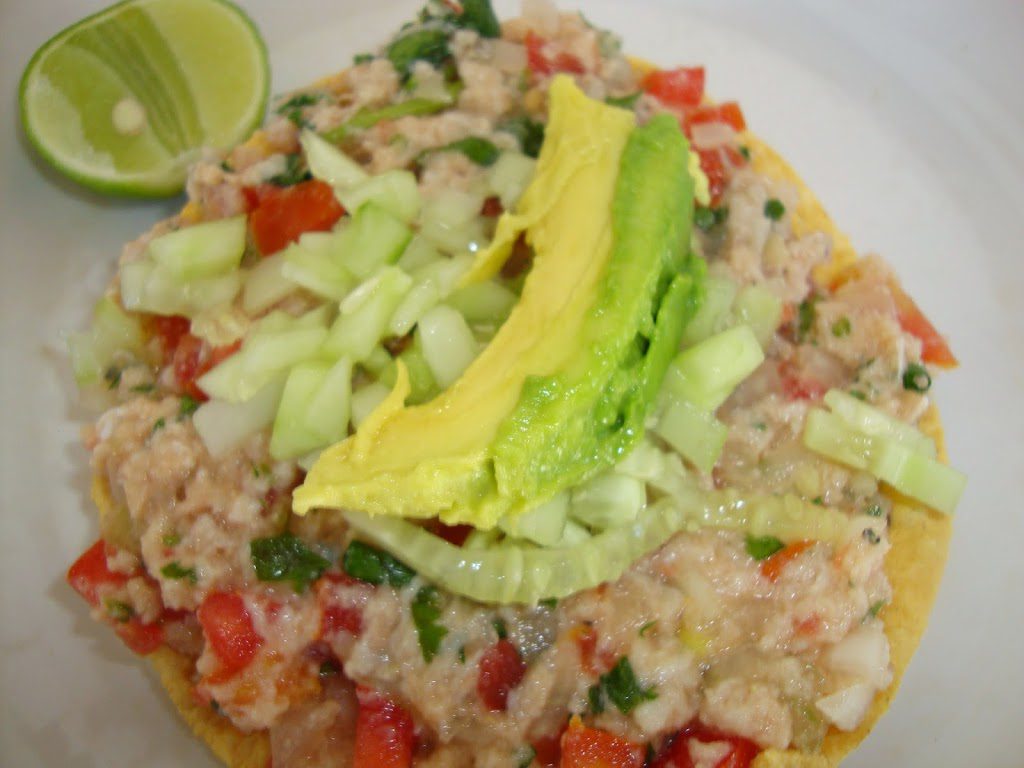 Mahi Mahi ceviche: tomatoes, lime juice, cilantro,
cucumbers, onions and a generous avocado slice on top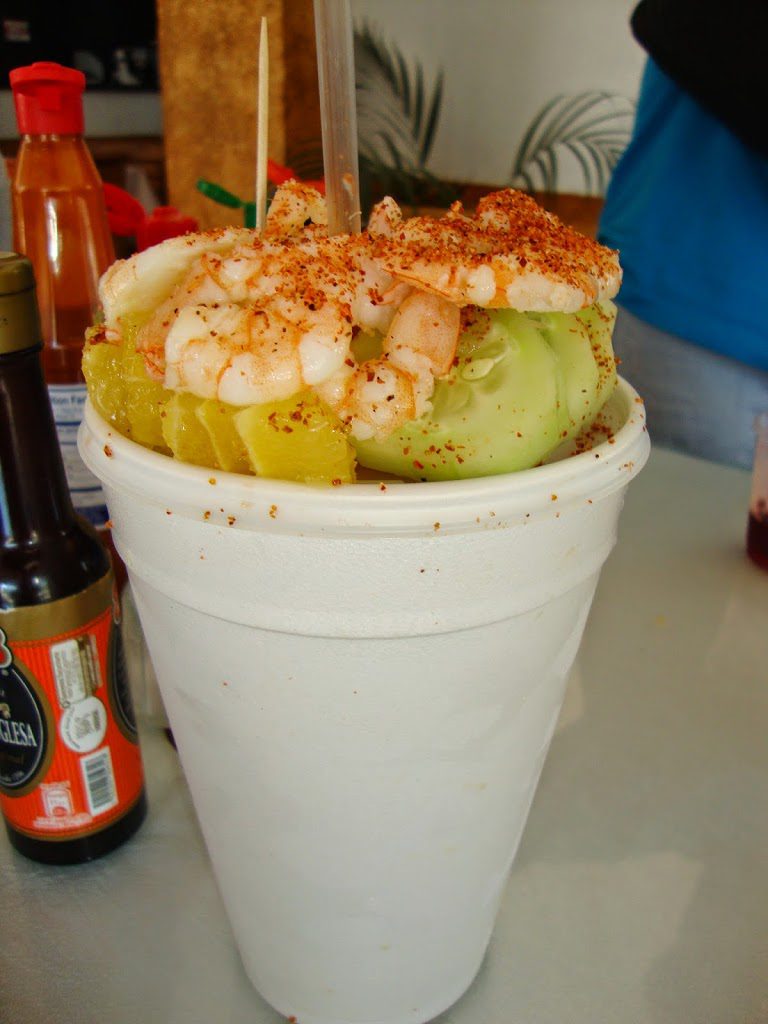 Cerveza preparada (goes by many different names) is a beer 
tomato juice 

mixture served with cucumbers, oranges and spiced shrimp
.
 Another
 local hangover remedy served at 
Cevicheria El Guero's
 .
Our last savory food stop was at Gaby's restaurant where we were treated to some traditional moles (chocolate and verde). Both were very tasty and filling (at this point my tummy was starting to take a siesta and slowly falling into a food coma with all the food that I consumed). But I persevered and perked up as soon as I heard some local entertainment coming our way…a trio of guitar players played in front of us as we finished our meal.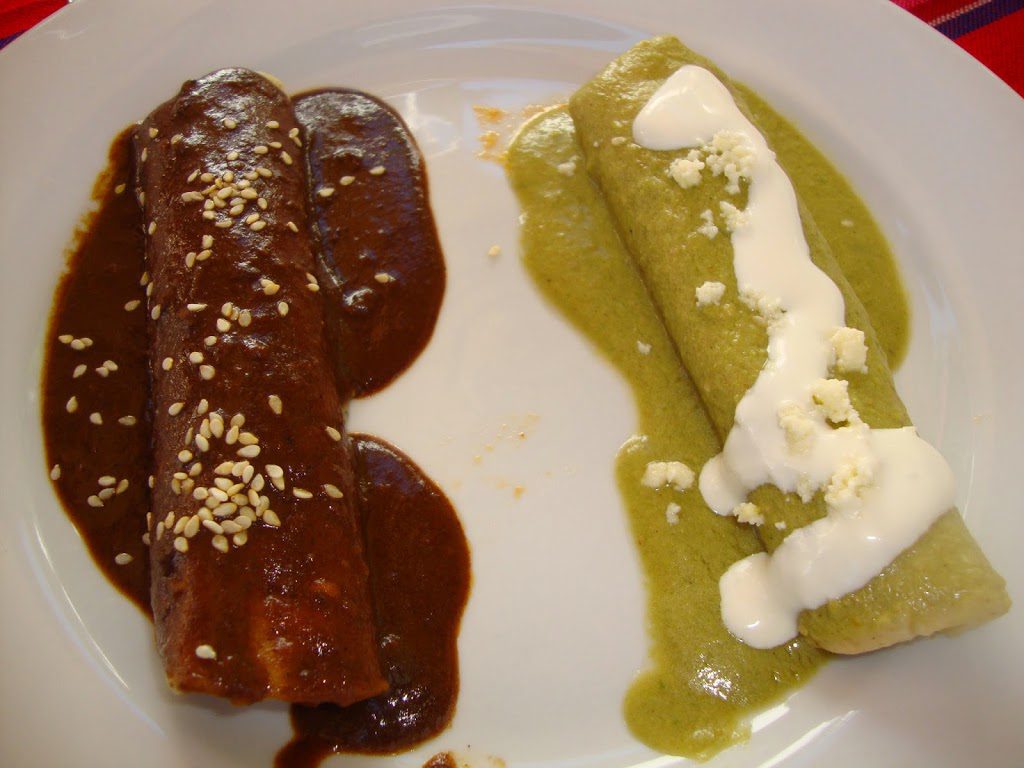 Traditional moles at Gaby's restaurant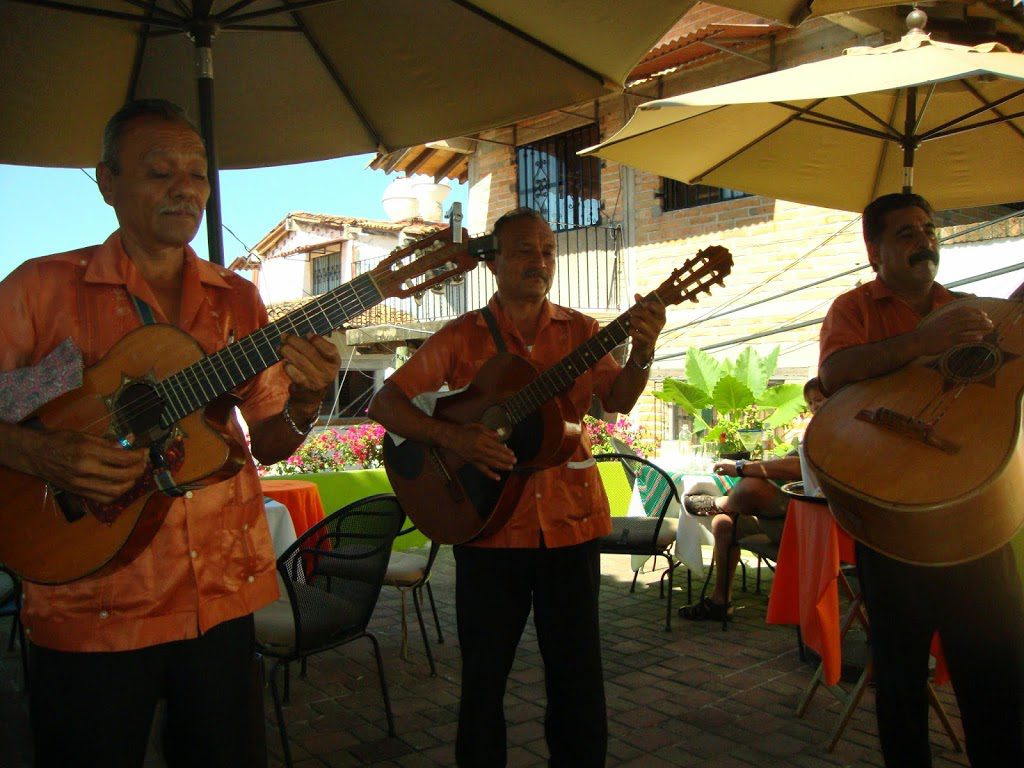 Great entertainment to enhance the local culture 
Now what kind of food tour would it be if we didn't finish off with something sweet…And with that said, we were introduced to Orgullo Azteca Candy Store. Hailed as being the Mexican Willy Wonka, Geraldo Leal comes from a long line of candy makers. Both locals and tourists alike flock to this sweet establishment and now I know why. For someone who doesn't have a sweet tooth, I not only stocked up on his goods to bring back home but I was also more than happy to sample and sample and sample again his sweet offerings!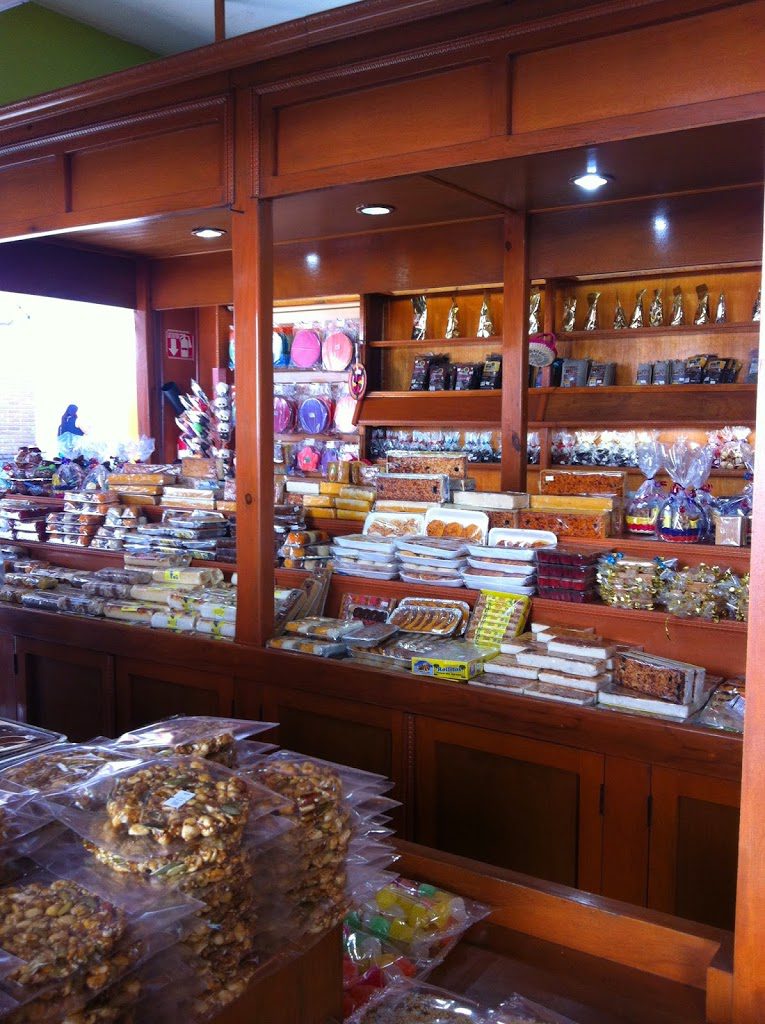 The endless array of sweets at Azteca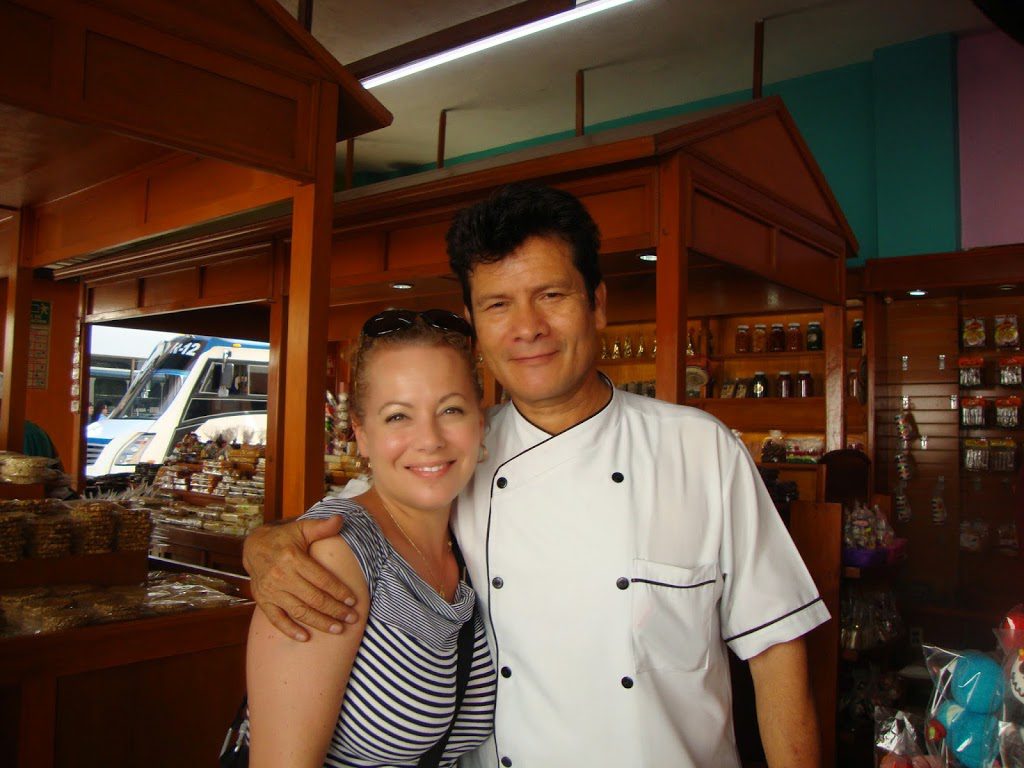 Geraldo Leal, the Mexican Willy Wonka and myself
And now for what I consider the epitome of local culture in terms of elixirs, let me introduce you to Tuba by Conception. The Tuba drink is beautiful melange of sap from a palm tree, purified water and ice, apples, strawberries, pecans, sugar and honey. This drink was not only refreshing on a very hot day but the blend of fruits and the sweetness of the sugar and honey made for a very nice treat! I was told that people can always find Tuba by Conception roaming through Old Town and the Malecon area with his signature white hat.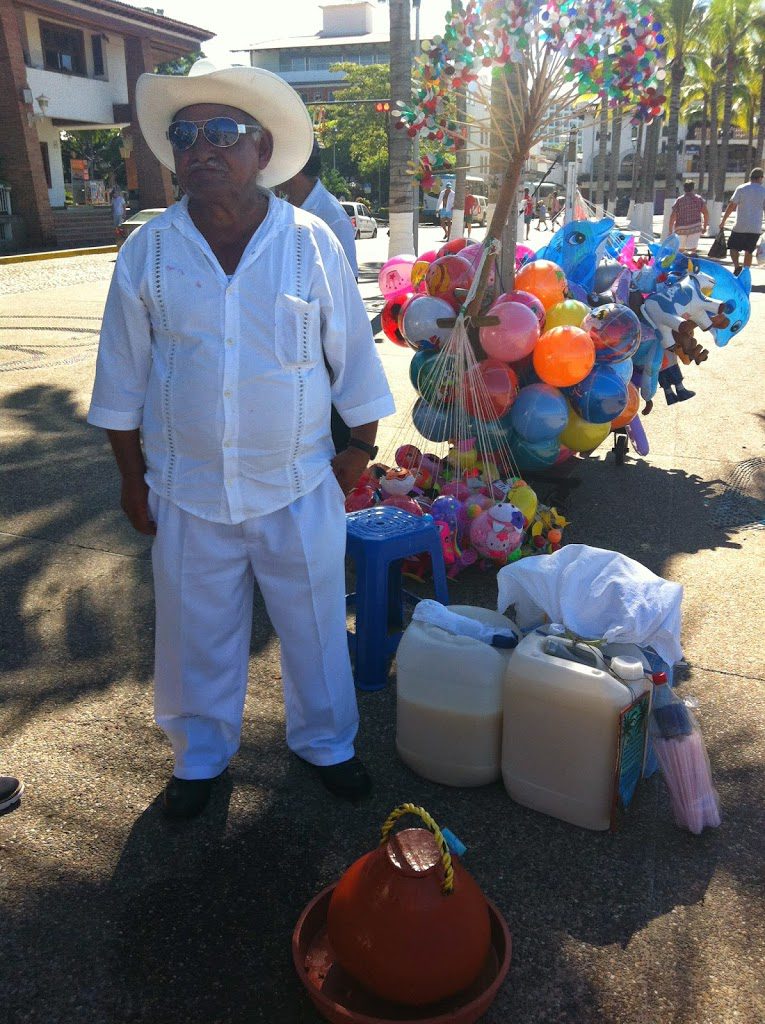 Tuba by Conception and his signature elixir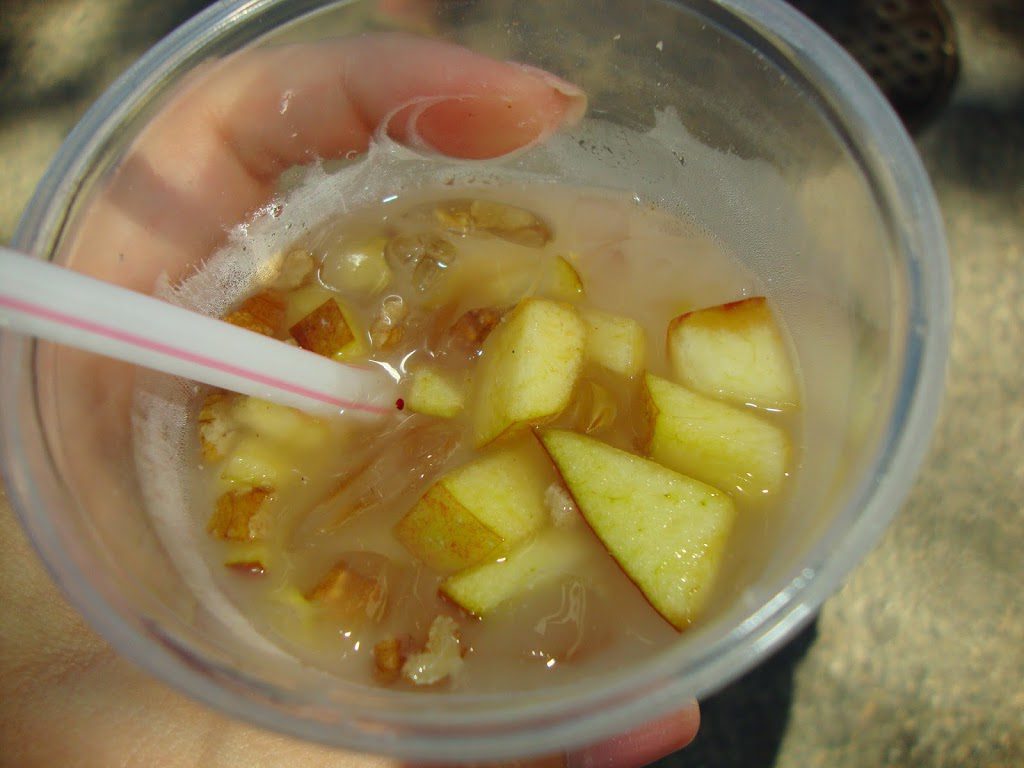 This Tuba drink was a cultural gem in regards to its flavors
As you can see, Puerto Vallarta's Food Tasting and Cultural Walking Tour is something that should not be missed on your next voyage to Puerto Vallarta. The exposure to different flavors and being informed of Puerto Vallarta's heritage through this culinary journey made for a very memorable excursion for this lady!