An evening of Mezcal and grasshoppers
By admin on December 18, 2013
I must admit to you all that I was a bit reluctant regarding my evening of tasting several (5 to be exact) Mezcal liquors, as the Tequila family and I do not get along…we had a falling out of sorts many years ago. I apparently lost the battle and along with it my liking for strong alcoholic beverages. That being said, I figured that since many years had passed, maybe my palate could be persuaded to let bygones be bygones and move beyond what I like to call 'the permanent pounding of drums war' that I was inflicted after going a couple of rounds with the worm induced poison. Maybe I was fooling myself but there was only one way to be sure…to be sure that the war was finally over.
The Bytown Museum in collaboration with the Mexican Embassy, hosted this special and rare event. They did a great job of beautifully displaying Mexican artifacts throughout the entire second floor of the museum. Artifacts and exceptional pieces of photography showcased life, culture and art of the Mexican people. Arriving early to the event gave me the opportunity to see Sergio Inurrigarro, the Maestro Mezcalero who conducted the Mezcal tasting in his element, making sure every detail was taken care of before the event was to commence. Attendees of the event had the pleasure of being introduced to Mexico's ambassador, Francisco Suárez who kicked off the event by saying that anytime was a good time to have Mezcal!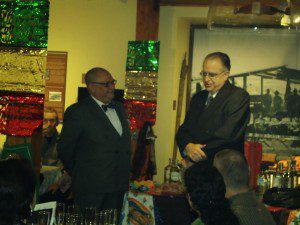 Sergio Inurrigarro, the Maestro Mezcalero (left) and
Mexico's ambassador, Francisco Suárez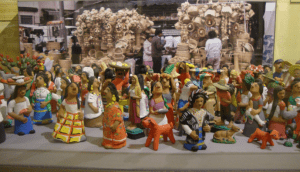 Mexican art display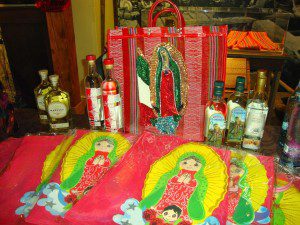 The various kinds of Mezcal that
were being tasted
With the Maestro leading the evening, I was like a sponge trying to retain and understand everything that was being thrown at us in regards to the history and background of Mezcal, the "mystic elixir". Ironically retaining and understanding was the easy part…now was the part I feared the most – the tasting! Now please bear in mind that I am not one who typically drinks what some folks consider as 'hard spirits' but let me tell you…I was ready for whatever this Mezcal was going to throw at me or so I thought. But before our lips could even touch the flutes of our first tasting we were informed of how to properly consume Mezcal. There was a science to this and for this I was very intrigued. Apparently your saliva plays an important role when drinking this spirit. The molecular structure of your saliva breaks down the enzymes of the alcohol, hence it makes it more smooth to go down the hatch. So there we all were looking like we were all about to kiss someone, all part of the instructions on how to perfect the tasting techniques. Who knew that the tasting could be this much fun? Ok, so I got ahead of myself on this one. The explanation behind the "kissing" look is one of science, when you pucker up to kiss you naturally form a small pool of saliva under your tongue (this is what you want and need when tasting Mezcal). When you taste the spirit, you mix it with your saliva as if you were chewing it, then you stroll it in your mouth and palate to be able to taste its rich flavors. Finally you drink it, perfectly blended with your saliva and repeat and enjoy. Well my friends, even if we did look like a group of wannabe kissing fools, the technique actually did work. To be devils advocate I tried the tasting with and without this method…and let me tell you the saliva softens the fire that the Mezcal was giving me. I looked around the room to see if I was the only one experiencing this heat, apparently it was ALL me. Everyone seemed to thoroughly enjoy themselves and relished in this new "kissing" technique.
Between each tasting came with it some authentic Mexican appetizers. Authentic to its truest form, cheese and grasshoppers were being served. That's right, you read it correctly – grasshoppers and cheese. Now being the person that I am, I will try anything once and from there I can at least say I  tried it…when in Rome right?! Well it turns out these little guys weren't that bad, very salty but that's about it.  Black bean and avocado dips were also being served and then more crispy grasshoppers. They say that grasshoppers are pure protein, so if you are ever stuck in the desert or forest and left with no food…devour away on these little critters and you'll be set. I think after that evening, I had my share of protein to last me a while.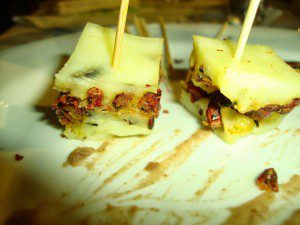 Traditional Mexican appetizer:
Cheese and grasshopper
As the evening progressed there was an air of relaxation that seemed to have set in. Laughter and smiles were contagious and all around us…could it be that the mystical elixir was working its charm? Even though I still waived the white flag of submission to this liquor, I still appreciated and enjoyed the tasting. Nothing more interesting and more intriguing than learning another culture and being shared their customs…even at the cost of eating something that you may at first be reluctant to try to drinking something that you have sworn off many moons ago.
Here's to trying something new…I'll drink to that any day!
FT