By admin on April 26, 2013
POWDERING THE NOSE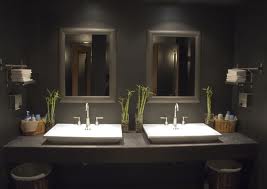 No, I'm not talking about the 1980's lingo of enjoying some 'nose candy' when referring to powdering the nose. I'm referring to the one place where it can make or break an eating experience…the bathroom.
As more and more restaurants are show casing their open concept kitchens it gives the patrons a false illusion that there is nothing to hide, this is somewhat true however many fail to remember the importance of a clean stocked bathroom. What we can easily take for granted when going to a restaurant like having accessible rolls of toilet paper can quickly turn a normal restaurant experience to one of sheer nightmare (remember the old classic Seinfeld episode where Elaine famously said "can you spare a square"). As a patron, we shouldn't have to think of these types of details. We shouldn't have to think about toilet paper rolls, if there's enough paper towels, enough hand soap to be used and so on. These basic details should be a given to those responsible of the restaurant. Cleanliness of the bathroom (bathroom stalls, counters, sinks, mirrors, toilets, doors and floors) says a lot about the eatery.
As a woman if should feel confident to walk in the washroom knowing that everything is clean and kept clean throughout the service. One pet peeve that still blows my mind regarding women's bathrooms (sorry men, I can only speak for our bathrooms) is the lack of hooks for our purses and coats. If owners just took one moment to think about where us women will have to place our purses if there are no available hooks, I am sure they would take the whole five minutes it takes to drill 2 screws and install one. Women are left to place their purses on their laps, at the back of the toilet and god forbid the unmentionable of all places….the godforsaken floor! I don't care how clean you say your floor is – just the mere thought of placing my purse on a bathroom floor makes me want to hurl. What's scarier and more disturbing is the fact that thousands of women have no issues doing this practice as they also have no qualm placing that very same purse on the table after the fact. Can you start envisioning the transmittal of germs? I digress…
Many restaurants have taken the time to really set themselves apart when it comes to toiletry details. It's amazing what some freshly scented hand soap and hand lotion can do to a patron. Having said that there is also a well thought out thought process that must go with it as you don't want to risk offending patrons with a heavily perfumed soap that will numb your senses or god forbid have that generic foam soap that we all have experienced (most big food chains have them in their bathrooms). The smell of that foam soap is utterly disgusting to me. Aside from soap and hand lotion – what sets apart some restaurants from others is the attention to detail that us women are so appreciative too. We are talking about a smorgasbord of toiletries to use at our disposal should you want and more importantly need them. Such toiletries include hair sprays, deodorants (spray on of course), Q-tips and an array of personal hygiene products.These restaurants show that they really have put thought and attention to detail for their patrons.
So the next time you happen to use the washrooms, just take a moment to notice if the owners of the restaurant have put any thought in regards to you and your needs.
Sincerely,
FT