By admin on May 17, 2013
Trailer Pork Boys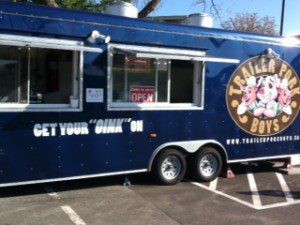 On the menu: Trailer Pork Boys cook up their brand of classic pulled pork sandwiches, ribs, pork schnitzel and Cuban sandwiches as well as pulled pork poutine
Where: 1272 Carling Avenue (at Merivale Road) in BEST WESTERN PLUS Macies Hotel's parking lot.
When: Monday to Friday 11:30 – 7:00 pm
Saturday 11:30 – 6:00 pm
**Food Tease's thoughts: the pulled pork poutine was incredible! I was looking for something of substance…and that's exactly what I found. I was torn between the small or large size (no mediums) of the pulled pork poutines and decided based on the good advice of one the 'Trailer Pork Boys' to go with the small as he himself has trouble finishing the large size and I can understand why. This so called small poutine was loaded with the most tender and succulent pulled pork. The BBQ flavors in the sauce marry ever so well the ooey gooey factor of the melting cheese curds intertwining each and every fry. For something that looked so deviously small, it packed a punch…a definite hit!
Pulled pork poutine perfection!