Nation's Capital chef selected for the infamous 'black box' challenge on Chopped Canada
By admin on April 2, 2014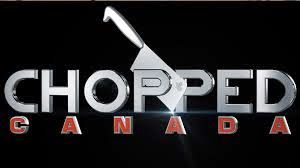 I must admit that I love my realty shows…gratuitous 'brain candy' if you will. I can literally just tune everything out – be it work or personal and just be one with the show. Now, a cooking 'realty' show is a completely different ball game for me, especially when I watch 
Chopped Canada
. These types of shows get my juices flowing so to speak. It's like watching a hard core Superbowl fan who's yelling, screaming and vicariously nailing the touchdowns and for some, experiencing the agony of the fumbles. I still don't know why the contestants of these shows just don't take my advice when I yell it to them, if only they could hear me…but I digress.
For those of you not familiar with
Chopped Canada
(shame on you), here's the 'Coles' notes version:
Who: In each episode, four chefs compete.
What: To take a mystery basket of ingredients and turn them into a dish that is judged on their creativity, presentation, and taste with minimal time to plan and execute.

The show is divided into three rounds: "Appetizer", "Entrée", and "Dessert".
In each round, the chefs are given a basket containing between three and five (usually four) ingredients, and the dish each competitor prepares must contain each of those ingredients. The ingredients are often ones which are not commonly prepared together. The diverse combinations can be so out there but that's the appeal of the show – to showcase the chef's creativity and ingenuity all in the constraint of a short amount of time. The best example of this was in a previous episode where the appetizer course baskets contained watermelon, canned sardines, pepper jack cheese, and zucchini.
Competitors are given access to a pantry and refrigerator stocked with a wide variety of other ingredients. Each round has a time limit: twenty minutes for the Appetizer round (thirty minutes in some season one episodes), and thirty minutes for the Entrée and Dessert rounds (some episodes gave the chefs 40 or 45 in the entrée round to allow them to handle whole large poultry, e.g. turkeys, geese, or ducks; another gave the chefs fifty minutes in the dessert round). The chefs must cook their dishes and complete four platings (one for each judge plus one "beauty plate") before time runs out. After each round, the judges critique the dishes based on presentation, taste, and creativity. The judges then decide which chef is "chopped," that is, eliminated from the competition. Thus, by the dessert round, only two chefs remain. When deciding the winner, the judges consider not only the dessert course, but the entire meal presented by each chef as a whole.

Where: unknown location
When: depending on casting schedule
Why: The winner receives $10,000 (and ultimate bragging rights!)
This upcoming Thursday (April 3, 2014) at 10 pm on the Food Network Canada, Norman Aitken will be representing Ottawa in this weeks episode of Chopped Canada.



Norman Aitken is Chef/Co-Owner of Juniper Kitchen & Wine Bar, a cornerstone of fine dining in Ottawa's trendy Westboro Village, critically acclaimed as one of the city's top tables. Hailing from Souris, PEI, Chef Norm began his cooking career over 22 years ago at the prestigious Inn At Bay Fortune, under the guidance of Chef Michael Smith of FoodNetwork fame. There he developed his understanding, respect and value for local, fresh ingredients, now the foundation of his personal cooking philosophy.
 Over the course of his career, including a position as Chef of the award-winning Delphi Resort & Spa, Norm continually pushes the boundaries of creating distinctive but simple regional, seasonal and sustainable cuisine. Passion drives his dedication to delivering the best of house-made quality dishes for the pure love and ultimate goal of satisfying his customers. Chef Norm is committed to doing his part to ensure Ottawa stays a vibrant culinary destination, supporting camaraderie among peers on the Ottawa food scene and giving back to his community through many fundraising efforts. He has worked among Canada's top names including Ned Bell, Vikram Vij, Susur Lee, Robert Clark, Michael Howell, and Anita Stewart and has been recognized in Gold Medal Plates and Food Day Canada competitions. ABC Good Morning America & LA Entertainment profiled him for bringing "Le Whaf" vaporizing innovation to North America from Europe.
Ottawa patrons, including myself have had the pleasure (repeatedly I may add) to taste the creativity and innovative techniques that Aitken continuously delivers to his customers. Join me in cheering on local talent that will no doubt be showcased in such a unique and competitive manner.
FT