After such an exciting evening at the Gourmet Village Grand Opening, celebrating the 20th anniversary with guest chefs from around the world…it was time for me to unwind and connect myself with the paradise like setting that I was fortunate enough to be in. I typically love to sleep in…who doesn't right?! But I wanted to take advantage of the serenity and calmness that the sound of the ocean has on me before I started my busy day. So I got up early (believe it or not) and went outside towards the sea. There is something definitely to be said about the sound of waves crashing and breaking against the rocks and boulders that were set on the shore. I swear its the best sound to clear the mind of all its clutter.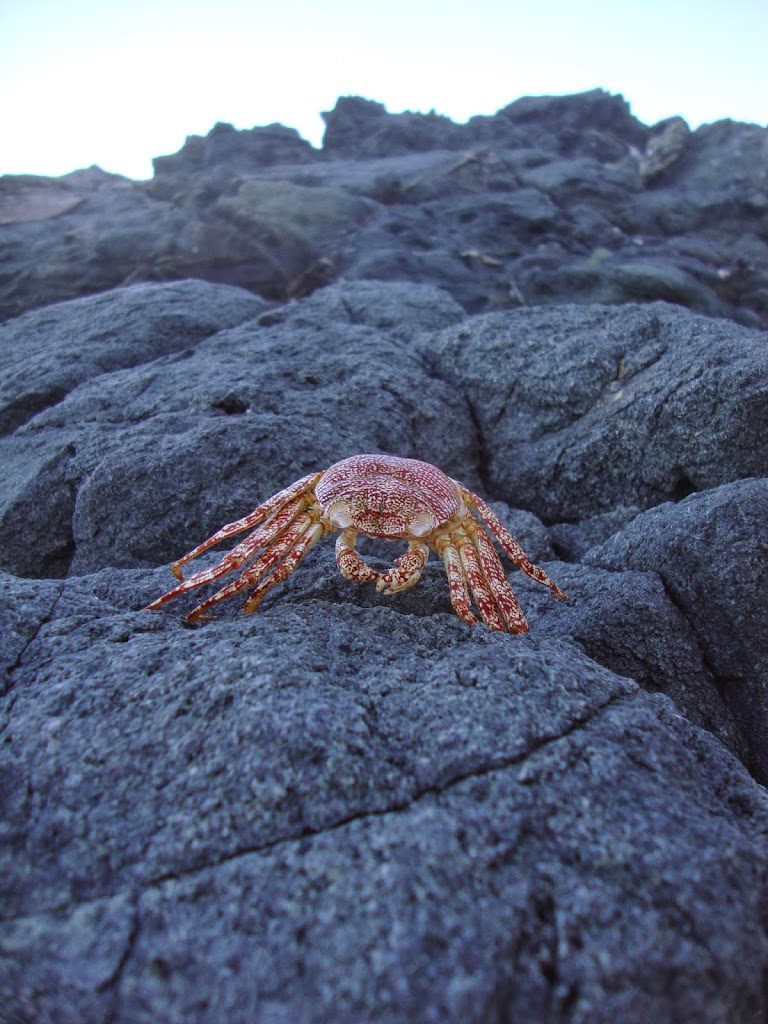 I wasn't the only one up early that morning!
So after a hearty breakfast, a trip to the ever so famous Ohtil Spa at the Marriot Hotel, a splendid massage was waiting for us (several international food and travel bloggers). I was ready for anything that was to come my way…or so I thought.
Before I proceed I think it's important to know a bit of my background, especially when it comes to drinking. In general, I am very and I stress very particular and sensitive to certain liquors. So you can imagine how I felt when I learned that our next culinary event was actually a Tequila tasting followed by lunch held in the Marriot Hotel's private wine room conducted by a true Tequila sommelier. I was nervous and scared as Tequila and I have never had a good relationship, actually it was more of a one sided relationship.Tequila liked to charm and seduce me but I didn't like it and by 'it', I am referring to the 'I think I just drank gasoline' since my throat and tongue would typically be on fire to the ever so prevalent drum set going off in my head because of my consumption of this evil, evil poison!
That being said, I told myself to suck it up and give it a chance…what's that saying? When in Rome…
Our Tequila sommelier Audrey Formisano, helped explain both the subtleties and vast differences of several Tequila's. One being the most important to me, was reading and understanding the label on the different types of Tequila bottles which in turn (like wine) makes you have a better appreciation of what the flavor(s) will be. Reading the label on Tequila bottles is essential as it explains the percentage of Tequila coming from the agave plant that will in essence determine the taste of that particular Tequila (for example, white Tequila is made from 100% of the agave plant). I learned very quickly that white Tequila was not for me as it's bold flavors of the distilled agave plant were not conducive to my sensitive palate…I was afraid that this was going to happen. But I didn't give up, I kept trying the varied types of Tequila (hoping that lunch would soon arrive before the effects of these poisons would kick in!). At last, I found a Tequila that was ever so smooth to the tongue and throat that I was more than happy to have a second round. Let me introduce you to: Anejo Tequila! Anejo Tequila is very smooth and has a very subtle flavor to it. To me, it was like drinking a fine cognac…coming from someone who enjoys a fine brandy and cognac.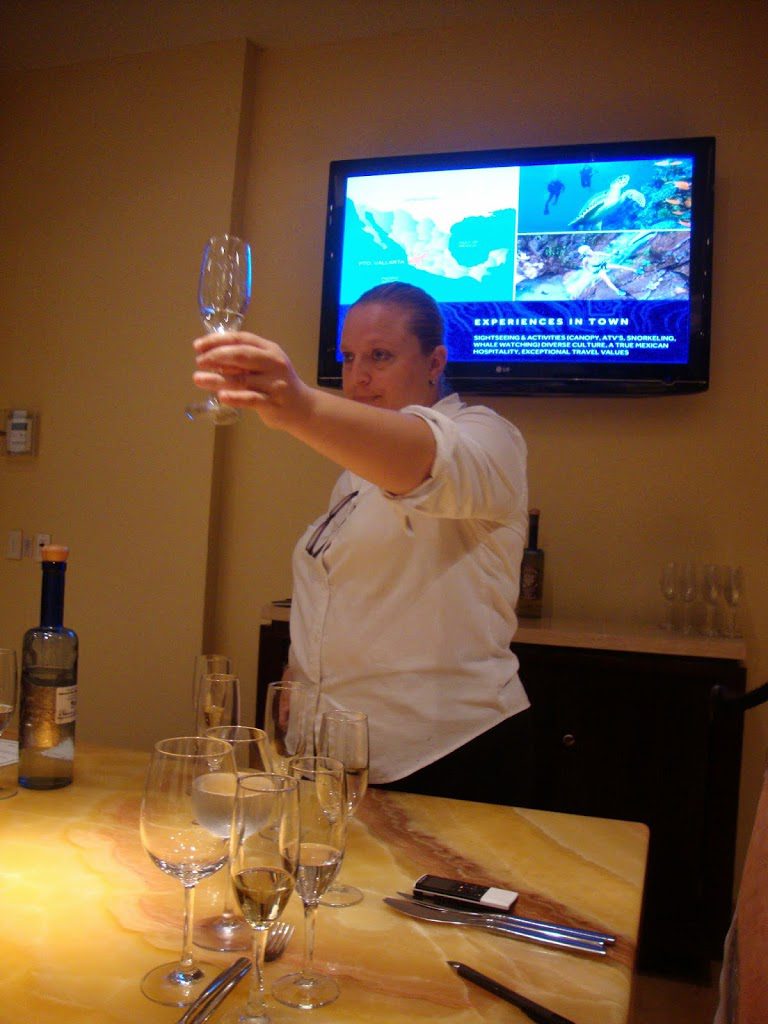 Audrey Formisano, Tequila sommelier at
the Marriot Hotel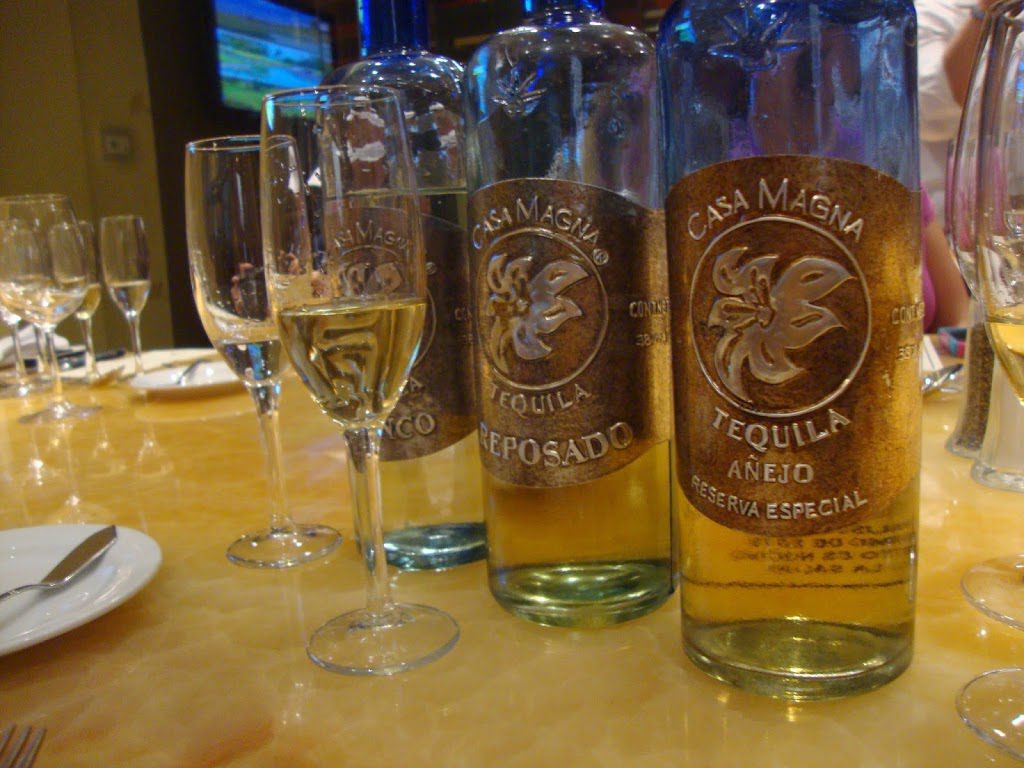 Some of the Tequila's that I sampled, Anejo being
my personal favorite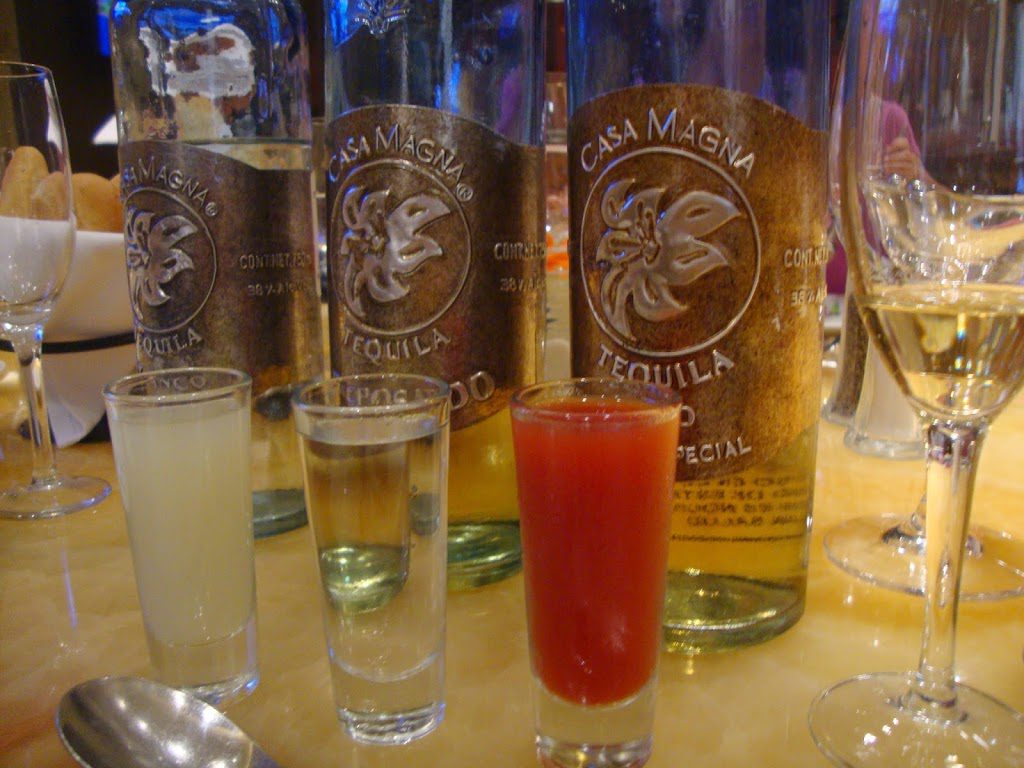 (left to right) Shot of lime juice, Tequila and Sangrita.
Sangrita is a beautiful combination of orange juice, tomato
juice, Worcestershire sauce, Tabasco sauce and grenadine
with a dash of salt & pepper. It's recommended to drink first the
Sangrita then tequila and then finish with the lime juice.
With all the libations being consumed, I was in dire need of some food to absorb the effects of my newly found spirit. The culinary god's must have heard my plea as the servers started to bring in our lunch.
Roasted beet, field greens, orange segments, goat cheese
caramelized Macadamia nut, citrus
and balsamic vinaigrette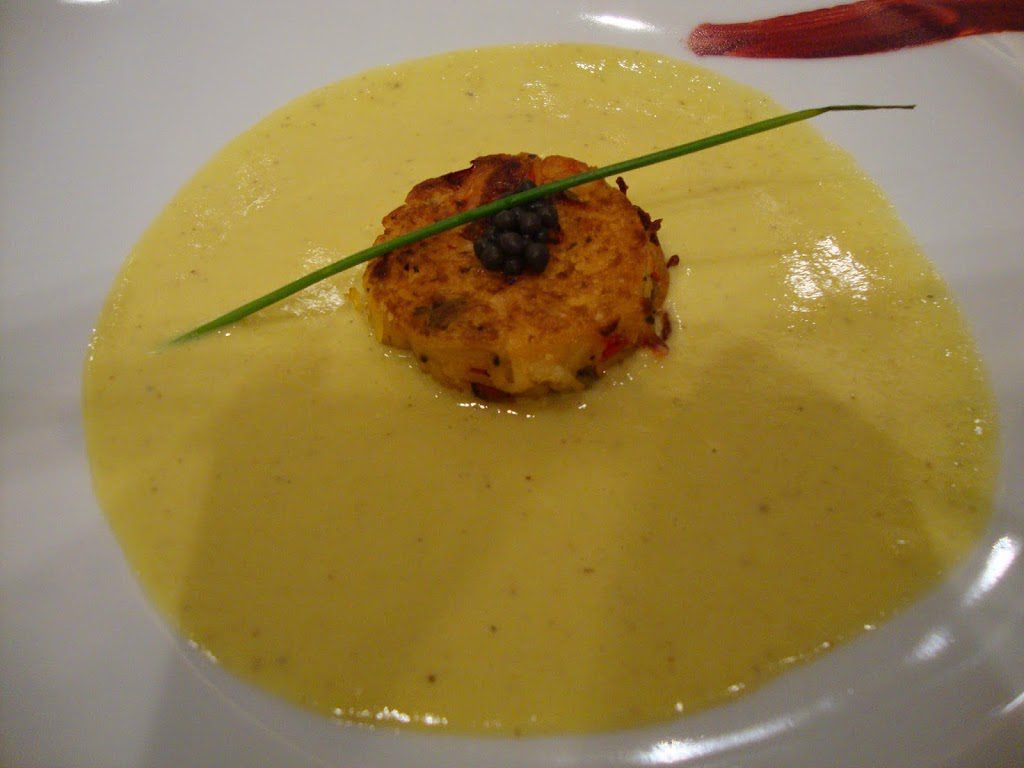 Roasted corn cream, caviar Cuitlacoche
capellini cake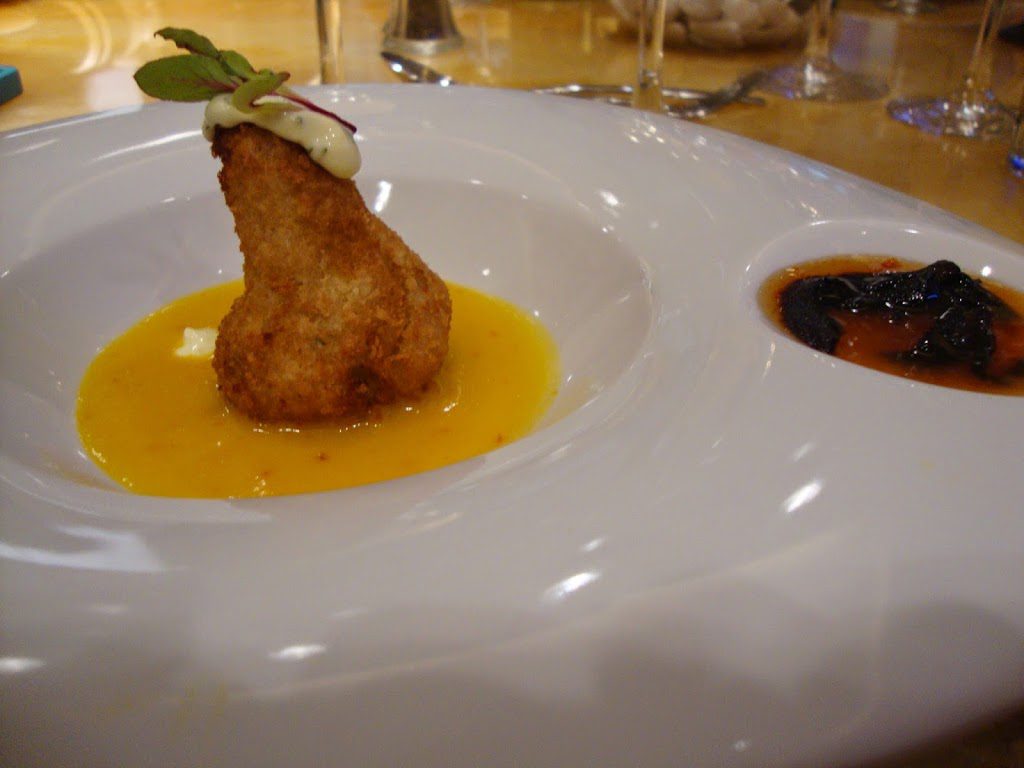 Crab cake, mango sauce, red onion caramelized
chili sauce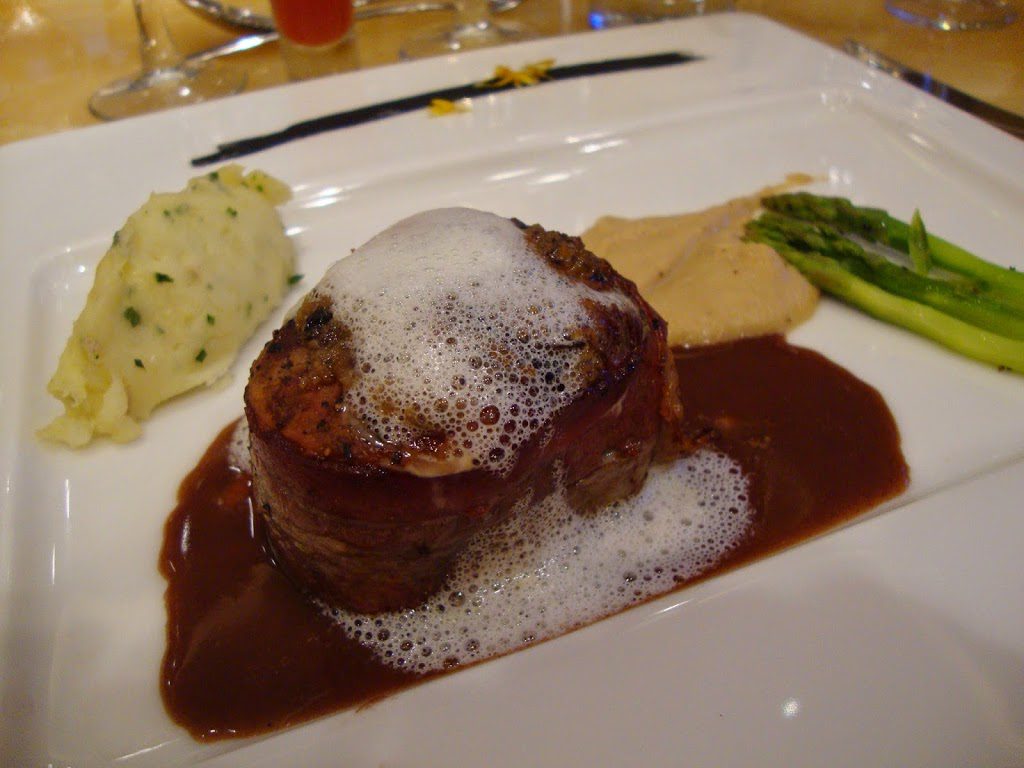 Filet mignon, marrow crusted, caramelized onion quenelle,
foam goat cheese, and Demi-Glace with truffle essence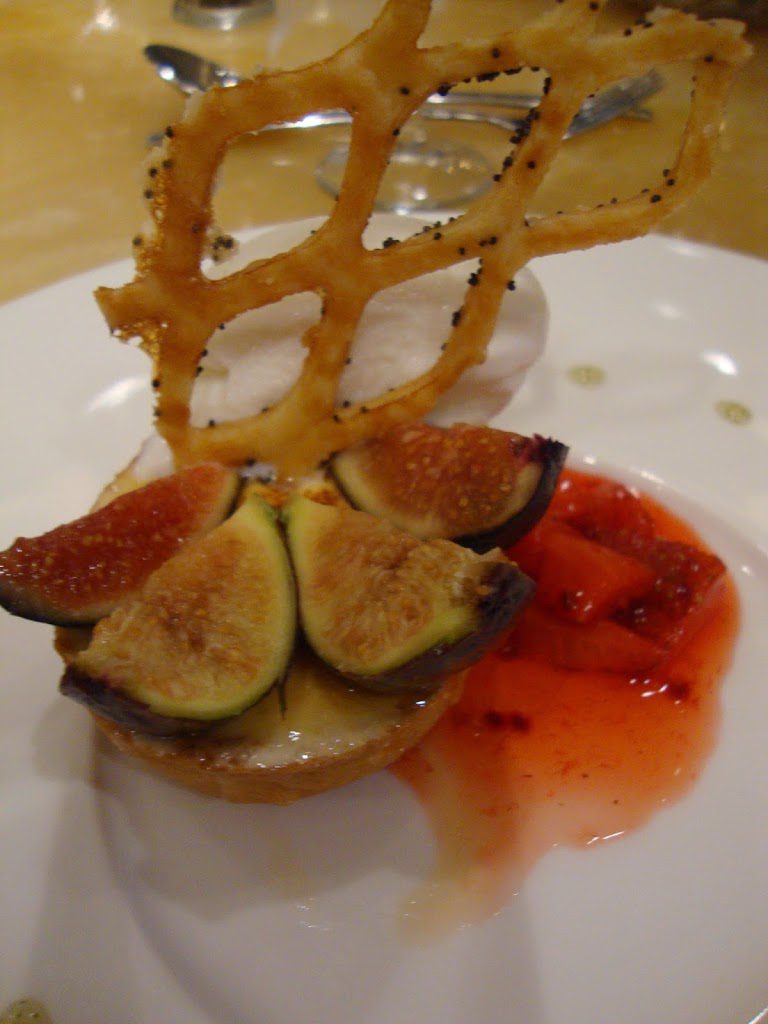 Fig tarta with honey ice cream,
compote red fruit
 And as if that wasn't enough to sustain us, soon after we freshened up at our villa we were whisked away to the 
Villa Premiere Hotel & Spa
. The hotel was hosting a cocktail party by world renowned Chefs Gerard Dupont and Thierry Blouet.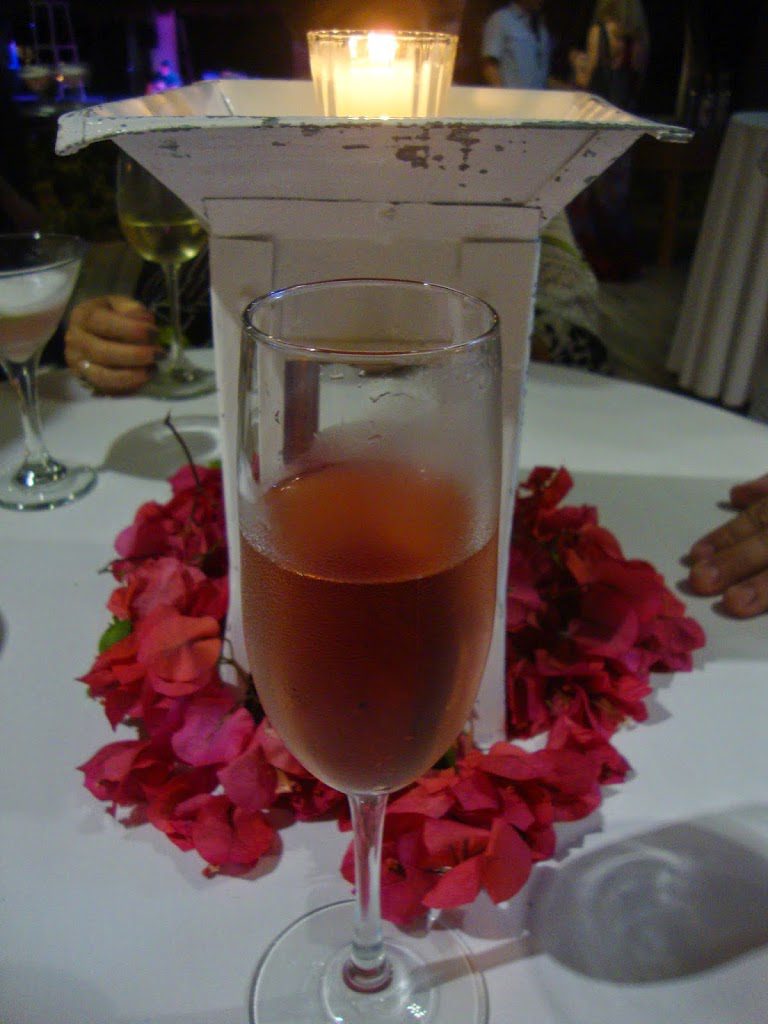 A Tequila inspired cocktail which I happened to
name it lovingly: The Kill Me Quick!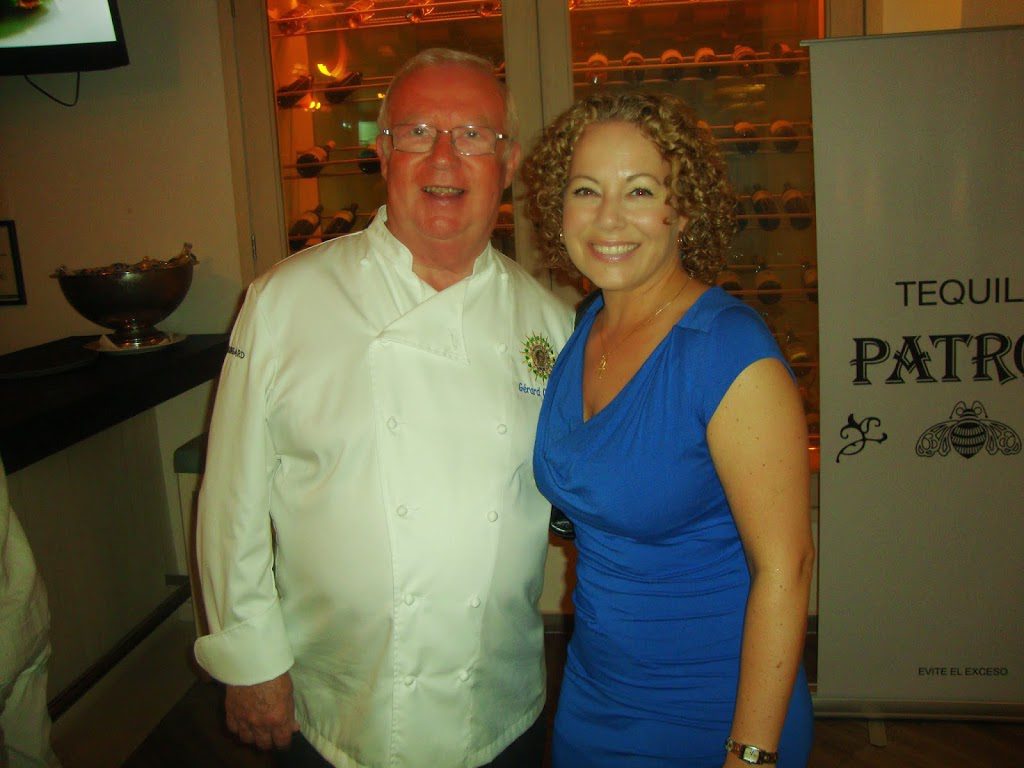 Chef Gerard Dupont and myself, The Food Tease
Now before I go on and tell you how the evening ended, promise me to not pass any judgment here… You'll understand very shortly why I asked you to promise. So after the beautiful cocktail party, I felt as though I was missing something. You see every time we would go out, we would pass on the streets some local food stands and right about at that moment when we left the hotel I wanted to experience some authentic local 'street food' before retiring for the evening…see why I asked you to not pass judgement?
And what an experience it was, our gracious driver took us to the best place for some Al Pastor. Al Pastor is very similar to eating a shawarma. The spit grilled marinated pork is married beautifully with chiles, spices and pineapple. Man, I was in for a treat. Walking down the street I could hear some drums being played at the nearby local bars that naturally got me in the right frame of mind…now this was the cultural experience I was wanting at that very moment! That particular Al Pastor food stand was a very popular foodie destination that evening, as a small crowd of people were surrounding the food stand with their appetites and chairs alike – just waiting for their orders to be made. Watching the meat be sliced by the Al Pastor owner as he perfectly timed the pineapple tossing onto the small tortilla was like watching a conductor at an symphony. Perfectly timed orchestra of food with a bonus entertainment value!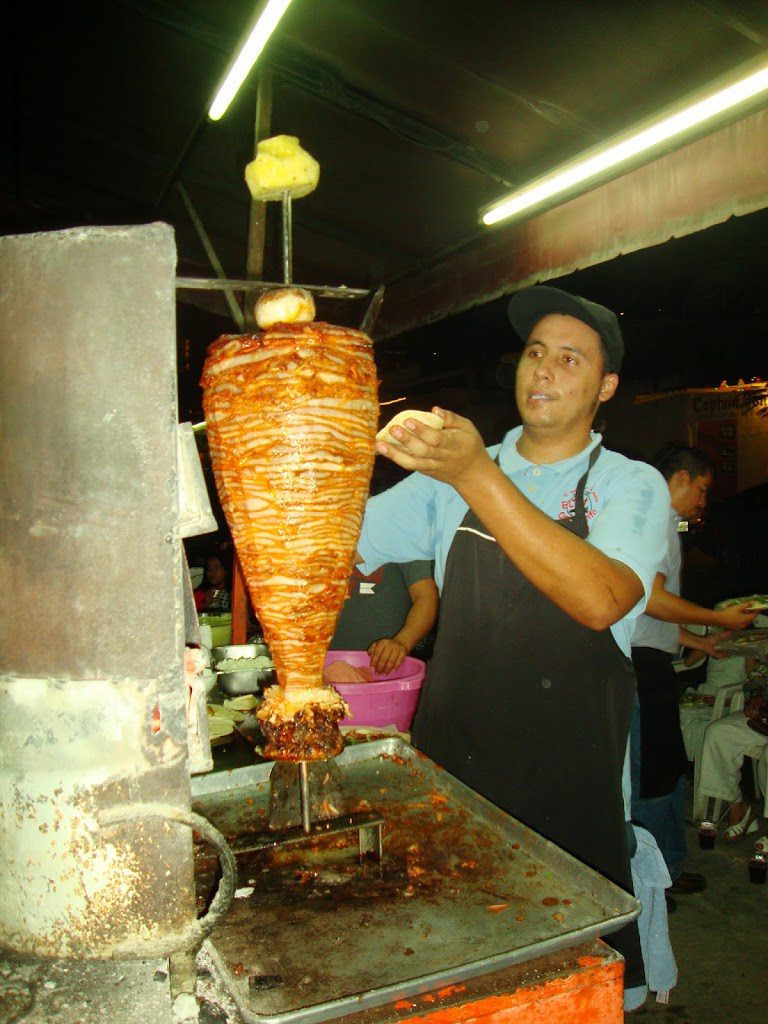 Al Pastor food stand – insanely good!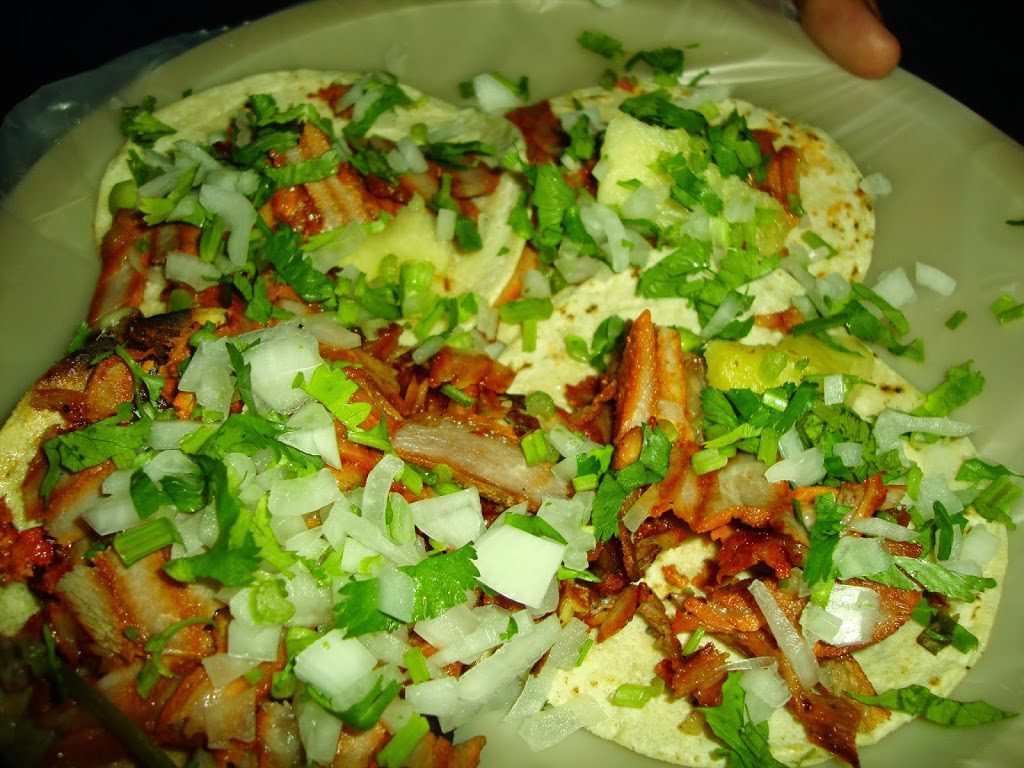 Al Pastor feast! Perfectly seasoned grilled pork
with onions, cilantro and lime juice and hot salsa. 
Out of the four small tortilla, one was called the 'volcano', 
everything was the same except cheese was added – incredible!
What a day, what an evening! Incredible food and amazing vibe for the second day on this culinary excursion. Puerto Vallarta has become a gastronomic gem and now I am understanding why.
Stay tuned as the Progressive Avant-Garde Dinner and Presidential Suite private cooking show at one of Puerto Vallarta's award winning hotel were next on the agenda…and they say men are the one's with the appetites. I guess they never met the Food Tease then!
FT